Trillium Gold Mines - A Shining Star the in Red Lake Mining District
From OTC Wiki
Disclaimer
INTEREST OWNERSHIP. Staff of this website may have investments in the featured company and no duty to notify the market when they will be selling or buying more. Conduct your own extensive due diligence and seek the advice of your financial advisor or a registered broker-dealer before investing in anything.
NOT AN INVESTMENT ADVISOR. OTC WIKI, LLC is not licensed by any governing body to give investing advice or provide investment recommendation.
NO RECOMMENDATIONS OR OFFERINGS. Nothing in this article should be construed as, and may not be used in connection with, an offer to sell, or a solicitation of an offer to buy or hold, an interest in any security or investment product. We do not offer any investment products to the general public.
FORWARD-LOOKING STATEMENTS. This article and website contain certain statements, estimates and projections that are "forward-looking statements." All statements other than statements of historical fact on this website are forward-looking statements and include statements and assumptions relating to: plans and objectives of management for future operations or economic performance; conclusions and projections about current and future economic and political trends and conditions; and projected financial results and results of operations. OTC WIKI, LLC does not make any guarantees, representations or warranties (express or implied) about the accuracy of such forward-looking statements. Forward-looking statements involve certain risks, uncertainties, and assumptions and other factors that are difficult to predict. Readers are cautioned that actual results of the investments referenced in this website could differ materially from forward-looking statements; and readers of this website are cautioned not to view forward-looking statements as actual results or place undue reliance on forward-looking statements.
PERFORMANCE RISKS. Past performance is not indicative nor a guarantee of future results. No content on this website shall be viewed as a guarantee of future performance. Investing is inherently risky. Don't trade with money you can't afford to lose.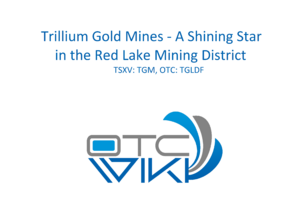 Trillium Gold Mines (TGM:V  OTCMKTS: TGLDF)
Introduction
[
edit
]
There are few better places to search for gold than Canada's Red Lake Mining District.  This gold-producing region in western Ontario, about 250 km (155mi) northeast of Winnipeg, is most well known for its Evolution Red Lake mine in Balmertown.  This mine is one of Canada's largest, and has seen 3.23 million oz of gold already pulled from it.  However, Evolution's mine is not the only player in town; 30 million oz of gold from 29 different gold mines has been taken from Red Lake so far.  Several exploration companies are in Red Lake seeing great results, and one of the best is Trillium Gold Mines.
Trillium, under the leadership of CEO Russell Starr, has put together a professional team of Red Lake experts with a combined Red Lake experience of over a century.  And because they know Red Lake, Trillium is exclusively dedicated to the exploration and development of several high-grade gold deposits there.  Trillium is like the real estate agent that has a lock on an area; she knows if a property is suitable, and is the first to hear about any property coming on the market.  Trillium's experienced management and technical team represent some of the industry's foremost leaders, focused on value maximization and acquisitions with the most growth potential.  There are a total of ten Red Lake properties that Trillium is exploring, but three stand out sharing geological features with other successful mines.  Trillium stock has fallen from an all time high of $1.44 in Jan 2021 to $0.53 Jan 2022, bringing its Market cap down to $22.798M but a recent announcement may change that drastically.
Trillium has three bets on the table, all showing promise.
Newman Todd Complex
[
edit
]
Trillium's flagship Newman Todd asset is in the center of the Red Lake mining district.  
This project is only a short distance from the Red Lake gold mine (25+ million ounces) and positioned right on a Calcite alteration similar to that of the Red Lake mine.  The edges of alterations are often where the best deposits of gold can be found.
Several other gold-producing mines surround Newmann Todd, and Trillium has a significant drill program underway at this advanced-stage Newman Todd Complex.  Newmann Todd is being developed to be the next open-pit mine in the Red Lake region.
Before Trillium's ongoing drilling program, Newmann Todd (NT) was only sparsely drilled at depths below 400 meters, but this was likely a mistake.  The NT project is showing excellent potential: mineralization remains open along the strike and at depth, and there are postulated parallel features. Over 40% of Trillium's drilled holes have intercepted gold with greater than 10 grams per ton (g/t) over various interval lengths.
In late September, Trillium announced findings for NT with an assay showing 0.5m of 294 g/t gold and 0.5m of 314 g/t gold.  Other intercepts included 4 meters of 11.22 g/t gold, 4 meters of 3.23 g/t gold, and 3.45 meters of 4.11 g/t Au.
Earlier in September, they had made an even more important announcement that at NT the new structural and mineralization interpretation showed a much larger and more integrated gold system than was previously thought, with gold mineralization more widespread than the historical interpretation.
Findings at NT and this news alone would make Trillium attractive, but it does not stop here.
Gold Centre
[
edit
]
Trillium's second project is their Gold Centre complex made from 16 contiguous historical mineral claims encompassing 253 hectares; a stone's throw (325 yards/300 meters) to the southwest of the Red Lake and Camble gold mines and spanning the width of the Red Lake Mine Trend (edges are the best).
Trillium in is the middle of its C$2 million Centre drilling program with two holes of 1,000 metes drilled already and a total of eight planned. Trillium's belief is that there is a down-plunge extension of the High Grade Zone ("HGZ") that runs through the Campbell-Red Lake mine (their #3 shaft).
The first results are, according to William Paterson, Trillium Gold's Vice President of Exploration, "indications of the same alteration and structures as at the Red Lake Mine next door,"  a very good sign and Trillium's new access to the western side of the property may see continued drilling success.
If Patterson is correct, Centre could prove to be very lucrative for Trillium.
Confederation Belt
[
edit
]
The third likely candidate on Trillium's list began in June of 2021, with the exploration of its Confederation Belt properties totaling 65 kilometers and 55,000 hectares.  And with Trilliums most recent announcement this may be the most promising spot.  Like we said the edges of alterations are often where the best deposits of gold can be found.  With the newest acquision (an additional 16,991 hectaresbringing the total to 71,000) of contiguous property at the site and the recent findings of multiple gold anomalies (where those edges occur) this property may even pass their Newman Todd property.
This area has several stretches of potential:
Lucky, Fly, and Moth ("LFM") properties making up 18 kilometers of the Confederation Belt.
Joy covers five mineralized VMS zones on two parallel horizons.
Diamond Willow Zone shows a historical resource estimated at 270,000 tonnes of 4% graded zinc plus copper.
Copperlode East & West claims Trillium Gold has added another 850 hectares that covers prospective geology in and around the Copperlode East and Joy claims blocks.
Pakwash Lake project southeast of Great Bear Resources' Dixie project.
The most important attribute of this area is that it is within only 1.5 kilometers of the South-Bay zinc-copper mine and, even more importantly, on-trend with Great Bear Resource's Dixie deposit, which has seen high-grade gold in quartz veins and silica-sulfide replacement zones at their (Dixie Limb and Hinge) and high-grade disseminated gold with broad moderate to lower grade envelopes from the LP Fault..  Because of the positioning on this geologic feature, any of Trillium's areas along the Confederation belt have the potential for fantastic results.
Summary
[
edit
]
With multiple bets on the table, a strong team of experienced Red Lake experts, and funding behind it to continue its its already positive proving exploration programs, Trillium is on schedule to strike it big.  They recently got a influx of about $275,000 that will keep their ongoing exploration activities moving forward.  If just one of its projects comes back positive (NT is already looking that way), then the company and shareholders will be pleased; if more than one hits, they will be ecstatic. While all investments have risk, investment in the securities of mineral exploration companies involves added risk factors.  These types of investments can result in significant and even total capital losses.