Relief Therapeutics - Acquisitions, Approvals and Revenue
From OTC Wiki
Biotech | Pharmaceuticals | COVID Treatment
RLFTF | Relief Therapeutics Stock
Disclaimer
INTEREST OWNERSHIP. Staff of this website may have investments in the featured company and no duty to notify the market when they will be selling or buying more. Conduct your own extensive due diligence and seek the advice of your financial advisor or a registered broker-dealer before investing in anything.
NOT AN INVESTMENT ADVISOR. OTC WIKI, LLC is not licensed by any governing body to give investing advice or provide investment recommendation.
NO RECOMMENDATIONS OR OFFERINGS. Nothing in this article should be construed as, and may not be used in connection with, an offer to sell, or a solicitation of an offer to buy or hold, an interest in any security or investment product. We do not offer any investment products to the general public.
FORWARD-LOOKING STATEMENTS. This article and website contain certain statements, estimates and projections that are "forward-looking statements." All statements other than statements of historical fact on this website are forward-looking statements and include statements and assumptions relating to: plans and objectives of management for future operations or economic performance; conclusions and projections about current and future economic and political trends and conditions; and projected financial results and results of operations. OTC WIKI, LLC does not make any guarantees, representations or warranties (express or implied) about the accuracy of such forward-looking statements. Forward-looking statements involve certain risks, uncertainties, and assumptions and other factors that are difficult to predict. Readers are cautioned that actual results of the investments referenced in this website could differ materially from forward-looking statements; and readers of this website are cautioned not to view forward-looking statements as actual results or place undue reliance on forward-looking statements.
PERFORMANCE RISKS. Past performance is not indicative nor a guarantee of future results. No content on this website shall be viewed as a guarantee of future performance. Investing is inherently risky. Don't trade with money you can't afford to lose.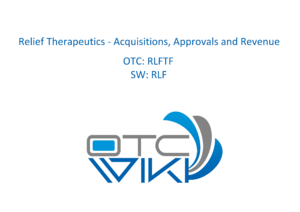 Based in Switzerland, Relief Therapeutics Holdings (OTC: RLFTF, SW: RLF) is a biopharmaceutical company that has developed patented products for the treatment of rare diseases. Their focus is on the treatment of metabolic, dermatological and pulmonary diseases several products currently on the market, including ACER-001 to treat inborn errors of metabolism, Aviptadil for rare pulmonary diseases and a pipeline of products acquired via acquisitions in 2021.
Relief, along with Acer Therapeutics, was excited to announce recently that ACER-001 was granted orphan medicinal product designation by the European Commission. This designation is given to medicines that treat rare diseases, and provides several benefits to the company including potential market exclusivity for ten years, reductions in EMA application fees and access to study assistance. This designation was previously granted in the U.S. The company believes ACRE-001 will be beneficial in the treatment of Maple Syrup Urine Disease (MSUD) and Urea Cycles Disorder. Adrian Quartel, Chief Medical Officer of Acer noted the challenges faced by MSUD sufferers, stating, "Currently, the only treatment option for patients with MSUD is a lifelong, protein-restricted diet, however, they still remain at serious risk for a wide range of life-threatening complications."
RLF-100 is treatment for COVID-19 and is currently in clinical trials and has shown promise for use with critically ill patients. RLF-100 is actually a medication that has already existed under the name Vasoactive Intestinal Peptide (VIP) and has a two-decade history of safe use in humans. Twenty-five U.S. hospitals and 175 patients have enrolled patients in an Expanded Access Protocol. While vaccines are still being made available to everyone around the world, and many will refuse to get vaccinated, the ultimate market for a COVID treatment is hard to determine. If serious infections continue to be a problem over the long term, then Relief will have a potentially large market. However, if better vaccines are developed and widely accepted then the value of such a treatment may be limited. In addition, competition could be intense due to the amount of research and testing performed by other drug companies.
While many OTC traded companies are in the pre-revenue phase, Relief Therapeutics started earning revenue in 2021 which totaled $3.3 million. While this represents a big step toward financial stability, the cost of revenue was over $19 million. In addition, operating expenses surpassed $18 million and net income was -$34 million. Clearly the company has a long way to go in order to provide a return to shareholders. The stock price currently sits at about 3.5 cents per share with a 52-week high of 21.8 cents and a low of 2.4 cents. As of 6/14/2022 there were 4,416,334,617 shares outstanding with 73% in the public float, 6% held by insiders and the remainder held by institutions.
Shareholders are hoping Relief Therapeutics can further monetize their existing drugs and those in the pipeline as well. As with any pharmaceutical company this is somewhat of a gamble as competition is fierce, research and development costs are high, and getting approval for use of new drugs is a costly, time-consuming process that many times results in failure. Investors in this sector should be aware of these challenges and understand the industry and specific drugs they are counting on to drive a return on their investment.