Gold Mountain Finally Delivers the Gold
From OTC Wiki
Gold | Mining | Minerals
GMTNF | Gold Mountain
Disclaimer
INTEREST OWNERSHIP. Staff of this website may have investments in the featured company and no duty to notify the market when they will be selling or buying more. Conduct your own extensive due diligence and seek the advice of your financial advisor or a registered broker-dealer before investing in anything.
NOT AN INVESTMENT ADVISOR. OTC WIKI, LLC is not licensed by any governing body to give investing advice or provide investment recommendation.
NO RECOMMENDATIONS OR OFFERINGS. Nothing in this article should be construed as, and may not be used in connection with, an offer to sell, or a solicitation of an offer to buy or hold, an interest in any security or investment product. We do not offer any investment products to the general public.
FORWARD-LOOKING STATEMENTS. This article and website contain certain statements, estimates and projections that are "forward-looking statements." All statements other than statements of historical fact on this website are forward-looking statements and include statements and assumptions relating to: plans and objectives of management for future operations or economic performance; conclusions and projections about current and future economic and political trends and conditions; and projected financial results and results of operations. OTC WIKI, LLC does not make any guarantees, representations or warranties (express or implied) about the accuracy of such forward-looking statements. Forward-looking statements involve certain risks, uncertainties, and assumptions and other factors that are difficult to predict. Readers are cautioned that actual results of the investments referenced in this website could differ materially from forward-looking statements; and readers of this website are cautioned not to view forward-looking statements as actual results or place undue reliance on forward-looking statements.
PERFORMANCE RISKS. Past performance is not indicative nor a guarantee of future results. No content on this website shall be viewed as a guarantee of future performance. Investing is inherently risky. Don't trade with money you can't afford to lose.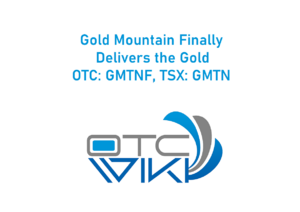 Investors have waited a long time for Gold Mountain Mining Corp. (OTC: GMTNF, TSX: GMTN) to actually produce some gold, and the wait is paying off. The company was excited to announce that it received payment for its first delivery and provided guidance for what is to come in the following months.
Let's review the project and progress that has been made in developing this claim. Gold Mountain owns a 100% interest in Elk Project in British Columbia, Canada. This property is over 21,000 hectares in size and has a history of producing high quality gold. A mining permit was approved on October 29, 2021 and the project is presently in the production stage. The company now has two pits with high grade mineralization near surface and at depth, ore stockpile pad, water management infrastructure, and 135,808m of historic drilling.
A preliminary economic assessment indicates:
806,000 ounces measure and indicated
262,000 ounces inferred
65,000 ounces per year by Year 4
Post-Tax net present value of $231M
All in cost of $554/oz

In March 2022 Gold Mountain reported the receipt of payment for its first gold delivery in the amount of $548,862, for gold produced in February. The company forecasted delivering 1,650 ounces each month in March and April for revenue of $3,000,000, and has an annual target of 19,000 ounces.
Although Gold Mountain reported this exciting news, the market has not responded enthusiastically. There are several possible reasons for the lack of price appreciation. A public offering in April 2022 and the associated dilution could be a factor. Perhaps the timing, making an announcement during a big stock market downturn, has weighed heavily on investor sentiment. Also likely, is the fact that investor awareness of this opportunity is very limited, as evidenced by the extremely low volume. In addition, investors may be waiting for Q2 2022 financial statements, which will provide additional insight into ongoing revenue figures and the costs that are associated with that revenue.
In the most recent operations update, dated June 14, 2022, Gold Mountain reported the following highlights for the quarter ending April 2022:
Total revenue of $3,706,423 and adjusted EBITDA of $526,949
Delivery of 1,898 AuOz and 1,697 AgOz to New Gold Inc.
Phase lll exploration program in progress with 15,500 m of drilling in Siwash North & Gold Creek zones
$18,819,693 in cash on the balance sheet

Investors should take note of Gold Mountains plans for the near future, which include scaling up to produce 65,000 ounces of gold per year. An updated resource estimate is expected in Q3 2022. In addition to building out their existing production operations, the company is exploring opportunities for mergers and acquisitions which could further enhance production and profitability in the future
The aforementioned public offering of $18 million in April of 2022 has provided cash for debt repayment, operations, as well as assessment and opening of additional opportunities within the Elk Project. The offering consisted of 14,800,000 units at a price of $1.25 per unit. Each unit includes one share of stock and a warrant exercisable until 4/21/2024 at a price of $1.75.
The 52-week range is $0.27 to $1.94 and the stock is currently trading at the low. The current market cap is just over $27 million. The stock has really taken a beating since peaking a couple of months after the initial public offering in early 2021. Insiders hold about 10% of shares and institutions own about 5%.
With projections of thousands of ounces of gold seeming to become a reality and limited investor awareness, some investors believe that Gold Mountain stock has hit a bottom and can see high share price growth as investors jump in just as the company starts major production. Additional financial reporting for Q2 2022 may provide the catalyst that the market is waiting for. If the company fails to meet its goals or continue a high level of production, more weakness could be seen in the stock.