Zinc8 Energy Solutions - Innovations in Long Term Energy Storage
From OTC Wiki
Energy Storage | Tesla Megapack
ZAIRF Stock | Zinc8 Energy Solutions
Disclaimer
INTEREST OWNERSHIP. Staff of this website may have investments in the featured company and no duty to notify the market when they will be selling or buying more. Conduct your own extensive due diligence and seek the advice of your financial advisor or a registered broker-dealer before investing in anything.
NOT AN INVESTMENT ADVISOR. OTC WIKI, LLC is not licensed by any governing body to give investing advice or provide investment recommendation.
NO RECOMMENDATIONS OR OFFERINGS. Nothing in this article should be construed as, and may not be used in connection with, an offer to sell, or a solicitation of an offer to buy or hold, an interest in any security or investment product. We do not offer any investment products to the general public.
FORWARD-LOOKING STATEMENTS. This article and website contain certain statements, estimates and projections that are "forward-looking statements." All statements other than statements of historical fact on this website are forward-looking statements and include statements and assumptions relating to: plans and objectives of management for future operations or economic performance; conclusions and projections about current and future economic and political trends and conditions; and projected financial results and results of operations. OTC WIKI, LLC does not make any guarantees, representations or warranties (express or implied) about the accuracy of such forward-looking statements. Forward-looking statements involve certain risks, uncertainties, and assumptions and other factors that are difficult to predict. Readers are cautioned that actual results of the investments referenced in this website could differ materially from forward-looking statements; and readers of this website are cautioned not to view forward-looking statements as actual results or place undue reliance on forward-looking statements.
PERFORMANCE RISKS. Past performance is not indicative nor a guarantee of future results. No content on this website shall be viewed as a guarantee of future performance. Investing is inherently risky. Don't trade with money you can't afford to lose.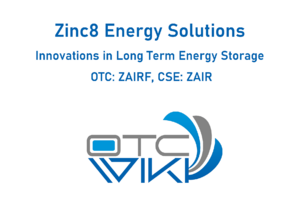 The energy storage technology industry has had an amazing emergence over the last decade, although it has really been several decades in the making. Due to the explosive growth of the consumer EV market, much of the focus has been on electric vehicle batteries which has also been propelled in part by government subsidies. While the EV market and batteries for electronic devices may be getting all of the publicity, there is also a potentially huge market for long term energy storage (LTES) that is not associated with consumer products.
So far, LTES solutions have been predominantly based on giant Lithium batteries. Tesla recently announced plans for a 360 MWh battery project that will store solar power and service 60,000 homes in Colorado. However, anyone who is familiar with battery storage technology knows that there are significant problems with Lithium batteries. Demand is far exceeding the ability of producers to increase supply since new Lithium mines take years to become productive due to lengthy permitting processes as well as the extensive work required to open a new mine. In addition, Lithium-ion batteries have safety issues which are forcing the industry to look for alternatives. In July of 2021 a Tesla Megapack in Australia caught fire and burned for six hours while undergoing testing. While alternatives may not be ready for electronics and EVs, there are several companies developing LTES technology that may be available soon on a commercial basis.
Zinc8's Energy Storage Solution
[
edit
]
One of the innovators in long term energy storage is Canadian based Zinc8 Energy Solutions (OTC: ZAIRF, CSE: ZAIR). Zinc8 has developed a LTES system that uses zinc and air. They call it a Zinc-Air Regenerative Fuel Cell System. According to the company website, the process works as follows: "Energy is stored in the form of zinc particles, similar in size to grains of sand. When the system is delivering power, the zinc particles are combined with oxygen drawn from the surrounding air. When the system is recharging, zinc particles are regenerated, and oxygen is returned to the surrounding air." This system is clearly different than other battery storage technologies since the Zinc8 technology can truly decouple the energy and power.   Energy is stored in the storage tank, not traditionally in the battery stack.  This means to extend the discharge hours, only a larger tank is needed to house the extra energy required. Other conventional battery technology will require more stacks to extend the duration since they cannot decouple energy and power. Therefore, it will be economically prohibitive to use the technology in a long duration storage market. It is quite likely that Lithium battery technology, or any battery technology for that matter, will not even play a part in LTES systems of the future.
The system has three components:
The Zinc Regenerator uses power from the grid or renewable sources like wind and solar to generate zinc particles and releases oxygen in the process.
The zinc particles from the Regenerator are held in the Storage Tank in a potassium hydroxide electrolyte.
When power is needed, the zinc particles are combined with oxygen in the Power Stack which generates electricity. The zinc oxide by-product created during this process is returned to the storage tank and will be used later in the regeneration process.
Other important aspects of the Zinc8 system included safety, cost effectiveness and scalability. The company claims that this system is more cost effective than Lithium batteries for durations of 6 hours or more.
Projects
[
edit
]
Zinc8 currently has multiple projects underway, with the goal of proving the viability of their system in terms of functionality and cost savings. Each project is unique and seeks to highlight a specific use case. Of particular interest is testing a LTES backup system with a major cloud services provider. The goal of this project is to test a 10kW/80kWh Zinc-Air Energy Storage System for resilient backup. The project will compare the Zinc8 system to a traditional generator for uninterrupted power supply. Testing is currently in progress and results are expected later this year.
Additional projects and achievements include:
A cooperation agreement with the New York Power Authority, which is the largest state public power organization in the country. The agreement calls for a joint development project which will be conducted at The University of Buffalo.
Agreement signed with Digital Energy Corporation to install a 100kW/1.5MWh Zinc-Air Energy Storage System in Brooklyn, NY with financial support from the New York State Energy Research and Development Authority (NYSERDA)
Winner NYC Department of Building Innovation Challenge – Energy Storage Solution
Winner 2022 NYC Real Estate Board – 'Best-in-Class Solution'
Accepted into the ACRE Incubator Programme at Urban Future Lab at NYU's Tandon School of Engineering in Brooklyn, NY, New York City's leading innovation hub for clean energy, smart grid, and smart cities.
One of the nine companies selected to join the manufacturing focused Scale for ClimateTech in New York City
Selected to join the 'Third Derivative' Accelerator Program sponsored by the Rocky Mountain Institute and Nexus Energy
Selected as the 'Energy Tech Innovator' at the WE3 Summit.
Government Support
[
edit
]
As noted above, Zinc8 has multiple projects underway that are supported by state and local government agencies in New York state. New York is leading the nation in green energy applications and climate change solutions, backed by legislation as well as state and local initiatives. Zinc8 clearly has the attention of New York as a potential partner and provider of energy storage solutions.
Leadership
[
edit
]
President and CEO Ron MacDonald served as a member of the Canadian Parliament from 1988 to 1997 and was appointed as the Parliamentary Secretary of International Trade. In the private sector, Mr. MacDonald has held the positions of President and CEO of the Council of Forest, and President of NRStor Remote Communities and Mines
CTO & VP of Product Management Dr. Simon Fan in a Chemical Engineer specializing in electrochemical characterization and process engineering. During his 17+ years in R&D, Dr. Fan has authored approximately 15 peer-reviewed publications and is credited with over 10 patents and patent applications. Additional accomplishments include developing a zinc regenerator, as well as characterization and development of components for zinc-air energy storage technology. Dr. Fan holds a Ph.D. from the University British Columbia (UBC) and Masters in Engineering Management.
Zinc8 recently announced the addition of Storm Boswick to its Board of Directors. Mr. Boswick is expected to provide guidance in the areas of "corporate advisory, mergers and acquisitions, public-private partnerships, capital formation and introduction, and commercial introductions". This appointment, in addition to other recent additions of Tom Hodgson and Bernard Pinsky to the board, seem to indicate that the company is focused on commercializing its technology.  
Financials and Stock
[
edit
]
As of March 31, 2022 the company had cash of $7.6 million, which they believe will be sufficient to complete the cloud services provider testing and provide the necessary capital for near term development. The company is fully funded for their current development and commercialization plans with this cash and less than $1 million in long term lease liabilities.
The stock price has a 52-week range of $0.10 to $0.35 and the current market cap is approximately $18 million. Investors should take note of this market cap, as many may consider it quite low based on the fact that Zinc8 has patented technology that could become the dominant technology in a potentially huge market for long term power storage.  While many similar companies are reaching market caps of hundreds of millions or even billions of dollars, Zinc8 has yet to gain traction with green energy investors. The potential for explosive stock growth is very high if the company is successful in the testing with the cloud services provider and other projects that are underway.
Learn more about ZAIRF Stock on the Zinc8 Energy wiki page.
Conclusion
[
edit
]
Since 2019, the company has grown from a mere 17 employees to its current 50+ employees, moved from a small test lab facility to an expanded cathode manufacturing operation, and added a 2nd facility to build and test larger demonstration systems. Zinc8 has also contracted advisors over the last year such as Ramboll Engineering and Deloitte, who both have significant experience in taking companies like Zinc8 through to commercialization. The addition of directors, advisors and staff with experience in taking a venture like this through the commercialization stage is the next step towards generating orders and revenue.
Zinc8 Energy Solutions has a unique patented long term energy storage system that the company believes will provide a safe and cost-effective storage solution for durations of over six hours. A significant near-term catalyst is the testing with a major cloud services provider that is currently in process with results expected later this year.