Texas Mineral Resources Corp
From OTC Wiki
Rare Earth Minerals | Mining
TMRC Stock | Texas Mineral Resources Corp
Disclaimer
INTEREST OWNERSHIP. Staff of this website may have investments in the featured company and no duty to notify the market when they will be selling or buying more. Conduct your own extensive due diligence and seek the advice of your financial advisor or a registered broker-dealer before investing in anything.
NOT AN INVESTMENT ADVISOR. OTC WIKI, LLC is not licensed by any governing body to give investing advice or provide investment recommendation.
NO RECOMMENDATIONS OR OFFERINGS. Nothing in this article should be construed as, and may not be used in connection with, an offer to sell, or a solicitation of an offer to buy or hold, an interest in any security or investment product. We do not offer any investment products to the general public.
FORWARD-LOOKING STATEMENTS. This article and website contain certain statements, estimates and projections that are "forward-looking statements." All statements other than statements of historical fact on this website are forward-looking statements and include statements and assumptions relating to: plans and objectives of management for future operations or economic performance; conclusions and projections about current and future economic and political trends and conditions; and projected financial results and results of operations. OTC WIKI, LLC does not make any guarantees, representations or warranties (express or implied) about the accuracy of such forward-looking statements. Forward-looking statements involve certain risks, uncertainties, and assumptions and other factors that are difficult to predict. Readers are cautioned that actual results of the investments referenced in this website could differ materially from forward-looking statements; and readers of this website are cautioned not to view forward-looking statements as actual results or place undue reliance on forward-looking statements.
PERFORMANCE RISKS. Past performance is not indicative nor a guarantee of future results. No content on this website shall be viewed as a guarantee of future performance. Investing is inherently risky. Don't trade with money you can't afford to lose.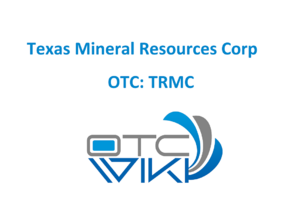 Texas Mineral Resources Corp. (OTC: TMRC) is engaged in the acquisition, exploration and development of mineral properties located primarily in Hudspeth County, Texas. The company has partnered with USA Rare Earth LLC on the Round Top project, and also holds prospecting permits for over 9,000 acres of land adjacent to the that project. In addition, other mineral exploration projects are underway or in the planning stage.
The Round Top Project is located in the mountainous land of west Texas, eight miles from the town of Sierra Blanca. The area contains deposits of uranium and lithium as well as rare-earth elements. Prospecting started in the 1970's, and in the 1980's large deposits of beryllium were predicted to be present. In all, it is believed that Round Top Mountain is home to five light and ten heavy rare-earth elements. There are also 11 non-rare earth minerals that the U.S. Department of the Interior has deemed "critical to U.S. national security and the economy".
Through a development agreement USA Rare Earth LLC, a feasibility study has been conducted, and based on the completion of that study and a $10 million investment, USA Rare Earth received a 70% interest in the project. Rare Earth acquired an additional 10% by paying $3 million in cash.
The land is owned by the Texas General Land Office and was leased to TMRC in 2011 with the expectation of developing the site's rare-earth elements. Drilling began in the 1980's but the project was stalled until TMRC restarted exploration in 2011. The increased demand for rare earth minerals, as well as the fact that China was leading the way in production of these minerals, made the Round Top Project viable. China's control of these minerals and the corresponding supply chain is of concern to business and government in the U.S. and other countries. This fact has made domestic development of these resource projects a priority.
In addition to the Round Top Project, TMRC is engaged in other exploration and production activities. The company recently announced the discovery of high-grade silver in New Mexico. In April 2020 TMRC opened a metallurgical plant (a mineral separation facility) in Colorado. This plant will process the ore from the project and extract the minerals.
TMRC projects annual revenue of $396 million through the sale of numerous minerals, including Lithium, Dysprosium, Aluminum Sulfate, Hafnium, Lutetium and Terbium. Costs to develop the project are expected to be $350 million and the mine is anticipated to produce for 20 years. Commercial production is targeted for the second half of 2023.
The currently stock price for TMRC is about $1.93, with a 52-week range from $1.40 to $2.55 and a market cap of approximately $140 million. The company has produced no revenue to date, and it does not expect to do so during 2022.
Many investment blogs have cited TMRC as a mineral stock to keep an eye on. Clearly, the Round Top Project can be highly lucrative, although keep in mind that TMRC only has a 20% interest at this point. The company is heavily reliant on its partner, USA Rare Earth. The demand for the minerals produced will likely remain strong and prices could increase. Still there are risks involved, including regulatory, environmental and market conditions that could adversely impact the development of the project.