MNSEF - Magnis Energy Technologies Limited
From OTC Wiki
Clean Energy | Electric Vehicles | Mining
Magnis Energy | MNSEF
Disclaimer
INTEREST OWNERSHIP. Staff of this website may have investments in the featured company and no duty to notify the market when they will be selling or buying more. Conduct your own extensive due diligence and seek the advice of your financial advisor or a registered broker-dealer before investing in anything.
NOT AN INVESTMENT ADVISOR. OTC WIKI, LLC is not licensed by any governing body to give investing advice or provide investment recommendation.
NO RECOMMENDATIONS OR OFFERINGS. Nothing in this article should be construed as, and may not be used in connection with, an offer to sell, or a solicitation of an offer to buy or hold, an interest in any security or investment product. We do not offer any investment products to the general public.
FORWARD-LOOKING STATEMENTS. This article and website contain certain statements, estimates and projections that are "forward-looking statements." All statements other than statements of historical fact on this website are forward-looking statements and include statements and assumptions relating to: plans and objectives of management for future operations or economic performance; conclusions and projections about current and future economic and political trends and conditions; and projected financial results and results of operations. OTC WIKI, LLC does not make any guarantees, representations or warranties (express or implied) about the accuracy of such forward-looking statements. Forward-looking statements involve certain risks, uncertainties, and assumptions and other factors that are difficult to predict. Readers are cautioned that actual results of the investments referenced in this website could differ materially from forward-looking statements; and readers of this website are cautioned not to view forward-looking statements as actual results or place undue reliance on forward-looking statements.
PERFORMANCE RISKS. Past performance is not indicative nor a guarantee of future results. No content on this website shall be viewed as a guarantee of future performance. Investing is inherently risky. Don't trade with money you can't afford to lose.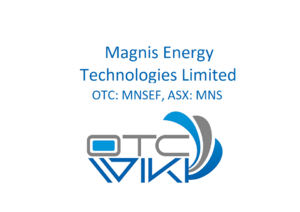 Magnis Energy Technologies Limited is an Australian based mineral exploration and development company focused on natural flake graphite for use in batteries. It controls properties in the United States, Australia and Tanzania, with the Nachu project in Tanzania being their most advanced project, in which they hold a 100% interest. In addition, through subsidiaries and joint ventures, the company has vertically integrated with the opening of manufacturing facilities for Lithium-ion batteries using graphite cathodes.
The Nachu graphite project is located the south-east of Tanzania in the district of Ruangwa, and approximately 220km  from the port of Mtwara. Dues to its large area  and an orebody with very low variation in lithology and mineralization, Magnis believes it will yield relatively low-cost graphite. The company's license was granted in 2017 and renewed in May of 2021. Using its proprietary process applied to Nachu graphite feedstock, Magnis believes is will be able to produce high quality and highly pure graphite concentrate ore. According to the company website, the goal is to initially produce "refined Jumbo and Super Jumbo Flake products and spheroidal graphite products for the LIB market".
In addition to its mining projects, the company is also engaged in battery development and manufacturing via multiple partners. Magnis owns stakes in two Lithium-ion battery manufacturing plants, one in Townsville, Australia (33% stake) and one in Endicott, New York (60% stake). The Endicott plant, opened in early August for production line quality assurance with anticipated production of batteries to sell in late September, is expected to ramp up to 38GWh production by the year 2030.
Magnis has partnered with Binghamton, New York based Charge CCCV (C4V), a Li-ion battery technology company with expertise and patents in Lithium-ion battery composition and manufacturing. Magnis owns 9.65% of C4V.  C4V's battery technology is aimed at extending battery life, increased safety, lower cost and higher performance. Their batteries contain no cobalt or nickel and have an energy density of 190Wh/Kg. C4V's patented Lithium Slim Energy Reserve (LiSER) technology hopes to capture the attention of battery customers. The technology enables the production of module-free battery packs that will benefit original equipment manufacturers with better performance and higher energy density.
The stock has not performed well over the past year, with a 52-week range of $0.16 to $0.58, with a current price of about $0.29 and a market cap of $288 million. The company reported no revenue for the year ending 6/30/2021 against operating expenses of $26.845 million. Cash on hand as of February 2022 was $66 million with $48 million in long term debt.
While the company has its hand in multiple projects and partnerships that could prove fruitful in the future, it is hard to clearly see a path to revenue and growth without more evidence that these endeavors will be successful. Cash burn and debt are serious issues for a company that has no revenue. There has been very little news from the company in the last several months which further erodes investor confidence. However, the potential for a Lithium battery that uses no cobalt or nickel seems to be very enticing to investors. The opening of the New York manufacturing facility is a significant milestone, although actual production and sales need to follow in the very near future to justify the large market cap.