Talon Metals – Partnerships Paving the Way to Success
From OTC Wiki
Green Tech | Mining | Nickel
Tesla | TLOFF | Talon Metals | Tamarack Project
Disclaimer
INTEREST OWNERSHIP. Staff of this website may have investments in the featured company and no duty to notify the market when they will be selling or buying more. Conduct your own extensive due diligence and seek the advice of your financial advisor or a registered broker-dealer before investing in anything.
NOT AN INVESTMENT ADVISOR. OTC WIKI, LLC is not licensed by any governing body to give investing advice or provide investment recommendation.
NO RECOMMENDATIONS OR OFFERINGS. Nothing in this article should be construed as, and may not be used in connection with, an offer to sell, or a solicitation of an offer to buy or hold, an interest in any security or investment product. We do not offer any investment products to the general public.
FORWARD-LOOKING STATEMENTS. This article and website contain certain statements, estimates and projections that are "forward-looking statements." All statements other than statements of historical fact on this website are forward-looking statements and include statements and assumptions relating to: plans and objectives of management for future operations or economic performance; conclusions and projections about current and future economic and political trends and conditions; and projected financial results and results of operations. OTC WIKI, LLC does not make any guarantees, representations or warranties (express or implied) about the accuracy of such forward-looking statements. Forward-looking statements involve certain risks, uncertainties, and assumptions and other factors that are difficult to predict. Readers are cautioned that actual results of the investments referenced in this website could differ materially from forward-looking statements; and readers of this website are cautioned not to view forward-looking statements as actual results or place undue reliance on forward-looking statements.
PERFORMANCE RISKS. Past performance is not indicative nor a guarantee of future results. No content on this website shall be viewed as a guarantee of future performance. Investing is inherently risky. Don't trade with money you can't afford to lose.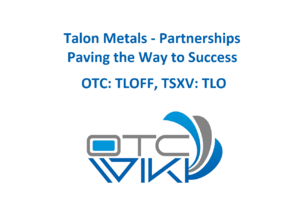 The Bipartisan Infrastructure Law recently passed in the United States provides extensive funding for green technology and energy. The legislation includes $7 billion for such projects and the government recently announced the first group of grant recipients. Specifically, the legislation targets products, materials and components of electric vehicle batteries with the goal of increasing domestic production and reducing imports of finished products and raw materials. Overall, the program seeks to develop supply chains that are immune from disruption due to international sourcing and markets.
One of the companies awarded money under this program is Talon Metal Corp (OTC: TLOFF, TSXV: TLO) based in Road Town, the British Virgin Islands. Applications were submitted in July of this year to the U.S. Department of Energy with Talon proposing adding an ore processing and tailings management facility at and existing site in Mercer County, North Dakota. Feedstock is to be supplied from Talon's Tamarack mine in central Minnesota, as well as other North American sources. The Tamarack project, in which Talon owns a 51% interest, seeks to produce nickel, copper and cobalt. The goal of the project and grant funding is to create a domestic supplier of battery grade nickel and iron.
The U.S. government will provide $114 million in funding, which is expected to account for 27% of the overall project cost of the processing facility. In response to the grant award, Henri van Rooyen, CEO of Talon stated, "Today's announcement is a clear recognition that production of domestic nickel and other battery minerals is a national priority."
Through the Tamarack project, Talon seeks to develop one of only three high grade nickel deposits discovered in the world in the past twenty years. Joint venture partners in this project include Tesla, United Steelworkers union, and mining giant Rio Tinto. Tesla has agreed to be the first customer for a significant portion of the nickel produced at the site. The agreement calls for the purchase of 75,000 tons over six years. The project has a green component, with a relatively low CO2 footprint and the potential for generating carbon offsets through carbon storage via mineralization. In a very positive development, the company recently reported a 98% increase in the resource estimate of the project area, bringing the total to 8.56 million tons grading 1.73% nickel.
Talon owns two drill rigs purchased in 2020 and expects to acquire four more by the end of 2022. The company has increased production while lowering costs. Talon believes there are additional deposits and is actively investigating these potential opportunities within the Tamarack project. Additionally, the company is conducting exploration activities in the Upper Peninsula of Michigan.
Talon reported cash and treasury bills of $32 million and current liabilities of $2.5 million as of 3/31/2022. As of 9/1/2022 there were 774,712,164 shares of TLOFF stock outstanding. Current market cap of the company is approximately $323,000,000. The current stock price is about $0.40 with a 52-week range of $0.36 to $0.72. Short interest is reported to be under 400,000 shares.
While Talon has taken several years to get to this point, they have accomplished a lot in terms of evaluating their holdings and bringing on partners to help develop the play and ultimately purchase the nickel that is produced. The government grant is very bullish and investors are rightfully celebrating. Investor sentiment seems highly positive, and the relatively low short position indicates that there is very little doubt about the future success of Talon Metals. Of course, having Elon Musk on your side is one of the best endorsements a company can have.