Helium One - High Expectations
From OTC Wiki
Helium | Oil and Gas
Helium One | HLOGF | HE1
Disclaimer
INTEREST OWNERSHIP. Staff of this website may have investments in the featured company and no duty to notify the market when they will be selling or buying more. Conduct your own extensive due diligence and seek the advice of your financial advisor or a registered broker-dealer before investing in anything.
NOT AN INVESTMENT ADVISOR. OTC WIKI, LLC is not licensed by any governing body to give investing advice or provide investment recommendation.
NO RECOMMENDATIONS OR OFFERINGS. Nothing in this article should be construed as, and may not be used in connection with, an offer to sell, or a solicitation of an offer to buy or hold, an interest in any security or investment product. We do not offer any investment products to the general public.
FORWARD-LOOKING STATEMENTS. This article and website contain certain statements, estimates and projections that are "forward-looking statements." All statements other than statements of historical fact on this website are forward-looking statements and include statements and assumptions relating to: plans and objectives of management for future operations or economic performance; conclusions and projections about current and future economic and political trends and conditions; and projected financial results and results of operations. OTC WIKI, LLC does not make any guarantees, representations or warranties (express or implied) about the accuracy of such forward-looking statements. Forward-looking statements involve certain risks, uncertainties, and assumptions and other factors that are difficult to predict. Readers are cautioned that actual results of the investments referenced in this website could differ materially from forward-looking statements; and readers of this website are cautioned not to view forward-looking statements as actual results or place undue reliance on forward-looking statements.
PERFORMANCE RISKS. Past performance is not indicative nor a guarantee of future results. No content on this website shall be viewed as a guarantee of future performance. Investing is inherently risky. Don't trade with money you can't afford to lose.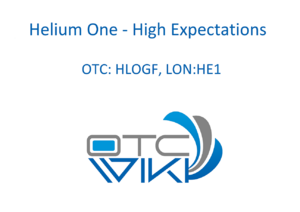 Although most people know Helium as the gas that fills fancy and colorful balloons for special occasions, it is actually a vital resource for the world in many industries including medical, communications and scientific research. Stable and sufficient Helium production is essential to meet the demand for its many uses, the largest being MRI machines which only accounts for 20% of all Helium sold in the world. The next most significant market is welding at 17%, followed by laboratories (10%), balloons (8%), and fiber optics (6%). It is estimated that global demand is growing at a rate of 3% per year, and uses for the gas will likely increase scientific research and development finds new ways to utilize this resource.
In addition to the growing use of this gas, supply disruptions and political decisions have significantly impacted the market in recent years. The U.S. government has owned a Federal Helium Reserve since 1925 and has been a major supplier to the public. However, these public sales are scheduled to end in late 2022. Another supply shock came in 2021 when a Helium plant in Russia experienced a fire which has shut down the plant indefinitely. The war in Ukraine has also impacted Russia's ability to meet demand. Increased demand and supply side disruptions have resulted in a more than 300% increase in prices since 2015, and price increases are expected to continue.
A large portion of Helium production comes from hydrocarbon extraction where Helium is present in small quantities. Low-cost production from reserves such as those owned by the U.S. Government are rare and valuable. Helium One Global (OTC: HLOGF, LON:HE1) is a London based company with the rights to an area that may hold the key to alleviating the supply shortage. The company owns 100% of a license comprising over 4,500 square kilometers in Tanzania with three targeted project areas: Eyasi, Balangida, and Rukwa.  
Helium One has focused its' initial effort on the Rukwa project, and based on high-grade surface seeps, seismic data, and a well drilled last year, a working helium system has been confirmed. Unrisked prospective reserves are estimated to be 138Bcf which represents a potential multi-billion-dollar value.
But there is a catch. When the company finally started drilling in 2021 expectations were high. The science was sound and well vetted, the only piece that remained was proving commercial quantities of Helium were present and extractable. Unfortunately, poor well conditions resulted in the end of drilling operations for the year. A bigger drilling rig was needed and it was not feasible to procure one before the rainy season began. The company decided to conduct more seismic analysis and make plans for drilling in 2022.
Expectations were again high, if somewhat tempered, in early 2022. The search for a rig had begun and investors were hoping to hear about plans for the next drilling campaign. But as the weeks and months passed without news, excitement and optimism turned to accusations of mismanagement and incompetence. Finally, Helium One recently announced that a rig is currently being inspected and tested, with about 80% of this auditing work complete. They have also stated that they believe the next drilling campaign can be conducted in Q4 2022.
Helium One has over 600 million shares outstanding and is currently trading at about $0.10. The large number of shares is the result of numerous funding rounds and the many years it has taken to get to the point. While this project has moved at a snail's pace and has seen more failure than success at commercializing this potential game changing discovery, it is important to remember that the fundamentals of the play remain quite sound and have continued to improve with the addition of more seismic and information gained from the failed 2021 drilling campaign. If the rig that is being audited is sufficient and can be mobilized for the current drilling season, investors could see a very good return by the end of the year.