A Skeptical Look at Cannabis Companies
From OTC Wiki
Disclaimer
INTEREST OWNERSHIP. Staff of this website may have investments in the featured company and no duty to notify the market when they will be selling or buying more. Conduct your own extensive due diligence and seek the advice of your financial advisor or a registered broker-dealer before investing in anything.
NOT AN INVESTMENT ADVISOR. OTC WIKI, LLC is not licensed by any governing body to give investing advice or provide investment recommendation.
NO RECOMMENDATIONS OR OFFERINGS. Nothing in this article should be construed as, and may not be used in connection with, an offer to sell, or a solicitation of an offer to buy or hold, an interest in any security or investment product. We do not offer any investment products to the general public.
FORWARD-LOOKING STATEMENTS. This article and website contain certain statements, estimates and projections that are "forward-looking statements." All statements other than statements of historical fact on this website are forward-looking statements and include statements and assumptions relating to: plans and objectives of management for future operations or economic performance; conclusions and projections about current and future economic and political trends and conditions; and projected financial results and results of operations. OTC WIKI, LLC does not make any guarantees, representations or warranties (express or implied) about the accuracy of such forward-looking statements. Forward-looking statements involve certain risks, uncertainties, and assumptions and other factors that are difficult to predict. Readers are cautioned that actual results of the investments referenced in this website could differ materially from forward-looking statements; and readers of this website are cautioned not to view forward-looking statements as actual results or place undue reliance on forward-looking statements.
PERFORMANCE RISKS. Past performance is not indicative nor a guarantee of future results. No content on this website shall be viewed as a guarantee of future performance. Investing is inherently risky. Don't trade with money you can't afford to lose.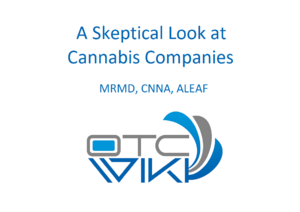 I will say, right off the bat, that I am not a fan of pot stocks. Just like crypto, there is a big 'ride the wave' component to these stocks. Investment quality seems to be lost in the hype of the industry and people who have no idea how to invest throw money at stocks expecting to make a fortune. Well, just like crypto, pot stocks have also been given a dose of reality. However, the cannabis industry is large and there are opportunities for companies and investors, so I thought I would look at a few of these companies and give my thoughts on the overall state of the industry. Also, if we were that picky about where we look for investments, we might just end up eliminating the OTC as a whole.
MariMed Inc.

MRMD MariMed Inc. (OTC: MRMD) manufactures and sells Medicinal and recreational cannabis products, operating stores in Massachusetts and Maryland under the Nature's Heritage name. Their product lines include: 1) Kalm Fusion chewables and powder drink mixes, 2) Betty's Eddies natural fruit chews, 3) Bubby's Baked brownies and cookies, and 4) Florance brand cannabidiol formulations. The company reported income of $121,464,000 for the year ending 12/31/2021 with a net income of $7,224,000 million. The current market cap is approximately $175,000,000.  
Cann American Corp.

Cann American Corp. (OTC: CNNA) is a holding company that wants to build a portfolio of legal cannabis and hemp industry intellectual properties. The company is planning to expand its production of C-Juice in a 10,000 sq. ft. plot of land that it has leased in Glencoe, OK. C-Juice is currently available for distribution in several cities in Oklahoma, although the company reported no revenues and a net loss of $7,373,000 for the year ending 2/28/2022. Cann American currently has a market cap of less than $1,000,000.  
Aleafia Health Inc.

Aleafia Health Inc (OTC: ALEAF, TSX: AH) offers cannabis products and related health and welfare services in Canada, Germany and Australia. The company owns a network of virtual clinics staffed by doctors and nurse practitioners as well as three production facilities and a distribution center. It produces many products including vapes, oils, sublingual strips, capsules and edibles. Total revenue for the year ending 12/31/2021 was $28,566,000 with a net loss of $131,192,000 and market cap about $20,000,000.

These three stocks seem to represent a lot of the hopes and dreams that surround this industry. As MariMed shows, cannabis companies can build solid businesses and even turn a profit in what is becoming a very competitive industry. On the other hand, Cann American demonstrates that millions of dollars of investor's money can be spent with very little to show for it. Aleafia shows just how staggering the losses can be as they build out their production, distribution and retail sales network.
While Cann American and Aleafia seem to be making an honest effort, there are many companies in this industry that are not even trying and simply provide income (from massive dilution) to founders and leaders. This is what really turns me off to the industry and inspires me to lump it in with the crypto craze (not just the currency trading, but all of the crypto and blockchain companies with their hands in investors pockets). And even if the leadership are honest and have a good plan to succeed, there are clearly many pitfalls and expenses along the way that can result in failure. I can't say that companies like Cann American and Aleafia will not turn things around and provide a good return to investors, but with so many competitors it is likely that many in the industry will fail. Picking winners is very challenging.
MariMed seems to have a bright future and if you can identify the winners in their early stage, they you can be successful. However, that requires ignoring the hype and recognizing the swindlers, and sticking to the basics of investing like identifying companies with good leadership who have a record of success.