Solar Integrated Roofing - Growth Powered by Acquisition
From OTC Wiki
Electric Vehicles | Solar Power
SIRC | Solar Integrated Roofing Corp
Disclaimer
INTEREST OWNERSHIP. Staff of this website may have investments in the featured company and no duty to notify the market when they will be selling or buying more. Conduct your own extensive due diligence and seek the advice of your financial advisor or a registered broker-dealer before investing in anything.
NOT AN INVESTMENT ADVISOR. OTC WIKI, LLC is not licensed by any governing body to give investing advice or provide investment recommendation.
NO RECOMMENDATIONS OR OFFERINGS. Nothing in this article should be construed as, and may not be used in connection with, an offer to sell, or a solicitation of an offer to buy or hold, an interest in any security or investment product. We do not offer any investment products to the general public.
FORWARD-LOOKING STATEMENTS. This article and website contain certain statements, estimates and projections that are "forward-looking statements." All statements other than statements of historical fact on this website are forward-looking statements and include statements and assumptions relating to: plans and objectives of management for future operations or economic performance; conclusions and projections about current and future economic and political trends and conditions; and projected financial results and results of operations. OTC WIKI, LLC does not make any guarantees, representations or warranties (express or implied) about the accuracy of such forward-looking statements. Forward-looking statements involve certain risks, uncertainties, and assumptions and other factors that are difficult to predict. Readers are cautioned that actual results of the investments referenced in this website could differ materially from forward-looking statements; and readers of this website are cautioned not to view forward-looking statements as actual results or place undue reliance on forward-looking statements.
PERFORMANCE RISKS. Past performance is not indicative nor a guarantee of future results. No content on this website shall be viewed as a guarantee of future performance. Investing is inherently risky. Don't trade with money you can't afford to lose.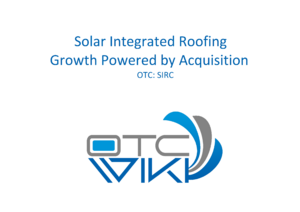 Sunny Days Ahead for SIRC?
[
edit
]
Solar Integrated Roofing Corporation (OTCPINK: SIRC) is growing its way to becoming a significant player in the solar power, roofing and EV charging industries. A very aggressive strategy of growth by acquiring established companies throughout the U.S. has resulted in significant revenue and profitability growth. Unfortunately, this growth has not been a driver of share price growth as shares currently trade near the 52 week low. However, continued profitability and the potential for positive cash flow may be reflected in price increases in 2022 and 2023. Investors may be waiting to see how this strategy plays out since such aggressive growth is rare and it is difficult to predict how successful SIRC may be. Also, moving off of the pink sheets is a necessary step to expand the pool of investors.
Lines of Business and Brands
[
edit
]
SIRC has traditionally been a roofing and solar energy installer, but has announced plans to build out their EV charging stations installation line of business and grow their pipeline during 2022. They currently have over 210 employees, 250 dealers, and over 100 independent contractors conducting management, administrative, procurement and construction work in over 40 states. They offer and end-to-end approach for residential and commercial scale solar projects that includes sales, design, permitting, financing, procurement, and construction.
The financing aspect of SIRC's business model provides an interesting potential revenue stream, diversification and boost to installation sales. According to CEO David Massey, the company will have $300 million available to customers for financing projects. If managed well this line of business can be an additional profit center.
Revenue for 2021 was recognized from the different lines of business as: 87% from solar sales and installation, 10% from new roofing construction, 1.5% from roofing repairs, and 1.5% from supplemental. This represents a significant increase from solar over 2020 revenue figures, with the gain coming from a decrease in new roofing construction.
Business is conducted under numerous brand names, including Cornerstone Construction, Enerev Solar, PLEMCo, Future Home Power, Balance, Montross Companies, McKay Roofing Co, SunPower by Milholland Electric, Secure Roofing & Solar, USA Solar Networks, Approved Home Pros, SunUp Solar.
Expansion Through Acquisition
[
edit
]
Acquisitions in 2021 included Enerev LLC, Cornerstone Construction Team, LLC, Pacific Lighting Management, Inc., Balance Authority, LLC and Kinetic Investments, Inc., USA Solar Network LLC, SunUp Solar LLC and Renovation Roofing, Inc. These moves fueled the extensive revenue growth outlined below.
In January 2022 SIRC announced the intention to acquire seven companies, with completed binding Letters of Intent. These acquisitions are expected to add $78 million in additional annual revenue. The targeted companies are:
Storm Ventures Group - Consulting firm;
Standard Eco - Solar provider with operations in five states;
Eco Management - EPC solar provider in four states;
BVI Solar - Roofer and solar contractor in California;
Bel Aire Construction and Development - Property development firm;
Music City Roofing - Roofer in Tennessee;
Heartland Constructors - EPC and solar provider in west Texas.
In March 2022 SIRC announced the signing of a Letter of Intent to acquire three EV charging station installers with contracts totaling more than $100 million. This agreement is in line with the anticipated name change to SolarEV and the goal of expanding its national EV charging line of business which already boasts an electric vehicle project charging pipeline of over $30 million as well as a $20.2 million project backlog.
Competition
[
edit
]
Although it has been around for several decades, the solar power industry is really still in its infancy. Solar farms are popping up all over the place and the world is seeing ever larger farms planned and built. Rooftop solar continues to grow and there are many small, medium and large companies offering these installations. As installations increase, the markets for maintenance and eventually decommissioning and replacement will grow as well.
EV charging stations are just starting to become common and there is still a massive build-out which needs to occur. Some of the largest EV charging companies are Chargepoint (NYSE: CHPT), Evgo (Nasdaq: EVGO) and Wallbox (WBX). Each of these companies has a market cap of $2 billion to $5 billion. As of January 2022, there were approximately 113,600 charging stations in the U.S. with about 36% of these located in California.[1] McKinsey estimates that 1.2 million charging stations will be needed by 2030.[2] Although SIRC is a relatively small player at this point in time, the need for over a million charging stations means that there is plenty of room for multiple national and regional firms in this industry. At a minimum, charging stations could be a loss leader which bring in customers to grocery and department stores. But there is also the possibility that these stations will be profitable on their own which opens up the market to any business with a couple extra parking spots. The industry may very well follow the path of vending machines, ATMs and payphones.
Financials
[
edit
]
SIRC has experienced tremendous revenue growth fueled by their aggressive acquisition strategy. Revenue for the full year 2021 increased 388% year over year to $84.2 million. In addition, the company moved from a net loss in 2020 to positive net earnings of $19.9 million in 2021 which equates to $0.05 per share.
Current share count is 481,223,590 outstanding (fully diluted) out of 500,000,000 authorized, with a float of 354,311,956 and approximately 25% of shares restricted.[3] It is interesting to note that the 12/31/2021 audited financials indicate there are only 136 shareholders, which is likely the case because of the stock trading on the pink sheets. The company has applied for uplisting to OTCQB, with the ultimate goal of listing on NASDAQ.
Approximately 96 million shares were issued during 2021 for acquisitions with a value of $63.8 million at time of issuance. In 2021, approximately 92 million shares were issued to debt holders. Convertible debt outstanding as of 12/31/2021 is approximately $23 million. The company reported 121,141,523 shares as potentially-dilutive instruments which includes convertible notes and accrued interest.  
So, how does a company with $19 million in net income trade at a low price/earnings ratio of about 6? With receivables of $52 million and payables of $19 million we see that the balance sheet presents a clearer picture of the company's financial position at this point in time. The timing of, and ability to collect, those receivables will have a significant impact on the stock price.
Leadership
[
edit
]
SIRC boasts a fairly impressive array of highly experienced industry professionals within their management team and Board of Directors.
CEO David Massey has over 30 years of experience in the roofing industry with a large part of that experience in solar rooftop installations. He built the largest residential roofing company in San Diego and, starting in 2008, began to focus on solar installations. Company President Pablo Diaz and COO Troy Clymer joined SIRC as part of acquisitions and bring the extensive experience that went into building their successful companies.
Director Gregory Craig has over 30 years of experience in the industry and led wholesale energy trader Cook Inlet Energy to over $3 billion in revenue and the company's sale to Macquarie Bank. In addition, he was an advisor to multiple US Energy Secretaries and was an advisor to US President Bill Clinton.
Director Michael Fallquist served as CEO of publicly traded energy and solar provider Crius Energy LLC while the company generated over $1.2 billion in revenue. He led the acquisition of 12 companies solar and energy acquisition. Crius Energy was acquired by Vistra Energy for approximately C$650 million.
Summary
[
edit
]
It's hard to argue that increased revenue and a net profit margin of over 23% will not lead to an increase in share price. Although the share count has ballooned in the past two years, this dilution has driven positive financial results. If dilution continues investors must be confident that it will continue to be of to strengthen the bottom line. The company seems to have managed this strategy well in the past which bodes well for the future.
Navigating the waters in multiple evolving industries may present unforeseen challenges that management is not prepared to address. In addition, it remains to be seen if investors will recognize the underlying value and future potential of SIRC in the near term. Getting off the pink sheets is vital to improving investor confidence and boosting the stock price.