Neptune Digital Assets Corp - Betting Big on Bitcoin
From OTC Wiki
Crypto | Bitcoin
NPPTF | Neptune Digital Assets | Bitcoin | Mining
Disclaimer
INTEREST OWNERSHIP. Staff of this website may have investments in the featured company and no duty to notify the market when they will be selling or buying more. Conduct your own extensive due diligence and seek the advice of your financial advisor or a registered broker-dealer before investing in anything.
NOT AN INVESTMENT ADVISOR. OTC WIKI, LLC is not licensed by any governing body to give investing advice or provide investment recommendation.
NO RECOMMENDATIONS OR OFFERINGS. Nothing in this article should be construed as, and may not be used in connection with, an offer to sell, or a solicitation of an offer to buy or hold, an interest in any security or investment product. We do not offer any investment products to the general public.
FORWARD-LOOKING STATEMENTS. This article and website contain certain statements, estimates and projections that are "forward-looking statements." All statements other than statements of historical fact on this website are forward-looking statements and include statements and assumptions relating to: plans and objectives of management for future operations or economic performance; conclusions and projections about current and future economic and political trends and conditions; and projected financial results and results of operations. OTC WIKI, LLC does not make any guarantees, representations or warranties (express or implied) about the accuracy of such forward-looking statements. Forward-looking statements involve certain risks, uncertainties, and assumptions and other factors that are difficult to predict. Readers are cautioned that actual results of the investments referenced in this website could differ materially from forward-looking statements; and readers of this website are cautioned not to view forward-looking statements as actual results or place undue reliance on forward-looking statements.
PERFORMANCE RISKS. Past performance is not indicative nor a guarantee of future results. No content on this website shall be viewed as a guarantee of future performance. Investing is inherently risky. Don't trade with money you can't afford to lose.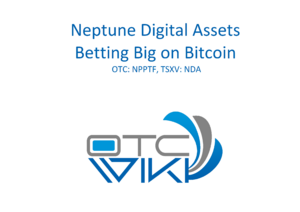 Introduction
[
edit
]
As the introduction of crypto currency into our financial has changed the way we view currency, the growth of the crypto industry has impacted the way we evaluate certain companies as an investment. In this article we will look at Neptune Digital Assets Corp (OTCPINK: NPPTF, TSXV: NDA) and specific characteristics of the company's business model and balance sheet that should be interesting to shareholders and potential investors.
Business Model
[
edit
]
Neptune is engaged in bitcoin mining with operations in North America powered by inexpensive renewable power. They are committed to green mining with minimal impact on the environment. Over the past two years Neptune has expanded mining operations and intends to continue this expansion. They have 53 petahash in mining rigs in storage in the U.S. which will be deployed as soon as possible, and will make further rig acquisitions and token purchases based on the market.
In addition to mining, Neptune is engaged in the business of validating blockchain transactions, which is known as 'staking'. Companies engage in staking to maintain the security and accuracy of certain blockchains. In return for these activities a fee is received. As with mining, this business is conducted in an environmentally friendly manner.
Other lines of business include decentralized finance projects such as smart contract lending and borrowing, yield farming, and liquidity mining. Decentralized finance was announced in very recently, in December 2021, so they are just starting to ramp up. According to CEO Cale Moodie, "This is a nascent space and, as such, we have carefully and methodically selected protocols that we trust, that are run by non-anonymous individuals and groups that have a history of success. Although DeFi is in its infancy, our program is proving to be very lucrative and we will continue to evolve in the space and maximize returns for shareholders."
Financials and Stock
[
edit
]
Neptune reported a significant increase in revenue, no debt and $62 million in assets, a large portion of which is held in cryptocurrency (including 194 Bitcoin and 152,964 ATOM). A funding raise in April of 2021 in the amount of $40,000,000 has provided the necessary capital for startup and ongoing operations.
The stock began trading in 2018 and the 52-week price range is $0.16 to $0.68 and the market cap is approximately $30 million. Institutional investors own approximately 20% of outstanding shares and management owns approximately 20%.
Revenue and Earnings
[
edit
]
Neptune reported earnings of $3.45 million for the quarter ending 2/28/2022, which is an increase of 102%  over the previous quarter. For the quarter ending 2/28/2022, mining revenue was $765,632 with costs of $121,329, for a gross profit of $644,303.
As noted above, the company has $62 million in assets, which is about $0.50 per share (based on approximately 125,000,000 shares outstanding. Note that assets fluctuate with the crypto markets and there is a lot of volatility in these markets. Total digital assets held by Neptune was reported to be about $23 million as of 2/28/2022. This equates to about $0.12 per share, but with the recent decline in bitcoin value, the per share amount could be less than more like $0.10. Cash and cash loans were $23 million.
Summary
[
edit
]
Neptune is certainly in a growth phase and willing to shift or enhance their revenue generating activities based on the evolving crypto, blockchain and decentralized finance industries. Although the evidence is recent, they have demonstrated that they can generate revenue and profit in multiple ways. The volatility of crypto prices, as well as the potential for large swings in crypto activity due to such volatility, could provide challenges for the company as they continue to expand operations and invest in infrastructure.