Graphene Manufacturing Group - Green Tech That Every Investor Should Know About
From OTC Wiki
Electric Vehicles | Graphene | Green Tech
GMGMF | Graphene Manufacturing Group | Graphene Aluminum Battery
Disclaimer
INTEREST OWNERSHIP. Staff of this website may have investments in the featured company and no duty to notify the market when they will be selling or buying more. Conduct your own extensive due diligence and seek the advice of your financial advisor or a registered broker-dealer before investing in anything.
NOT AN INVESTMENT ADVISOR. OTC WIKI, LLC is not licensed by any governing body to give investing advice or provide investment recommendation.
NO RECOMMENDATIONS OR OFFERINGS. Nothing in this article should be construed as, and may not be used in connection with, an offer to sell, or a solicitation of an offer to buy or hold, an interest in any security or investment product. We do not offer any investment products to the general public.
FORWARD-LOOKING STATEMENTS. This article and website contain certain statements, estimates and projections that are "forward-looking statements." All statements other than statements of historical fact on this website are forward-looking statements and include statements and assumptions relating to: plans and objectives of management for future operations or economic performance; conclusions and projections about current and future economic and political trends and conditions; and projected financial results and results of operations. OTC WIKI, LLC does not make any guarantees, representations or warranties (express or implied) about the accuracy of such forward-looking statements. Forward-looking statements involve certain risks, uncertainties, and assumptions and other factors that are difficult to predict. Readers are cautioned that actual results of the investments referenced in this website could differ materially from forward-looking statements; and readers of this website are cautioned not to view forward-looking statements as actual results or place undue reliance on forward-looking statements.
PERFORMANCE RISKS. Past performance is not indicative nor a guarantee of future results. No content on this website shall be viewed as a guarantee of future performance. Investing is inherently risky. Don't trade with money you can't afford to lose.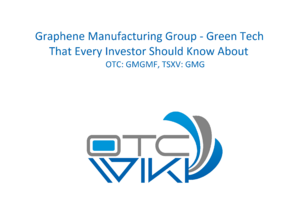 The world has seen a major shift towards green energy production, use and storage over the last decade as governments and industry attempt to reduce CO2 emissions as a matter of policy and business needs. This reorientation has resulted in the creation and expansion of previously small industries as well as enormous opportunity in the realm of discovery and invention. One company that has been gaining traction in the green space is Graphene Manufacturing Group, based in Australia and trading on the TSXV (GMG) and OTC (GMGMF).
History
[
edit
]
GMG started out with the goal of developing a process to convert natural gas into high quality graphene. This was a challenging task, but the company was successful and the result is a "high quality, low cost, scalable, tuneable and low / no contaminant graphene". The company now has a trade secret proprietary process and, based on a partnership with the University of Queensland,  license to a number of patents for specific graphene related products.
The original intention was to be a graphene supplier to other companies. However, after developing the process and looking at the raw graphene market, they determined the best course or action would be to develop their own line of products. Significant testing was done in many product areas and they decided that graphene could be the basis for commercially viable products of three types: energy storage, energy savings, and lubricants.
University of Queensland
[
edit
]
GMG has been collaborating with the University of Queensland for several years under a research agreement. The goal of this partnership is to develop graphene aluminum-ion batteries which will provide an alternative to the lithium-ion batteries currently used in EV's and many products. Basically, GMG has been supplying the graphene and the University has used its resources to conduct the extensive research. GMG now has an exclusive license to commercialize the patent-pending technology for battery cathodes developed by the University.
Products
[
edit
]
Graphene Aluminum-ion Batteries
[
edit
]
According to GMG, their graphene aluminum-ion batteries compare favorably with existing Lithium-ion batteries used in EVs and consumer products. The results of their testing show the following attributes:
Interchangeable (at 3+ volts)
Rechargeable, with charging up to 70 times faster
Battery life is up to 3x longer
Safer and far more environmentally friendly
Uses no Lithium, Copper, Cobalt, Manganese or rare earth materials
Energy density is comparable to lithium-ion

In Q4 2021 GMG finished building a plant to produce coin cell prototypes and the product was sent to potential customers for testing. The company will be ready to produce pouch pack prototypes in 2022 for similar testing.
Thermal XR
[
edit
]
Thermal XR is a graphene based coating for heat exchange surfaces that can increase efficiency of cooling equipment. GMG's testing has found energy savings of up to 52%. This product is currently available for purchase directly from the company and GMG is engaged in sales and marketing efforts on multiple continents. Investors are anxiously awaiting reports of sales and distribution agreements.
G Lubricant
[
edit
]
G Lubricant is a graphene based lubricant additive product that reduces friction and is in the late stages of development. Internal testing has shown energy savings of up to 12% and wear enhancement protection of up to 10%.
Leadership
[
edit
]
Craig Nicol, Founder and CEO, is a Shell veteran with over 20 years of experience in large scale innovation projects and managing sales and marketing teams. CFO Chris Ohlrich is a Chartered Accountant with over 20 years of commercial, finance and corporate transaction experience as well as M&A and capital raising transactions during his career at Deutsche Bank, Investec Bank and elsewhere in the energy sector. Director Guy Outen, also a Shell veteran, has over 35 years of experience in various roles including EVP Strategy & Portfolio. The skilled leadership provided by these individuals, as well as Directors Robbert de Weijer, Will Ollerhead, and Rob Shewchuk, is evident in the methodical planning, professionalism and business acumen of the management team.
Commercialization and Scaling
[
edit
]
One concerns that investors are likely to have with such a small company trying to compete in industries that require significant capital investment is the company's ability to quickly build the infrastructure necessary to mass produce their products. GMG has addressed the logistics part of this issue through two recent agreements with Wood and Bosch.  
In October 2021 GMG and Bosch signed a non-binding Letter of Intent for Bosch to design and build battery manufacturing plant. CEO Craig Nicol has stated in interviews that the company will move forward with the plant once the Board of Directors has approved the investment. This approval will be contingent on interest from potential customers.
In March 2022 GMG signed a non-binding Letter of Intent with global engineering consultant Wood. According to the press release, "Wood will support GMG in scaling up and automating its proprietary natural gas to graphene manufacturing process. The parties' intent is for Wood to become GMG's engineering, design and construction contractor for GMG's near and long-term graphene manufacturing facility needs in Australia and overseas."
Financials
[
edit
]
GMG's market cap is approximately $250 million with about 78 million shares outstanding and slightly more than half of those shares available to retail investors. Revenue for 2021 was negligible as the company did not have products available commercially. Cash on hand was C$15.1 million as of 12/31/2021. The company believes their cash position will be sufficient to fund operations and investment requirements for pilot plant completion, prototype production and marketing of existing products.
Summary
[
edit
]
With a solid cash position, products currently available, and the huge potential of their unique batteries, GMG is looking like a speculative investment that many will want to include in their portfolios. The question may not be if this stock explodes, but when. If the pouch pack battery shows enough potential, then many industries will want to use their technology or even try to the buy the company. Based on similar companies, a valuation of several billion dollars in the near to intermediate term is not out of the question if investor sentiment is optimistic. GMG has the potential to be a true unicorn stock which means long term value is difficult to calculate but fun to imagine.