Else Nutrition - Seeking the Formula for Baby Food Success
From OTC Wiki
Baby Food
Else Nutrition | BABYF | Baby Food | Infant Formula | Else Stock | Investment
Disclaimer
INTEREST OWNERSHIP. Staff of this website may have investments in the featured company and no duty to notify the market when they will be selling or buying more. Conduct your own extensive due diligence and seek the advice of your financial advisor or a registered broker-dealer before investing in anything.
NOT AN INVESTMENT ADVISOR. OTC WIKI, LLC is not licensed by any governing body to give investing advice or provide investment recommendation.
NO RECOMMENDATIONS OR OFFERINGS. Nothing in this article should be construed as, and may not be used in connection with, an offer to sell, or a solicitation of an offer to buy or hold, an interest in any security or investment product. We do not offer any investment products to the general public.
FORWARD-LOOKING STATEMENTS. This article and website contain certain statements, estimates and projections that are "forward-looking statements." All statements other than statements of historical fact on this website are forward-looking statements and include statements and assumptions relating to: plans and objectives of management for future operations or economic performance; conclusions and projections about current and future economic and political trends and conditions; and projected financial results and results of operations. OTC WIKI, LLC does not make any guarantees, representations or warranties (express or implied) about the accuracy of such forward-looking statements. Forward-looking statements involve certain risks, uncertainties, and assumptions and other factors that are difficult to predict. Readers are cautioned that actual results of the investments referenced in this website could differ materially from forward-looking statements; and readers of this website are cautioned not to view forward-looking statements as actual results or place undue reliance on forward-looking statements.
PERFORMANCE RISKS. Past performance is not indicative nor a guarantee of future results. No content on this website shall be viewed as a guarantee of future performance. Investing is inherently risky. Don't trade with money you can't afford to lose.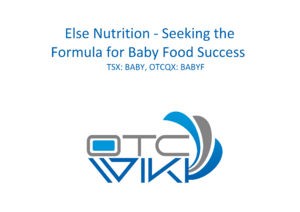 Else Nutrition (TSX: BABY, OTCQX: BABYF) is a manufacturer of baby food and hopes to establish itself as the gold standard of sustainable plant-based nutrition for infants. The market for infant formula is $80 billion, and the organic baby food market is expected to grow to almost $15 billion by 2025. Just a small share of this market could transform Else into a large and profitable company. Article
Products
[
edit
]
The company holds a worldwide patent for plant based, non-dairy and soy free baby formula. Their formula uses almonds, buckwheat and tapioca to create the nutritional value of human milk. They claim this product provides essential amino acids, fatty acids and macronutrients in an optimal ratio. Other key aspects are minimal processing and hypoallergenic ingredients, which differs from traditional dairy and soy protein products. Additional features include:
Core ingredients maintain their natural composition,
No hormones, antibiotics, gluten, Hexane, GMO,
Limited ecological footprint.
Sales and Distribution
[
edit
]
In 2021 Else expanded their retail and wholesale distribution capabilities in a number of ways. Distribution agreements with KeHE, UNFI and Imperial provide opportunities with over 60,000 potential customers. Retail distribution has commenced on ecommerce platforms including Amazon, Kroger, Walmart and specialty sites. Over 1,200 retailers have been contracted with directly. Expansion into international markets is expected to continue during 2022.
Advisory Board
[
edit
]
The products offered my Else BABYF are not the result of a young mom fiddling with some ingredients in her kitchen trying to make something her baby would eat. Rather, years of research and development by experts in several relevant fields was conducted. This effort to create ground-breaking products is evident by looking at the backgrounds and experience of advisory board members. The board is made up of professors with backgrounds in nutrition, pediatric medicine, allergy/immunology, and pediatric gastroenterology. Their experiences and affiliations include WHO consulting, American Society for Nutritional Sciences (ASNS), American Society for Clinical Nutrition (ASCN), Society for International Nutrition Research (SINR), International Editorial Board of the Journal Pediatric Gastroenterology, Hepatology and Nutrition (JPGN) to name just of few of the many impressive accomplishments.
Stock Information and Financial Status
[
edit
]
Revenue for the year ending 12/31/2021 was $4.68 million, compared to $1.48 million for the year ending 12/31/20. Gross profit increased from $498,000 to $743,000. These revenue and income figures represent a significant improvement, however, operating expenses and jumped from $9.5 million to $18.4 million. Pretax income improved from -$24 million to -$16 million. Overall, a $16 million loss on $4.6 million in revenue is very discouraging, however, this investment in establishing products in the marketplace and developing distribution channels may pave the way for future growth, and the company has no debt.
The Statement of Cash Flows for 12/31/2021 shows a cash position of $24.7 million. The loss during 2021 reduced the available cash, however, additional financing has offset a portion of the loss. Cash as of February 2022 was reportedly $16.5 million, according to the investor presentation.
Current stock price is about $0.90 with a 52-week range of $0.79 to $2.92 and a market cap of about $95 million. Else uplisted to the TSX exchange in January of 2022.
Summary
[
edit
]
With a market cap of $105 million there is considerable room for share price growth, contingent on BABYF's ability to penetrate a competitive market with a unique product. It is clear that Else is offering products that have the potential to carve out a niche in a very large market, but consumer acceptance remains to be seen. They have charted a path and seem to be making the right moves with distribution so sales growth during 2022 should give a good indication of the likelihood of long-term success.