Four Things Nintendo Has Going For It
From OTC Wiki
Gaming
Nintendo | NTDOF | NTDOY | investing | stock
Disclaimer
INTEREST OWNERSHIP. Staff of this website may have investments in the featured company and no duty to notify the market when they will be selling or buying more. Conduct your own extensive due diligence and seek the advice of your financial advisor or a registered broker-dealer before investing in anything.
NOT AN INVESTMENT ADVISOR. OTC WIKI, LLC is not licensed by any governing body to give investing advice or provide investment recommendation.
NO RECOMMENDATIONS OR OFFERINGS. Nothing in this article should be construed as, and may not be used in connection with, an offer to sell, or a solicitation of an offer to buy or hold, an interest in any security or investment product. We do not offer any investment products to the general public.
FORWARD-LOOKING STATEMENTS. This article and website contain certain statements, estimates and projections that are "forward-looking statements." All statements other than statements of historical fact on this website are forward-looking statements and include statements and assumptions relating to: plans and objectives of management for future operations or economic performance; conclusions and projections about current and future economic and political trends and conditions; and projected financial results and results of operations. OTC WIKI, LLC does not make any guarantees, representations or warranties (express or implied) about the accuracy of such forward-looking statements. Forward-looking statements involve certain risks, uncertainties, and assumptions and other factors that are difficult to predict. Readers are cautioned that actual results of the investments referenced in this website could differ materially from forward-looking statements; and readers of this website are cautioned not to view forward-looking statements as actual results or place undue reliance on forward-looking statements.
PERFORMANCE RISKS. Past performance is not indicative nor a guarantee of future results. No content on this website shall be viewed as a guarantee of future performance. Investing is inherently risky. Don't trade with money you can't afford to lose.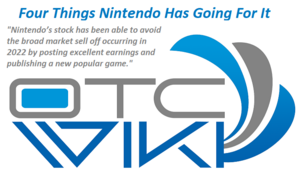 Fusajiro Yamauchi founded Nintendo Karuta in 1889 as a hanafuda playing card production company. In the 1960s, the company procured legal status as a public company, and in 1997 it created its first gaming console, the Color TV-Game.
Over the next few decades, Nintendo would gain international recognition with games like Donkey Kong and Super Mario Bros. It's universe of characters has transcended the gaming world and is now deeply rooted in international popular culture with franchises like Pokémon and The Legend of Zelda.
Nintendo's stock has been able to avoid the broad market sell off occurring in 2022 by posting excellent earnings and publishing a new popular game. NTDOY is up 6.86% year to date.
Four Things Nintendo Has Going For It
[
edit
]
Excellent Margin in a Growth Industry
[
edit
]
From October 2020 to October 2021 Nintendo (NTDOY) maintained operating margins of 36% and gross margins of 55%. These margins are likely due to an increased interest in gaming during COVID lockdowns, but the company still had respectable operating margins of 27% and gross margins of 47% in the year prior to COVID.
These margins translate directly into free cash flow and the ROI/ROE/ROA and other related profitability KPIs are high. In short, Nintendo is a capital-light business. The gaming industry is projected to continue outpacing the rest of the economy over the next decade. This is great news for Nintendo if they are able to maintain their already quality margins.
Expansion into Movies and Theme Parks
[
edit
]
Nintendo has survived in an industry of giants like Sony (SONY) and Microsoft (MSFT) by excelling in its niche of gaming and hardware. However, the company has a few tricks up its sleeve. Popular franchises like Animal Crossing, Mario, and Zelda can easily be translated into movies and theme parks. In 2021, Nintendo partnered with Comcast's Universal Studios to open Super Nintendo world in Japan. Currently, the park focuses on the Mario franchise, but Nintendo is already planning to expand in 2024 with a Donkey Kong themed section, and there are plans to bring Super Nintendo Worlds to Singapore, California, and Florida by 2025.
Illumination Studios, producer of the hit animated film Despicable Me, will release a Super Mario animated film in 2022. Synergy between theme parks, films, and fan base loyal to decades old franchises are Nintendo's strategy to break free of its niche and compete in new markets.
Solid IP Portfolio
[
edit
]
Nintendo is unparalleled in the gaming industry for its universe of characters. While Sony (SONY) has succeeded in selling millions of PlayStations over the past 20 years, Nintendo has created franchises like Super Mario and Pokémon that are well known among gamers and non-gamers alike.
This means that Nintendo is in a unique position to license its characters for films, mobile games, merchandise, and it's Nintendo theme parks. Additionally, any game published or film produced that has Nintendo characters acts as free marketing for the company.
Safety Profile
[
edit
]
Nintendo's cash on hand for 2021 was over $16 billion, an increase of 46.31% from 2020. This considerable cash position is augmented by the fact that Nintendo has nearly no debt outstanding. This massive net-cash position acts as an immunization against bankruptcy and limits the potential for sudden major dips in its stock price.
Any risk of geo-poltical tensions between Japan and China turning into something more serious are mitigated by the distribution of Nintendo's manufacturing footprint. While the company does make its Switch in China, it also has sources in Vietnam and Malaysia.
Two Potential Negatives for Nintendo
[
edit
]
Cyclicality
[
edit
]
Nintendo's cycles depend on the success of each new gaming console. However, if the Nintendo Switch follows the pattern of success set by Nintendo DS, PS2, and PS4, it will still be a viable console for some years to come. This provides Nintendo with the opportunity to produce a new console to begin its next cycle.
The company is notoriously secretive about their game console releases. However, Nintendo has invested large sums into R&D over the years ($1B in 2020), leading some to conclude that they may be working on an AR/VR based console.
Nintendo's cyclicality may be a downside in the short term, but a new console release would likely increase its valuation substantially, making the issue negligible in the long term.
Management Culture
[
edit
]
Some investors have been irritated that Nintendo historically has not returned a larger share of their earned cash. While this may be seen as a negative, management has recently used its large cash reserves to buy back 1.5% of outstanding shares. Furthermore, Nintendo refuses to pay out large quantities of stock options, meaning that the stock has never faced dilution, and the number of outstanding shares has shrunk over time.
Summary
[
edit
]
Nintendo is not quite a Sony or a Microsoft, but it has a lot going for it. Its large pile of cash and low debt make it a relatively safe bet, while the company's anticipated expansion into films and theme parks, alongside its impressive IP portfolio, may provide a valuation boost in coming years.