American Battery Technology Company – Charged Up and Ready to Go
From OTC Wiki
ABML
Electric Vehicles | Lithium-Ion | Batteries
ABML | American Battery Technology Company
Disclaimer
INTEREST OWNERSHIP. Staff of this website may have investments in the featured company and no duty to notify the market when they will be selling or buying more. Conduct your own extensive due diligence and seek the advice of your financial advisor or a registered broker-dealer before investing in anything.
NOT AN INVESTMENT ADVISOR. OTC WIKI, LLC is not licensed by any governing body to give investing advice or provide investment recommendation.
NO RECOMMENDATIONS OR OFFERINGS. Nothing in this article should be construed as, and may not be used in connection with, an offer to sell, or a solicitation of an offer to buy or hold, an interest in any security or investment product. We do not offer any investment products to the general public.
FORWARD-LOOKING STATEMENTS. This article and website contain certain statements, estimates and projections that are "forward-looking statements." All statements other than statements of historical fact on this website are forward-looking statements and include statements and assumptions relating to: plans and objectives of management for future operations or economic performance; conclusions and projections about current and future economic and political trends and conditions; and projected financial results and results of operations. OTC WIKI, LLC does not make any guarantees, representations or warranties (express or implied) about the accuracy of such forward-looking statements. Forward-looking statements involve certain risks, uncertainties, and assumptions and other factors that are difficult to predict. Readers are cautioned that actual results of the investments referenced in this website could differ materially from forward-looking statements; and readers of this website are cautioned not to view forward-looking statements as actual results or place undue reliance on forward-looking statements.
PERFORMANCE RISKS. Past performance is not indicative nor a guarantee of future results. No content on this website shall be viewed as a guarantee of future performance. Investing is inherently risky. Don't trade with money you can't afford to lose.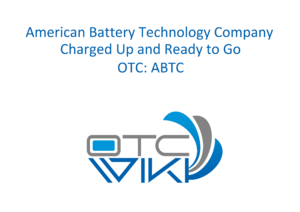 American Battery Technology Company (OTCQB:ABML)
Introduction
[
edit
]
The evolution and commercial development of electric vehicles has been in the making for decades, dating back to at least the 1940's. This slow path to commercialization is due to a variety of reasons, one of which is the challenge of making a battery that is powerful enough to move a car yet not too heavy to require charging after short distances. Current technology is far from ideal but has allowed the dream of mass EV production to become a reality.
Lithium-ion batteries have been the answer to the challenge for EV's. This technology has also facilitated many other common products like cell phones, wireless headphones, toys and electronic games, power tools, and laptop computers. In addition, many not-so-well-known products use lithium batteries, including industrial robots, production equipment, the internet of things, and ghost hunting equipment.
According to statista.com, lithium demand is expected to grow from 263 thousand metric tons in 2019 to 2,114 thousand metric tons in 2030, representing an increase of over 800%. There are big questions about whether the supply of lithium can expand rapidly enough to meet this enormous increase in future demand. Lithium mining and production requires a significant investment of capital, environmental considerations and approvals, and fairly long timeframes to complete projects. Therefore, new sources of lithium will not be able to start production quickly. In addition, cobalt and nickel are required to make batteries and these metals present challenges as well.
The American Battery Technology Company (OTC: ABML), formerly American Battery Metals, is a company hoping to become a major player in lithium-ion battery recycling. The company intends to do so by building a closed-loop battery recycling plant in Nevada that will recycle batteries from consumer products – everything from electric car batteries to cell phones to portable charging stations. Closed-loop recycling is simply the process of taking old discarded consumer products and extracting the reusable material to create a newer version of the product. The plant is currently under construction, although there is no specified completion date.
What are the Pros of investing in ABML?
[
edit
]
Building a Recycling Plant
[
edit
]
Unlike fossil fuels, metals such as lithium, cobalt, and nickel are not completely used up in a battery's life. Instead of having to import or mine for more of these metals they can be used and recycled indefinitely. As electric vehicle batteries reach end-of-life, ABML will use their proprietary technology to recycle all of the metals used in these batteries, including lithium, cobalt and nickel. In addition to recycling, ABML is testing process to recover lithium from brine, claystone, hard rock and other sources. When completed the plant will process 20 thousand metric tons of raw material for industrial usage. The company expects to generate $160 million per year in annual revenue.
Government and Private Sector Support
[
edit
]
ABML has some pretty heavy hitters putting up money, including BASF and the U.S Department of Energy. ABML was recently awarded a grant for $4.5 million from the Department of Energy. This can be interpreted as a show of confidence from the U.S. government in ABML's abilities as the next generation of battery material suppliers.
ABML was one of 100 applicants to the BASF accelerator program Recycling Circularity Challenge and was chosen as the sole winner, for which they were awarded: Acceptance into the BASF accelerator program, cash grant and support funds, access to BASF labs, and support from BASF staff.
In collaboration with United States Advanced Battery Consortium LLC (USABC), a subsidiary of the U.S. Council for Automotive Research (USCAR) ABML is developing relationships with car makers Ford and General Motors. This suggests that these automotive giants may be life-long customers buying ABML's industry-ready battery metals for their electric vehicles. In addition, the company received a grant of $2,000,000 from USABC.
What are the Cons of investing in ABML?
[
edit
]
Financial Status
[
edit
]
Currently, ABML has no income and a market cap of approximately $750 million. In September 2021 there was a capital raise of $39 million. There are also warrants with a total value of $44 million which will be triggered at a share price of $1.75.
Technological Advances
[
edit
]
There are currently other batteries under development which decrease or eliminate the need for lithium and other expensive metals. Aluminum, iron and graphene are leading the way in these advanced battery technologies. If Lithium falls out of favor as the material of choice for EV batteries then the price will plummet and ABML may not have a demand for the materials they produce.
Competition
[
edit
]
In addition to the potential competition from other materials, there are numerous other companies trying to develop recycling processes and facilities. In 2020 Li-Cycle, a Canadian-based company, was the largest recycler of lithium-ion batteries. To keep up with demand, Li-Cycle is planning four hubs and twenty-five spokes by 2025. In July 2020 the company opened its' first commercial processing plant in Kingston, Ontario. Li-Cycle is currently planning two more facilities in Rochester, NY and Phoenix, AZ. Competitors are already recycling lithium-ion batteries while ABML is still building their plant and refining their technology.
Summary
[
edit
]
American Battery Technology Company is a well-respected company in the ever-growing and ever-changing industry of battery recycling. Government subsidies and partnerships with large automobile makers are important factors in considering ABML stock. However, a high market cap and lack, lack of clarity around completion of the facility, and competition from other companies and new technologies all present significant challenges to future success.