WNDW - Solarwindow Technologies, Inc.
From OTC Wiki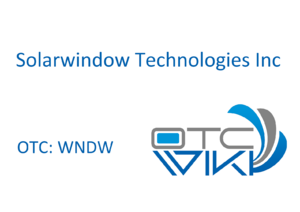 Company Profile
[
edit
]
SolarWindow Technologies, Inc. (OTC: WNDW), is a utilities-renewable company that develops transparent electricity-generating coatings for use in building window and glass applications. It was formed in 1998 and is based in Scottsdale, Arizona.[1] The company develops two electricity-generating coatings, LiquidElectricity Coatings, and SolarWindow Coatings. The LiquidElectricity Coatings generate electricity absorbing light energy from artificial light, the sun, and low, shaded, or reflected light conditions. The technology applies ultra-thin layers of LiquidElectricity Coatings to rigid glass and flexible glass and plastic surfaces where they convert otherwise ordinary surfaces into organic photovoltaic devices.[2]
SolarWindow's potential applications of LiquidElectricity coatings span various industries, including aerospace, architectural, agrivoltaic, automotive, commercial transportation, and marine. Together with the U.S. Department of Energy's National Renewable Energy Laboratory, commercial contract companies support the firm's LiquidElectricity coatings and SolarWindow products through cooperative research and development agreements.[3]
The company has made significant management reforms bringing in new board members and even appointing a new CEO. On January 24, this year, the company announced that Mr. John Rhee had been elected to serve as its Chairman of the Board of Directors and Chief Executive Officer, in addition to his current role as President of SolarWindow. Mr. Ree is also the Managing Director of Light Quantum Energy Holdings. Mr. Ree brings 30 years of international experience in intellectual property, sales and marketing, new product development and manufacturing, and commercial partnerships.[4]
In October 2021, SolarWindow Technologies, Inc. unleashed the appointment of Mr. Kyle Ballarta as the Senior Strategist of Corporate Innovation. Mr. Ballarta is the Founder and CEO of Falkon Ventures, where he oversees investments and leads the commercial development of technologies and products that promise better global impact.[5]
On December 14, 2021, the firm confirmed that Light Quantum Energy Holdings ("LQE"), owned by SolarWindow President and director Mr. John Rhee, and his immediate family, had obtained nearly 72% of SolarWindow shares on a fully diluted basis. The shares were acquired from Kalen Capital Corporation and its subsidiaries in a privately negotiated agreement.[6]
Business Plans and Accomplishments
[
edit
]
The company aims to create and develop SolarWindow products that generate extraordinary amounts of clean electricity, substantially reward the company's shareholders, and conserve the environment.[7] Solar window promises to engineer, design, and ultimately manufacture equipment that presents clients with affordable clean energy that guarantees a healthier, safer, and more sustainable planet.[8]
On March 30, last year, the company reported that it had realized more than double its prior certified performance. It also achieved a record 14.72% (+/- 0.29%) independently-certified power conversion efficiency of previous organic photovoltaic devices fabricated at the U.S. Department of Energy's National Renewable Energy Laboratory in Golden.[9]
On February 17, 2021, the firm reported a 500% increase in prototyping and testing speed, a 12-fold increase in testing capacity and output, and a 20-times reduction in material costs. The record results were attributed to the company's 'high-output platform' for lab-scale prototyping of SolarWindow electricity-generating glass and plastics for greenhouses, commercial buildings, and others.[10]
The company reported the first-ever successful production of its electricity-generating flexible glass using roll-to-roll processing, a high-speed method typical to commercial manufacturing digital displays, printed electronics, tinted window films, and semiconductors. The thin, flexible sheets of glass generate power from indoor artificial light and sunlight.[11]
WNDW Stock
|

Posted on Nov 5, 2022 at 2:35 am

|

Bull
I think, long term, they have potential. Their growth strategy is risky but could pay off. I wouldn't go all in though.