ABEPF - Vision Lithium, Inc.
From OTC Wiki
Related ticker symbols: TSXV: VLI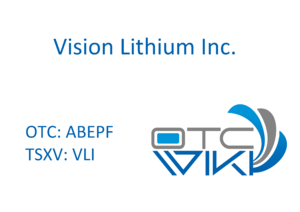 Vision Lithium (OTC: ABEPF, TSXV: VLI), formerly known as ABE Resources Inc, is a mineral exploration company that explores and evaluates mineral resources in parts of Québec, Canada. Vision Lithium was incorporated in 1997 and is headquartered in Val-d'Or, Canada, with a vision of constantly building a portfolio of projects to explore several mines in order to find Lithium, gold, copper, zinc, and other precious materials. Vision Lithium also owns several properties. However, their flagship property covers an area of over 5,560 hectares on the bank of Gods River, Manitoba. Other major projects include Cadillac and Sirmac, which are two major Lithium producing projects of the company and Vision Lithium holds 100% ownership in all of them. Other upcoming projects include Dome Lemieux and Red Brook, which produces copper, Zinc and Silver as a commodity.
[1]
Given the massive demand for lithium ions for the production of electric car batteries, Vision Lithium's objective is to develop a low-cost, fully integrated Sirmac lithium property and the Dôme Lemieux copper property. These minerals can be used to produce highly scalable batteries and have huge economic potential for the province of Québec.[2]
Vision Lithium also possesses a strong leadership team, with YVES J. ROUGERIE acting as the company's President and Chief Executive Officer. Mr Rougerie has over 35 years of experience in mining and exploration and has previously worked with several prominent companies. He was made CEO of Vision Lithium back in 2007 and has since been a prominent Director of the company. Other members of the team include the lights of VICTOR CANTORE, acting as an Executive Chairman with over 50 years of professional experience. Other director members include ROBERT C. BRYCE, Scott Jobin-Bevans and JONATHAN GAGNÉ.[3]
As of 2022, Vision Lithium has secured $3.6M in funding over 1 round through a Post-IPO Equity round raised on Apr 21, 2021.[4] In terms of investments, Vision Lithium has issued over 231,202,485 shares and 63,898,024 Warrants, of which 302,150,509 are fully diluted. Currently, the Stock price is around $0.16 with a 52-week high of $0.34 a pop.[3]
In the last five years, Vision Lithium has registered consistent growth and has increased its assets over the years. In terms of cash, Vision Lithium started with 1,990.1 Million in the bank, which declined during the pandemic to reach an all-time low of 329.2 Million in 2019. However, since then, the cash has increased gradually and, as of 2021, has been 1,236.0 Million. Vision Lithium also received a 350.90% increase in accounts receivable growth when compared with previous years. In terms of total current assets Vision, Lithium sits at 3,934.1 million, which is significantly more when compared to 535.7 Million in 2020.[5]
Mineral exploration is a highly competitive field with steep competition. Vision Lithium's main competitors include Frontier Lithium Inc, Geology for Investors, VADAR Communications Inc, Eagle Plains Resources Ltd, Vulcan Minerals and more.[6]
Godslith Property
[
edit
]
In March 2021 the company acquired the Godslith Property, which is located in Manitoba covering a total area of approximately 5,560 hectares. "The deposit has only been tested to a depth of 243 m where drilling intersected 15.2 m grading 1.49% Li2O. Furthermore, the mineralized zone is recognized over at least 2.3 km along strike, making this an exceptional target for expansion."[7]
Sirmac Property
[
edit
]
The Sirmac Property has a total area of approximately 7,670 hectares in Quebec, consisting of  155 mining claims. This asset was purchased on December 14, 2017  from Nemaska Lithium Inc. for $250,000 and 15,000,000 common shares of Vision Lithium.[8]
Dôme Lemieux
[
edit
]
The Dôme Lemieux property, located in eastern Québec, has a history of copper discoveries and consists of 225 map-designated claims totaling 12,056 hectares.[9]
Wed, 12:42 April 13, 2022 | OTC Markets Group - News, Filings & Corporate Actions
Category: Vision Lithium Inc. | Tier: OTCQB | Source: PRNS |
ABEPF Stock
Abe Resources Inc

- March 2, 2022:

Company website
VISION LITHIUM GRANTS INCENTIVE STOCK OPTIONS

- November 19, 2022:

...announces that it granted 9,550,000 incentive stock options to certain directors, officers, employees, and consultants of the Company, pursuant to the Company's incentive stock option plan. Each option is exercisable into one common share of Vision Lithium at a price of $0.10 per share for a period of 5 years from the date of grant. 50% of the options vest immediately and the remaining 50% will vest 6 months following the date of grant.
Lithium Junior Miners News For The Month Of October 2022

- October 26, 2022:

October saw lithium chemicals prices and spodumene prices hit new record highs.
No opinions so far.
Please login or register to post your opinion.