OCLN - Originclear, Inc.
From OTC Wiki
America's infrastructure is broken. And our government is spending nearly 100 billion dollars to fix the nation's 150,000-plus water systems; but runaway inflation is defeating that effort. So, local businesses are taking Direct Action to clean and recycle their own water. We're helping them "cut the cord", by developing outsourced pay-per-gallon programs and a dual digital currency to streamline investor payments and recruit participation in water projects.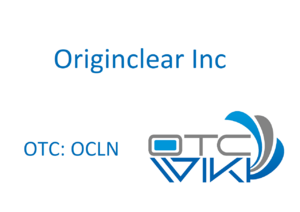 Originclear Inc (OTC: OCLN)

As of January 2022 the company was conducting a SERIES Y OFFERING with the goal of raising up to $300 million for the development of a Water On Demand™ subsidiary which will engage in investing in water projects.[1]
In August 2021 OriginClear subsidiary Progressive Water Treatment received a purchase order for approximately $1.8 million from Total Outsourced Water™ for "water filtration systems that will provide process water at three power plants".[2]
On 1/13/22 the company named Andrea d'Agostini as President and Chief Strategic Officer. Mr. d'Agostini formerly served as Chief Marketing Officer American Power And Gas, a $300 million+ multinational company with 200 employees.[3]
In an 8-K filing on March 1, 2022 it was disclosed that several million warrants were issued, and preferred shares were converted to over 25,000,000 common shares of stock.[4]
Financials
[
edit
]
For the year ending 12/31/2020 the company had total revenue of $4.1 million and operating income of -$4.7 million.[5]
References
[
edit
]
OCLN Stock
|

Posted on Mar 3, 2022 at 8:37 pm

|

Bull
A $1.8 million purchase order late last year, plus raising $300 million for a project with enormous potential. I like it!