Kraig Biocraft Labs Inc - KBLB stock
From OTC Wiki
Kraig Biocraft Laboratories (OTC: KBLB) is a US-based biotechnology company that is mainly involved in the development and commercialization of spider silks. The primary business of Kraig Biocraft Labs is to integrate DNA technology using genetically engineered silkworms that produce spider silk for the creation of speciality fibres and textiles. The fibres developed using such technologies are having greater strength, resiliency and flexibility for use in the specialty fiber and technical textile industries. The company believes that such materials would be superior to other materials available in the market.[1]
The management team of Kraig Biocraft Labs includes Kim K. Thompson (Founder & CEO), and Jon Rice (COO). Before founding Kraig Biocraft, Mr Kim Thompson was an employee at Shearson, Lehman, Hutton where he specialized in equity trading and research of small-cap companies. He is also a member of the Triple Nine Society for persons with documented genius level IQs (having tested above the 99.9th percentile). Mr Jon Rice (COO) has over 13 years of experience in growing development stage businesses with a formal education in Chemical Engineering.[2]
The company announced its Quarter 3 Unaudited Financial Results ending September 30, 2021, which involved the following highlights:[3]
Kraig Biocraft Labs has generated $0 in revenue for both 2021 and 2020.
Total Operating Expenses increased from approximately $590,000 in September 2020 to $872,000 in September 2021 representing a year over year increase of around 48%
Net Loss for Q3 2021 was reported at $3.1 million compared to $693,000 in Q3 of 2020
In August 2019, the company received authorization to begin rearing genetically enhanced silkworms at their production facility in Vietnam and began operations in October 2019. These silkworms will serve as the basis for the commercial expansion of the proprietary silk technology.
On November 23, 2020, Kraig Biocraft entered into a Strategic Partnership Agreement (the "SPA") with M the movement Kings Pte Ltd ("Kings"). On January 25, 2021, the parties terminated the SPA by mutual agreement
Kraig Biocraft plans to actively pursue the development of commercial-scale production along with expanding production facilities. Covid-19 has impacted the business hugely due to which the timelines for commercialization and revenue are getting delayed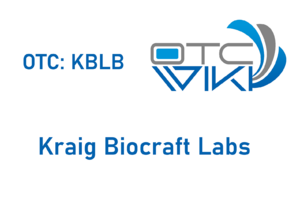 The competitors of Kraig Biocraft Labs include AMSilk, Bolt Threads, and Spiber. The competitors of Kraig Biocraft mainly rely upon fermentation process for the production of silk which is extremely costly and also has a negative environmental impact. Based on the data shared by the company, they can produce silk for less than $300 per kilogram while the production of silk for their competitors ranges between $37,500-$137,500 per kilogram. This offers a huge cost advantage to Kraig Biocraft Labs. Additionally, the Spider Silk produced by Kraig Biocraft has very high strength and elasticity.[4]
On February 16, 2020, Kraig Biocraft Laboratories announced that the United State Patent and Trademark Office (USPTO) has recently published two key patent applications filed by the Company. These two USPTO patent applications build on Kraig Labs' innovative recombinant spider silk technologies. The new patents open the possibility for large-scale production of materials such as elastin, keratin, human collagen, and many more at comparatively very low costs.[5]