Jushi Holdings Inc - JUSHF stock
From OTC Wiki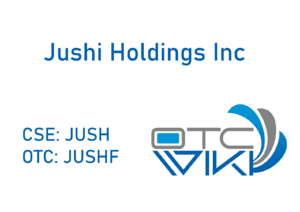 Jushi Holdings Inc. (CSE: JUSH, OTC: JUSHF) is a multi-state cannabis firm focused on the development of high-end cannabis processing and manufacturing facilities in the country. The Company was established in 2018 when the current CEO, Jim Cacioppo, collaborated with fellow financial experts Jon Barack and Erich Mauff to create a premium cannabis brand that will elevate the cannabis experience and set itself as a new benchmark for the industry.[1]
Since its inception, Jushi Holdings managed to raise roughly 450 million dollars, of which the founders contributed 47 million.[2] Two of Jushi Holding's leading investors are Graticule Asset Management Asia from Singapore and Rockshield Capital from Vancouver, Canada.[3]
Over the course of seven investment rounds, Jushi Holdings has raised a total of $317.4 million. Their most recent investment round was a Post-IPO Equity round on January 26, 2022. [3] These investment rounds helped Jushi Holdings Inc. to acquire ten organizations that are in line with their vision of creating a diverse portfolio of branded cannabis assets built upon opportunistic acquisitions, distressed deals, and competitive applications.[4]
Jushi Holdings' biggest acquisition is Nature's Remedy of Massachusetts, Inc, which it acquired for over 110 million[3], of which 91.2 million was paid upfront. Nature's Remedy currently has two retail dispensaries in Millbury and Tyngsborough, Massachusetts, and a 50,000-square-foot cultivation and production facility in Lakeville, Massachusetts, with approximately 22,000 square feet of high-quality indoor flower canopy and cutting-edge extraction and manufacturing capabilities. In the fourth quarter, the Company plans to capitalize on a strong potential to grow Nature's Remedies wholesale income, driven by increased cultivation capacity and the anticipated selling of surplus inventory at the Lakeville Facility. The Company paid an extra US$2.9 million in cash under the Merger and Membership Interest Purchase Agreement's net working capital adjustment to buy excess inventory worth US$17.5 to US$22.5 million at prevailing wholesale rates.[5]
Jushi Holdings Inc. also completed the purchase of a dispensary in Las Vegas, Nevada, and established the Company's fourth vertically integrated state-level operation. This is another significant milestone for the Company as it allows them to conduct business on the iconic Las Vegas strip. This also opened new strategic retail and wholesale opportunities in this market, including expanding access to in-house, high-quality brands and products.[6]
Jushi Holdings has recently released its financial results for the fourth quarter and full-year ending December 31, 2021 ("Q4 2021"). Total revenue was $65.9 million, which is up 22 per cent from the previous quarter and 104 per cent year over year. Adjusted gross profit also increased to around 8% from the last quarter to reach $26.4 million, which is also equivalent to over 76% increase year-over-year. The net profit also increased to reach 9.1 million, equivalent to $0.05 per basic share. Jushi Holdings Inc ended the fiscal year with cash and cash equivalents of over 95 million.[7]
Top competitors Jushi Holdings Inc. includes AltMed Florida, GrowHealthy, spring big, Bloom Medicinals, VidaCann, FLUENT Cannabis Care, Metrc, and Protis Global. They are all cannabis development businesses and worth checking out, but their total funding, revenue, or overall growth is significantly lower than Jushi Holdings Inc.[8]