RECAF - Reconnaissance Energy Africa Ltd
From OTC Wiki
Reconnaissance Energy Africa Ltd., a junior oil and gas company, engages in the identification, exploration, and development of oil and/or gas assets in Namibia and Botswana. It holds a 90% interest in a petroleum exploration license that covers an area of approximately 25,341.33 km2 located in Namibia; and 100% working interest in a petroleum license, which covers an area of 9,921 km2 located in northwestern Botswana. The company is based in Vancouver, Canada.
Click the menu options below to view or add content
Opinions

Wiki

(+)

FAQs

Links

Articles

(1)

News

(8)
Opinions
|

Posted on Apr 29, 2022 at 8:49 pm

|

Bull
Great news today about resources estimates. In a nutshell, up to 1 billion bbls of light oil in just a small part of the total lease area. Looking forward to a more comprehensive resource report as promised this quarter. I think share price increase will be driven by institutional investors. Not sure which events, or combination of events, like resource report, uplisting, flow test, etc. it will take to get the institutions to start buying, but once they do look out!
Wiki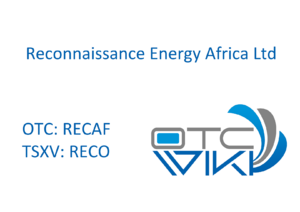 Introduction
[
edit
]
Reconnaissance Energy Africa Ltd. (OTC: RECAF, TSXV: RECO) is a Canadian oil exploration company currently conducting exploration activities in the Kavanago basin, which is located in northeastern Namibia and northwestern Botswana.[1] The company controls exploration rights for over 8 million acres in a sedimentary basin that they recently discovered.
Origin Story
[
edit
]
In 2013 founder Craig Steinke acquired a source rock study dataset from IHS Market. Mr. Steinke hired four geologists and source rock expert Dan Jarvie to review the data and find potential oil and gas deposits. The data pointed to northeast Namibia. One well had been drilled (ST-1 by Etosha Petroleum) in that part of the country and, while there were not commercial quantities of oil, sourced rock was evident from the well results. Steinke's team believed that the basin could be deeper to the east of that well.[2]
After leasing the land from the Namibia government, it was revealed that an aeromagnetic study of the area had been conducted which had never been interpreted. Mr. Steinke acquired the survey from the government and hired geophysicist Bill Cathey for interpretation. Mr. Cathey's analysis indicated a previously undiscovered sedimentary basin up to 30,000 feet deep. He noted that every basin of similar depth produces commercial hydrocarbons.
By discovering a new basin, Mr. Steinke's company was able to secure the rights to such a large area.
Drilling Equipment and Activities
[
edit
]
Drilling Rig
[
edit
]
In early 2020 ReconAfrica purchased a drilling rig and began a project to retrofit the rig for use in Namibia. The rig is capable of drilling conventional wells up to 13,000 feet deep.[3] The decision to purchase a rig over hiring another company to manage drilling operations was based on the potential cost savings, as well as the ability to spend more time on each well in order to gather as much data as possible.
Drilling Programs
[
edit
]
In January 2021 the company began a three well drilling program with the goal of proving a working petroleum system in this previously unexplored basin. The wells were planned to be 'stratigraphic' which means the intention was not to find commercial quantities of oil, rather, the goal was to learn about the geography and gather information to guide them in developing the basin.
ReconAfrica is currently in the final planning stages of a second drilling campaign and expects to start drilling during Q2 2022.[4]
Fracing
[
edit
]
Early investor presentations mentioned fracing, although the company has stated in later communications that they have no intention of fracing, they do not have an appropriate drilling rig, and they do not have the required permits. Current investor materials and operations updates clearly state that this is a 'conventional' play, meaning they believe they will be able to extract commercial quantities of oil through traditional oil wells.
Seismic Surveys
[
edit
]
In early 2022 ReconAfrica completed 450km of 2D seismic acquisition, processing and interpretation. Preliminary results were made public in November 2021 and the company stated, "the initial processing results of the seismic acquisition has produced high quality data revealing a variety of structural and stratigraphic features providing for a target rich environment for the upcoming drilling program". The results also indicated a clear distinction between the Kavango basin and the Owambo basin to the west. Company advisor Dr. Jim Granath stated, "This initial seismic data proves the Company's basic premise, that the Kavango Basin is clearly a rift basin (geologically different from the Owambo Basin)".[5]
An additional 600 km of 2D seismic acquisition commenced in February 2022 and is expected to be completed in June 2022. The company has reported that the data is obtained is of high quality.[6]
Resource Report
[
edit
]
Based on the two wells complete in 2021 as well as a 2D seismic survey later that year, reserves evaluator Netherland, Sewell & Associates was hired to prepare an oil and natural gas resource report. The report is as of December 31, 2021 estimates 5.3 billion barrels of oil in place, and indicates prospective unrisked light and medium crude oil of 999.0 million barrels as well as 1,422.9 billion cubic feet of conventional natural gas. Risked prospective resources are estimated to be 73.5 million barrels of light and medium crude oil, and 32.4 billion cubic feet of conventional natural gas. In regard to the potentially recoverable reserves, the company stated, "A prospective resource is an estimate of what may be recovered if a discovery is made and developed, but not all exploration projects will result in discoveries, and not all discoveries will be developed."[7] It is expected that additional seismic surveys and information from future wells will increase these estimates.
The Team
[
edit
]
ReconAfrica has assembled a team of highly experienced experts in management, operations and technical knowledge.
Technical Team[8]

[

edit

]
Bill Cathey, Geophysicist
President and Chief Geoscientist of Earthfield Technology
Over 25 years of potential fields interpretation experience
Clients include Chevron, ExxonMobil, ConocoPhillips
Authored or co-authored numerous articles about magnetic and gravity analysis

Dr. James Granath, Geoscience Advisor
Holds his PhD in Geology from Monash University in Australia, and a BS and MS from of University of Illinois at Champaign‑Urbana
Highly knowledgeable in African petroleum exploration
Expert in seismic interpretation and integration with structural analysis, fracture analysis, regional synthesis, and prospect and play evaluation
Spent 18 years with Conoco Inc. in research, international exploration, and new ventures
Advised many companies on structural geology and tectonics as applied to exploration problems
Worked on projects in 40 countries around the world
Has taught geology at State University of New York in Stony Brook since 1976

Dr. Ansgar Wanke, Geologist
Over 20 years of experience in various fields including regional mapping, geochemistry, hydro- and engineering geology, sedimentology and seismic stratigraphy
Joined the University of Namibia geology department in 2008 and headed the department from 2012 to 2015
Directors and Officers[9]

[

edit

]
Craig Steinke, Executive Chairman
Founder of ReconAfrica
25 years of experience in identifying, successfully developing and financing oil and natural gas exploration and production projects

Mark Gerlitz, Lead Director
Principal of Canadian-based MonteLago Consulting
20 years experience advising States, national energy companies and international energy companies
Expertise includes financing, strategic planning, mergers and acquisitions, joint ventures, partnerships, farm-ins and other business combinations, energy marketing sales, as well as environmental, social and governance matters

Dr. Joseph R. Davis, Director
40 years of experience as an oil and gas geologist
Led the technical team in the discovery of the Kavango basin in 2013
PhD in Geology from the University of Texas

Scot Evans, CEO
35 years of experience with Exxon, Landmark Graphics and Halliburton
Served as Vice President of Halliburton's Integrated Asset Management and Technical Consulting organizations
Expert in new resource development.

Nick Steinsberger, SVP, Drilling & Completions
32 years in petroleum engineering, drilling and completions, and production
While with Mitchell Energy, Nick was promoted to Completion Manager for  and was
Responsible for completing the first 25 horizontal wells ever completed in the Barnett Fields (Texas) in 1995, and based on this success Devon Energy acquired Mitchell Energy for $3.1 billion
Supervised over 1,500 well programs in North America
Environment, Social & Governance (ESG)
[
edit
]
ReconAfrica has developed and follows an approach to ESG that is based on international best practices, and they have dedicated C$10 million to ESG initiatives in Namibia.[10] As part of this program, 22 community water wells have been completed. Goals of the company's program include:
Regulatory compliance and proactively working with regulatory bodies
Stakeholder engagement and collaboration
Protecting the environment and wildlife
A carbon-neutral program that supports Net Zero goals
Creating socioeconomic opportunities for the people of Namibia
Positive environmental, economic and social outcomes
Early Studies and Analysis
[
edit
]
Sproule Report
[
edit
]
ReconAfrica hired Sproule to prepare an assessment of the best estimate prospective oil and gas resources, which was completed in June 2020. Data was provided to Sproule by ReconAfrica and included conceptual study, interpreted aeromagnetic data, analogous well log, presentations. The unrisked best estimate for Namibia and Botwawana block is 1,256 million barrels of light oil and 54,108 billion cubic feet of gas. Risked best estimate is 110 million barrels of light oil and 4,761 billion cubic feet of gas. Sproule estimated an overall chance of development of 37%.[11]
Haywood
[
edit
]
Investment firm Haywood Securities has issued reports and updates beginning in late 2020. Using the Sproule report estimates for light oil, Haywood arrives at an unrisked price (value to ReconAfrica) per barrel of C$6.39 and a risked per share price of C$12.50 (based on 27% chance of commercialization and approximately 182 million shares outstanding).[12]
Environmental Activist Opposition
[
edit
]
As is common with oil exploration, opposition from environmentalists has been ongoing since early in the planning and permitting process. One former geologist has been a vocal critic of drilling in the Kavango basin. Matt Totten Jr. (not to be confused with his father, Matt Totten Sr.) has written about and posted videos citing his concerns. Mr. Totten's background shows that he was a geologist, although his experience seems to be limited to a junior position for just a few years. He readily admits to having no specific knowledge of the Kavango basin or the data that ReconAfrica has gathered.
Legal Issues and Stock Manipulation Allegations
[
edit
]
Viceroy Research
[
edit
]
In multiple so-called 'research reports' issued by short seller Fraser Perring and his firm Viceroy Research, which were published starting in June 2021, many claims were made about ReconAfrica's business practices, ethics, stock promotion and exploration activities. One such claim was that ReconAfrica "has a near-zero chance of finding any asset of value in their exploration site, and an even lower chance to capitalize on any find".[13]
It is worth noting that Fraser Perring's integrity has come into question. On September 8, 2021 the Financial Sector Conduct Authority (FSCA) fined Viceroy Research and its partners, Mr Aiden Lau, Mr Fraser John Perring and Mr Gabriel Bernarde fifty million Rand (approximately $3.5 million) for publishing "false, misleading or deceptive statements, promises or forecasts regarding material facts about Capitec, which they ought reasonably to have known were not true. Further, notwithstanding being made aware that what they had published was false, they failed to publish full and frank corrections". The FSCA also states that Viceroy had a profit sharing agreement with client with a short position.[14] While this action was not related to ReconAfrica, it may provide some insight into the business practices of Viceroy Research and the overall validity of their reports. One report on Fraser Perring's business practices and reputation states, "as revealed by a seven-month investigation by the Southern Investigative Reporting Foundation, Perring is a charlatan of the first order, with a brazen multiyear record of personal and professional deceit".[15]
Lawsuits
[
edit
]
In a press release dated February 4, 2022 it was announced that the company "and certain of its current and former officers, directors and third-party contractors have been named as defendants in two almost identical purported class action lawsuits filed by Company shareholders in the United States District Court in Brooklyn, New York. The lawsuits were filed in the wake of a third, almost identical lawsuit identified by the Company in an October 28, 2021, press release and subsequently voluntarily dismissed by that plaintiff on November 9, 2021. The pending lawsuits have been consolidated by the court, which appointed a lead plaintiff and lead counsel to represent the purported class members."[16] The company stated in a press release, "ReconAfrica will undertake vigorous action to defend itself against any such claims."[17] There are rumors that Anson Funds (see Stock Manipulation Allegations) coordinated with one or more law firms to initiate potential class action lawsuits as part of a 'short and distort' campaign.[18]
Stock Manipulation Allegations
[
edit
]
Rumors of massive short selling have abounded, although, as with most OTC traded stocks, it is difficult to ascertain how true these rumors are. One website claims to have evidence of a coordinated short attack lead by the asset management firm Anson Funds and its Chief Investment Officer Moez Kassam. Further, it is claimed that the lawsuits, Viceroy Research reports, and articles in the Globe and Mail are all part of Kassam's campaign.[19] There is no indication of who runs the website and what their interest in, or connection to, Recon Africa is. Lending credence to the accusations against Anson Funds is the fact that the firm has been subpoenaed in a U.S. Justice Department inquiry into short sellers tactics.[20]
RECAF Stock
[
edit
]
As of 5/31/2022 there were 200,876,424 shares of RECAF stock outstanding.[21]
References