VITFF - Victoria Gold Corp Stock Wiki
From OTC Wiki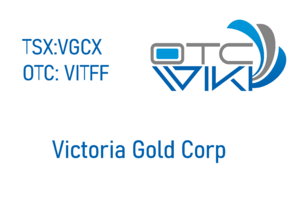 Overview
[
edit
]
Victoria Gold Corp. (TSX:VGCX, OTC: VITFF) was incorporated in British Columbia, Canada, on September 21, 1981, as a gold mining company[1]. It acquires, operates and explores mineral properties to produce and sell gold.
Victoria Gold stock trades on the Toronto Stock Exchange (TSX) under the ticker symbol VGCX and on the Over-the-counter (OTC) market under the ticker symbol VITFF. The gold mining company owns property in Dublin Gulch, which contains Eagle and Olive-Shamrock gold deposits[2]. Its Dublin Gulch facility stretches approximately 555 square kilometers and is located in the central Yukon territory of Canada. The property is at a logistically suitable location with proximity to major commercial hubs: It is at a distance of 375 kilometers or a six-hour drive from Whitehorse, the territory's capital city.
Operational & Financial Highlights
[
edit
]
The Eagle Gold Mine was constructed in mid-2019 and started its commercial production on July 01, 2020[3]. The company's third-quarter 2021 and 9-month (Jan. to Sept.) 2021 operational and financial highlights are mentioned below:
In Q3 2021, the company produced 55,827 ounces of gold, up 58% from the last year's quarter. Gold production in the nine-month period stood at 114,726 ounces, an increase of 54% from the same period last year[4].
The company sold 53,248 ounces of gold in Q3 2021, up 66% from Q3 2020. In the first nine months of 2021, 109,517 ounces of gold were sold, 75% higher than the same period last year.
Operating earnings stood at $52.1 million in Q3 2021 whereas operating earnings for the nine-month period were $95.1 million.
Net income for Q3 2021 was $31.6 million, up 56% from Q3 2020 (Q3 2021 EPS: $0.51). Net income for the nine-month period was $64.7 million, up 75% from the same period last year (Nine-month EPS: $1.04).
EBITDA for Q3 2021 stood at $68.4 million. EBITDA for the nine-month period stood at $153.9 million.

The company aims to grow its gold production by 20% annually in 2022 and 2023, with production reaching 250,000 ounces per year[5]. The gold mining company signed a credit agreement with a syndicate of banks, including BNP Paribas, Bank of Montreal, and CIBC for getting a secured US$200 million loan facility, with US$100 million being a term loan and the remaining US$100 million being a revolving credit facility[6].