SXOOF - St-Georges Eco-Mining Corp.
From OTC Wiki
St-Georges Eco-Mining Corp. engages in the exploration and evaluation of mineral properties in Canada and Iceland. The company primarily explores for gold, nickel, lithium, and base and energy metals, as well as platinum group metals. It holds interests in the Julie Nickel project comprising 266 claims for an area of 14,676 hectares located on the Québec's North Shore; Manicouagan totaling 116 claims for an area of 6069 hectares located on the Québec's North Shore; Villebon Project comprising 27 mining claims for an area of 1182 hectares located in Québec; and Le Royal Lithium Project totaling 5 mining claims located in Québec. The company also has interests in 3 mineral exploration licenses, such as gold/silver/copper/cobalt/zinc projects located in Iceland. In addition, it is developing block chain technology. The company was formerly known as St-Georges Platinum & Base Metals Ltd. and changed its name to St-Georges Eco-Mining Corp. in December 2017. St-Georges Eco-Mining Corp. was incorporated in 2002 and is headquartered in Montreal, Canada.
Click the menu options below to view or add content
Opinions

Wiki

(+)

FAQs

Links

News

(22)
Wiki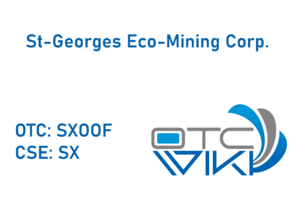 Introduction
[
edit
]
St-Georges develops new technologies to solve some of the most common environmental problems in the mining sector, including maximizing metal recovery results and full circle EV battery recycling. The Company explores for nickel & PGEs on the Julie Nickel Project and the Manicouagan Palladium Project on Quebec's North Shore and has multiple exploration projects in Iceland, including the Thor Gold Project.
Headquartered in Montreal, St-Georges' stock is listed on the CSE under the symbol SX and trades on the OTCQB under the Symbol SXOOF, and on the Frankfurt Stock Exchange under the symbol 85G1.[1]
Company Operations
[
edit
]
St-Georges Eco-Mining Corp. creates and develops new technologies that solve a milestone of common mining sector problems, including optimizing full circle electric-vehicle (EV) battery recycling and metal recovery. It explores nickel and (PGEs) in Julie Nickel and Manicougan projects. The company achieves its exploration and production goals by focusing on its numerous acquired mineral-rich projects.[2] Its Iceland projects include Oxnadalur, Thormodsdalur, and Vopnafjordur. Vopnafjordur is located to the northeast of Iceland and sits on approximately 598.5 square kilometers. Oxnadalur occupies roughly 1017.7 km2 and is situated in northern Iceland, where calderas contain rhyolite and low-temperature zeolite alteration.[3]
The Julie Project
[
edit
]
The Julie Nickel-Copper-Cobalt-PGE Project is located along the north shores of Quebec, the mining-friendly province, and covers approximately 3, 047 hectares. The project is suitably positioned near Baie-Comeau, the deep-sea port town, and is conveniently accessible through gravel and logging roads. The property plays a vital role in the development of the company's battery recycling plant in Baie-Comeau.
The first mapping of the area was conducted between 1968 and 1970 by Franconi et al. (RG162, RG163, and DPV127). Julie experienced its first major exploration when SOQUEM did a substantial exploration campaign of 34,700 km2. The procedure incorporated Lake Sediment Geochemistry, airborne radiometric, and a geological survey. The first Copper and nickel deposits were later discovered here in 1996. Subsequent geological surveys and research by several institutions followed in 1998, 2000, 2001, 2002, and 2004. St. Georges privately acquired the project in 2007.[4]
The Manicouagan Project
[
edit
]
Also located northwest of Baie-Comeau, Manicouagan Platinum-Palladium Project is composed of 115 claims covering 61 km2. The asset can easily be accessed by air through Camp Helene either from Gagnonville's paved airstrip or Baie-Comeau.
The first geological mapping of the area was overseen by Low (1897) of the Geological Survey of Canada (GSC) on the brink of the 20th century. The Mouchalagne Zone was discovered in 1997 via the Quebec Ministry of Natural Resources' (MRNQ) mapping of the lake Vallard area. Copper, nickel, and platinum group elements (platinum, palladium, rhodium, and ruthenium) sum up the principal exploration targets of the site. A survey done in 2006 by Manicouagan Minerals Inc. indicated numerous correlative anomalies in copper, cobalt, chromium, and nickel, suggesting the presence of ultramafic rocks. St-Georges Eco-Mining acquired 100 percent of the Manicouagan Nickel-Copper-PGE project on January 27, 2020.[5]
Le Royal Lithium
[
edit
]
The company announced the acquisition of the Le Royal Lithium project on October 12, 2016. The trigger was pulled after due diligence. The report highlights the property included the presence of spodumene, the regional environment had the potential for larger discoveries, and most lithium present in the sample was contained in Lepidolite. It is composed of 5 mining claims and is located in Quebec.[6]
Subsidiaries
[
edit
]
EVSX Corp., a wholly-owned subsidiary of St-Georges Eco-Mining, Corp, focuses on critical mineral production and recovery through recycling conventional and electric vehicle batteries, conducting battery recycling research and development, developing intellectual property for battery recycling, and building partnerships to develop critical mineral resources. EVSX's modular approach significantly shortens timelines and reduces costs for research and development, transportation, and rapid growth. EVSX supports the St-Georges family of companies' circular green economy by targeting complementary industries to monetize and transform waste streams into products, such as energy metals, nickel ingots, carbon briquettes, high-purity alumina, and high-quality fertilizers. For more information, please find us at https://www.evsx.io.
H2SX, a wholly-owned subsidiary of St-Georges Eco-Mining Corp., implements innovative, cheap, clean hydrogen production solutions that unlock hydrogen's real economic and environmental value. The clean hydrogen produced is destined for a multitude of markets and allows the creation of value-added products while attributing green premiums to them. H2SX also supports the St-Georges family of companies by bringing undeniable benefits to their circular economy efforts. H2SX is the catalyst for limitless business opportunities.
Iceland Resources
[
edit
]
Iceland Resources, a wholly-owned subsidiary of St-Georges Eco-Mining Corp., is a junior exploration company focused on Iceland. With a focus on gold, silver, and energy metals, St-Georges owns multiple mineral exploration licenses in the country and a large database of geochemical sampling, geologic mapping and detailed drilling programs. This historic work provides immense potential for eco-mining with additional potential in geothermal operations for in-situ productions, tailings processing & in-situ lithium brines. For more information, please find us at http://www.icelandresources.is.
St-Georges Metallurgy
[
edit
]
St-Georges Metallurgy Corp., a wholly-owned subsidiary of St-Georges Eco-Mining Corp., manages all metallurgical research and development, joint ventures, and strategic partnerships, as well as holding all mineral processing intellectual property. SXM continues to evolve new solutions to assist and disrupt conventional mining practices while supporting the St-Georges family of companies' circular green economy. This effort is accomplished through a flexible approach allowing for the rapid deployment and scaling of projects.
Company News
[
edit
]
On June 29, 2022, the company announced the presence of several new pegmatites on its Notre-Dame Project in Québec, after three weeks of fieldwork and 75% completion of the planned surface exploration program.
The company has been making significant advancements in its battery recycling operations (Baie-Comeau plant, EU and USA potential feeder plants and partnerships) and its metallurgical efforts (lithium hydroxide production from sourced spodumene concentrate, lithium in clay technology). It has also hired website developers, branding specialists, and two media and governmental relations firms.[7]
St-Georges Eco-Mining's board of directors unanimously voted on April 12, 2022, to authorize EVSX, its subsidiary, to advance with its plan to recycle batteries and produce nickel ingots in Baie-Comeau, Québec 2022. The proposed plant was planned to have three circuits, each to process 200 metric tonnes per hour.[8]
Management Team[9]

[

edit

]
Herb Duer, President and CEO
25 years of experience in base and precious metal mineral exploration.
A member of the American Institute of Professional Geologists, Geological Society of Nevada, Arizona Geological Society, and Society of Economic Geologists.

Enrico Di Cesare, Vive-President of Research and Development
28 years of experience in metallurgical processing, steel production, equipment sales, and mining.
Previously worked at GENIVAR, Severstal Steel Russia, Danieli Wean ltd, Noranda and COO and VP Technology at Argex Mining.

Frank Dumas, Chief Operating Officer
Holds a Bachelor's degree in International Relations and a Master's degree in Public Administration.
15 years in the financial industry consulting for foreign governments on international administration and strategic governance.
The current president of Dumasbancorp ULC, a corporate finance consultancy.
Founder and President of 701 Mining which sold all its assets to Argex Titanium in 2008.
President of St-Georges Platinum between 2003 and 2013.

Richard Barnett, Chief Financial Officer
Extensive corporate experience as a CFO, Controller, and Secretary with over 20 years of accounting experience serving both private and public corporations.
A member of the Certified General Accountants of British Columbia.
Has worked with a myriad of companies producing oil & gas, resource & explorations, engineering, and research & development industries.

Thordis Bjork Sigurbjornsdottir, Iceland Resources CEO
Adverse background in the management and directing of businesses.
Significant knowledge and experience of financial markets and investments.
Strong business development professional skills in Business processes and financing projects, both in Iceland and the UK.

Mark Billings, Chairman of the Board of Directors
BA in Political Science from Carleton University and MBA from Harvard Business School. Chartered Financial Analyst (CFA).
CEO of Canamex Resouces Corp.
Ex-director and CFO of Argex Titanium Inc.
Legal Issues
[
edit
]
Lawsuits
[
edit
]
BWA Group PLC, "BWA", and its subsidiary, Kings of the North Corp. on December 31, 2021, issued a claim against St-Georges Eco-Mining Corp. seeking among other things, damages of $1,500,000. The charges were aimed against the Corporation and its former CEO, alleging breach of contract, conspiracy, and various other causes of action.
St-Georges Eco-Mining Corp. responded on January 22, 2022, with a press release terming the BWA claims 'entirely without merit and frivolous.' The company promised to vigorously defend the claims and prosecute its claims against BWA and KOTN.[10]
Company Environmental, Social, and Governance (ESG)
[
edit
]
The company's feasibility study indicated that the initial conclusion by consultants pointed to the need for an environmental ministerial authorization and exclude the project from the environmental impact evaluation and examination process (REEIE). This would in turn allow the firm to stay within its focused timeline.
The segregation strategy of the tech plant circuit gives room for scalability and easier maintenance and constrains the acid tanks' size to less than 10,000 m³. This allows for a simpler environmental permitting process.[11]
SXOOF Stock
[
edit
]
As of 06/30/2022 there were 225,520,928 shares of SXOOF stock outstanding.[12]
References
[
edit
]