REEMF - Rare Element Res Ltd
From OTC Wiki
Rare Element Resources Ltd. explores for mineral properties in the United States. It holds a 100% interest in the Bear Lodge property that comprises the Bear Lodge REE project and the Sundance Gold project located in central Crook County, northeast Wyoming. The company is headquartered in Littleton, Colorado.
Click the menu options below to view or add content
Opinions

Wiki

(+)

FAQs

Links

News

(4)
Wiki
Introduction
[
edit
]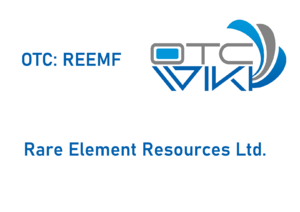 Rare Element Resources Ltd. (OTC: REEMF) is a mineral resource company that engages in the exploration and development of mineral properties in the United States. The company's common shares are traded on the OTCQB Venture Marketplace under the symbol "REEMF." It is focused on exploration advancements in the Bear Lodge REE Project, composed of the Bear Lodge REE and the Sundance Gold projects.  The asset is located in central Crook County, northeast Wyoming. Rare Elements Resources Ltd. is headquartered in Littleton, Colorado.[1]
Background Story
[
edit
]
Rare Element Resources Ltd. was founded on June 3, 1999 by Mark Thomas Brown.[2]
In 1972, Duval Corporation rekindled exploration activities, and was focused on copper/molybdenum, only to find out that Bear Lodge had an enormous potential for rare earth deposits. The U.S. Geological Survey's field and laboratory reports indicated that Bear Lodge area had one of the largest resources of total REE in the country.
Hecla Mining Company explored the area for rare earths and gold between 1987 and 1991. Rare Elements Resources initiated exploration activities in the area in 2004. More than 160, 000 feet of drilling was accomplished between 2004 and 2013. The work resulted in the current Measured and Indicated (M&I) resource that can support a 40-year mine life at 1,000 tons per day.[3]
Bear Lodge Project
[
edit
]
The project has been termed 'world-class' and long-term due to the quality and quantity of rare earths it holds. The site is rich in "critical rare earths" (CREE), which are rare and highly-valued. Bear Lodge is suitably stationed near mining infrastructure, including power lines within roughly two kilometers and good road access.
The company expects robust returns with excellent upside- the October 2014 PFS indicated an after-tax 28% IRR using the then low rare earth prices. The industry has witnessed rapid rise in rare earth prices. The refinement of the company's proprietary processing technology is also set to lower operating costs.[4]
The firm owns absolute interest in a group of 499 unpatented deposits and occurrences, and 640 acres owned in patent. REEMF also has a designated site for the project's hydrometallurgical processing plant. The land portion is located on the outskirts of Upton town, Wyoming, roughly 40 miles to the southwest.[2]
Geological Survey Report
[
edit
]
The US geological survey conducted in 2011 indicated that the Bear Lodge project contains one of the largest distributed rare earth deposits in North America.[5]
The company has carried out substantial geological research on the site since 2004. These include drilling, geophysical and geochemical sampling and assaying, which have resulted in a Measured & Indicated resource of 18 million tons grading 3.05% Total Rare Earth Oxide (TREO) at a 1.5% cutoff grade. This includes 15 million tons of Indicated and 3.0 million tons of Measured resource.
Rare Elements Resources Ltd has also overseen a myriad of engineering, environmental, geological, metallurgical, and financial studies to evaluate and support bringing the Bear Lodge Project to life. The plant's plan of operation was presented to and accepted as complete by the U.S. Forest Service in early 2013.[6]
Rare Earth Elements
[
edit
]
Rare earths are vital elements that possess unique magnetic, phosphorescent, and catalytic properties which fuel and propel the high tech world we occupy today. The elements are employed from the miniaturization of electronics, to the realization of medical technologies and green energy, to supporting numerous essential telecommunications and defense systems.[7]
The 2013 Worldwide threat assessment of the national intelligence office dubbed rare earths "essential to civilian and military technologies and to the 21st-century global economy, including green technologies and advanced defense systems."[8]
Rare Earths Market
[
edit
]
In the 90's, China dominated the rare earths market. It produced and sold the elements at cheaper prices thereby outdoing competitors like Molycorp's Mountain Pass, California and others. The country accounted for more than 95% rare earth production in the world by the year 2000.
The country also ranks as the top consumer for rare earth elements which it majorly uses in the manufacture of electronics for both export and domestic consumption. Japan comes second while the United States ranks third in the use of rare earths. However, a spike in domestic demand in 2011 and 2012 saw China reduce the amount of export. The figure reduced to 85% in 2017. Certain REE, including Nd and Pr, used in permanent magnets, continue to register growth in demand.[9]
Local discovery and exploration of the rare earths is thus a big boost to the U.S economy and a game changer in the international rare earth market.
Critical News Releases
[
edit
]
The company reported successful confirmation and enhancement of its proprietory sepation technology on February 12, 2019. It announced " significant progress on the third-party testwork relating to its proprietary rare earth separation technology being conducted by Umwelt-und Ingenieurtechnik GmbH Dresden ("UIT")." UIT Being an affiliate of Synchron, UIT holds significant shares of REE. UIT had been engaged to validate and enhance REE's hydrometallurgical recovery process for the physical upgrading of mined ore, counter-current acid leaching of the upgraded concentrates and oxalate precipitation of rare earth elements from the leachate.[10]
On October 3, 2017, the company disclosed that Synchron, a subsidiary of General Atomics Technologies Corporation, had executed the previously agreed deal of investment with the company. Rare Earth Elements Ltd. on October 2, 2017, issued 26,650,000 of its common shares to Synchron. These account for approximately 33.5% of the issued and outstanding common shares of the Company. Synchron also had the option to buy an additional 15.49% of the Company's fully diluted common shares immediately after the exercise for an aggregate exercise price of $5,040,000. Synchron paid a total $4,752,000 in cash pursuant to the agreement.[11]
Executives and Officers[12]

[

edit

]
Rare Earth Elements keeps a skilled and experienced team, with most of them spending a significant tenure with the company.
Key Executives
[
edit
]
Randall J. Scott, President and Chief Executive Officer
·         Metallurgical engineer
·        Over 35 years of experience in the mining industry.
·        Experience includes leading performance teams in administration, project development, operations, program management, and business development.
·        Appointed as a director of the Company in February 2012 and as President and CEO in December 2011.
Wayne E Rich, Chief Executive Officer
·        More than 20 years of experience in the resource industry, including with mining and metals companies.
·        Master's in Business Administration and a Bachelor's of Science in Accountancy from Eastern Illinois University.
·        Previously worked as CFO and Vice President of finance for Prospect Global Resources, Inc., and Treasurer and Director of Corporate Finance of Thompson Creek Metals, Inc.
Nicole J. Champine, Director
·         Bachelor of Science in Structural Engineering and her Juris Doctorate
·         Vice President and General Counsel of Cordillera since July 2007.
·        President and a director of San Miguel Valley Corporation
Board Members
[
edit
]
Gerald W Grandey, Chairman
·        Bachelor's degree in geophysical engineering from the Colorado School of Mines and a law degree from Northwestern University.
·        over 40 years of executive leadership in the mining industry
Barton S. Brundage, Independent Director
·        Bachelor of Arts degree in Business Administration and Masters in Business Administration
·         Serves as the current President (May 2021) of Cordillera Corporation
Paul John Schlauch, Independent Director
·        graduated cum laude with an A.B. in chemistry from Colgate University in 1963 and obtained a law degree in 1966
Over 40 years experience in legal issues associated with the mining industry.
Environment, Social & Governance (ESG)
[
edit
]
Rare Earth Elements Ltd. recognizes the impact of its operations to the surrounding environments and has outlaid numerous measures to mitigate negative impacts on the environment. The strategies include:
·        Road watering and reduced speed limits to control dust
·        Use of erosion control measures
·        Elimination of water discharge from PUG plant that result from recycling
·        Implementation of fast stabilization practices on disturbed areas
·        Use of downward illumination lighting for night-time operations
·        Use of downward illumination lighting for nighttime operations, among others.[13]
Stock Information
[
edit
]
As of 05/31/2022 there were 212,464,389 shares of REEMF stock outstanding.[14]