AMRLF - American Lithium Corp
From OTC Wiki
Click the menu options below to view or add content
Opinions

Wiki

(+)

FAQs

Links

News
Wiki
Introduction
[
edit
]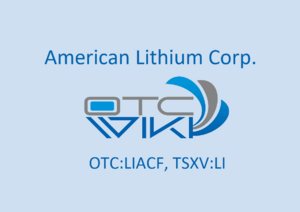 American Lithium Corp. (OTC: LIACF, TSXV: LI) is a Lithium exploration and development stage company based in Canada. The company engages in the acquisition, exploration, and development of lithium projects throughout America. Its three significant projects include the Falchani Lithium Project; Macusani Uranium Project, located in the Province of Carabaya, Department of Puno in southeastern Peru; and Tonopah Claystone Claims (TLC), situated near the regional hub and county seat in the town of Tonopah in Nevada.[1] The company's stock is publicly traded on OTCPK under the 'AMRLF' symbol. It was initially known as Menika Mining Ltd. and changed its name to American Lithium Corp. in April 2016. American Lithium Corp. was founded on February 25, 1974. It has its headquarters in Vancouver, Canada.[2]
Business Operations
[
edit
]
The company actively engages in the development of large-scale lithium production projects and eyes the world's top-producer position. It is primarily focused on enabling a smooth transition into the new energy paradigm via continued exploration and development of its strategically stationed projects. Its TLC project is a near-surface lithium deposit attributed to sustainable low-cost mining formulas. The project is conveniently positioned near paved roads, power, and water sources aiding in logistics. Research indicated that TLC holds 3.35Mt lithium carbonate equivalent (LCE) measured resources, 2.02Mt LCE indicated resources, and 1.76Mt LCE inferred resources. The company initiated a massive drill exploration exercise with the aim of upgrading and expanding the project and ensuring its feasibility by the end of 2022.[3]
The company is developing one of the world's largest and lowest-cost uranium deposits at the Macusani Project. Operations in this venue target to positively contribute to the global need for clean and efficient energy. The project has proposed production averaging more than 6 Mlbs U3O8 per year with a 10-year mine life. Its PEA mine plan resources are approximately 70 Mlbs U3O8 at 289 pp. The firm has expansion drill plans aiming to capture 47 plus targets around the Macusani project.[4]
American Lithium's Filchani Lithium project is rated the 6th largest hard-rock lithium deposit in the world. The project has an estimated 33-year mine life producing battery-grade lithium carbonate ("Li2CO3"). Strong quality tests indicate that the project has the potential of producing a high-purity battery grade (>99.5%) lithium carbonate. The site's conveniences include easy transport, low cost of power, and water close to two oceans highway.[5]
History
[
edit
]
American Lithium Corp. was incorporated in British Columbia under the Business Corporations Act (British Columbia). The company began to shift and reactivate its attention towards the acquisition, exploration, and development of US-based lithium properties a few years before 2016. The shift resulted in an eventual rebranding and funding that saw the company acquire six Nevada properties: Atlantis, Colorado, Clayton Valley BFF, Fish Lake Valley, Fish South, and San Emidio. The company announced its first assay results from the North Bowl playa six initial auger drill holes in August 2016. The firm's quality control process discovered d material flaws in laboratory runs containing 54 sample assay results announced Aug. 11, 2016; Oct. 12, 2016; Oct. 21, 2016; and Nov. 3, 2016.[6]
Critical Company and Industry News
[
edit
]
The US and other Western nations highly focus on constantly ensuring a safe, secure supply of strategic environment-friendly battery metals. The Biden Administration's "critical minerals" initiatives strategically aimed to facilitate presage the development of sustainable domestic lithium supplies.
The International Energy Agency's (IEA) August 2022 report indicated that the "supply of some minerals such as lithium would need to rise by up to one-third by 2030 to satisfy the pledges and announcements for EV batteries in the Announced Pledges Scenario (APS)." Lithium has the largest demand-supply gap, needing approximately 50 new average-sized mines. This means immense opportunity for companies that operate in the industry.[7]
The company reported its operating and financial results for the three months ending May 31, 2022, on Aug. 02, 2022. Highlights of the quarter performance comprise:
The firm appointed DRA Global as lead engineer, along with Stantec Consulting and ANSTO Minerals with massive collective experience in lithium processing, resource calculation, and project design and construction, to finalize work on the TLC PEA.
Agreement to acquire 431 acres of privately held agricultural lands near TLC, along with the accompanying 1,468 acre-feet of water rights for consideration of US$3.125 million.
Recorded best drilling results. Up to 5 diamond drill holes delivered higher grade lithium and consistently thicker mineralization than the existing TLC resource.
The further acquisition of highly prospective mining concessions covering approximately 14,243 hectares in Southern Peru.
Total shareholders' equity was $187.4 million compared to $190.8 million in the same quarter, 2021.[8]
Management Team
[
edit
]
Management and Advisors[9]

[

edit

]
Simon Clarke, CEO & Director
Over 25 years of experience in building companies and implementing successful capital markets and growth strategies focused on mining, energy, and energy technology
Boasts extensive experience and knowledge of the battery metals space for more than a decade
Holds an LLB and Diploma in Legal Practice from Aberdeen University, Scotland.
Founder, CEO, and director of M2 Cobalt Corp
Co-founder, executive, and director of Osum Oil Sands Corp. He grew the Osum's production to approximately 20,000 bopd before it was acquired by Watreous Energy Fund in 2021

Dr. Laurence Stefan, President, Chief Operating Officer, and Director
The founder of Plateau Energy Metals (formerly Macusani Yellowcake)
30 years and more experience in the mining industry serving as managing director in Peru since 2007
Vast experience covering over 100 projects on six continents.
He led the discovery team for the Falchani lithium project.

Philip Gibbs, Chief Financial Officer
Current chief financial officer of Plateau
Also serves as the chief financial officer of Cobalt BlockChain Inc. and Asante Gold Corp.
Commands extensive experience with listed mining and mineral exploration companies operating in Africa and South America

Debra W. Struhsacker, Advisor
Over 30 years of hands-on expertise with the environmental and public land laws and regulations on mineral exploration and mine development
Proven track record of successfully representing clients in legislative and administrative issues on the state and federal levels
She is a Phi Beta Kappa graduate of Wellesley College where she majored in both geology and French
She also holds a Master of Science degree in geology from the University of Montana
The company is conscious of and dedicated to upholding high standards of corporate governance, social accountability, and environmental stewardship. The firm's board constantly reviews its activities to ensure total compliance, transparency, and healthy business practices. The company is thus committed to ensuring that both its commitments and its stakeholders' are meticulously aligned to develop sustainable, long-term businesses that benefit associated communities. Highlights include:
Working to minimize the environmental impacts of its operations
Aim to offset our activities by engaging in outreach initiatives to improve the local environment
The company adopts the ask, discuss and listen approach in consultation with local stakeholders
Creation of well-paying jobs
Improvement of local infrastructure
Support for community enhancement initiatives
Prioritization for sourcing local goods and services
AMRLF Stock Information
[
edit
]
As of 05/06/2022, there were 24,589,818 shares of AMRLF stock outstanding.[11]
References
[
edit
]