KNRLF - Kontrol Technologies Corp Stock Wiki
From OTC Wiki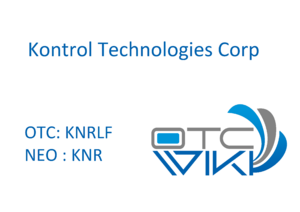 Kontrol Energy Corp (OTC: KNRLF, NEO : KNR), formerly known as "Kontrol" is a pioneer in energy-saving technologies, specializing in IoT, Cloud, and SaaS-based technology solutions. Kontrol Energy Corp delivers market-based energy solutions to a diverse set of clients through a disciplined mergers and acquisitions strategy paired with organic expansion, with the goal of lowering their overall energy costs while lowering Greenhouse gas (GHG) emissions. The company is headquartered in Vaughan, Ontario, Canada, and has offices in Sarnia and Mississauga. Kontrol Technologies also expanded in the US with an office on Madison Street in New York.[1]
The management team of Kontrol Technologies Corp includes Paul Ghezzi, who is acting as the Chief Executive Officer and Director of the company. Mr Ghezzi is a leader in cleantech, renewable energy, and distributed power generation. He has over 20 years of expertise in corporate finance and mergers and acquisitions, with an emphasis on renewable energy development, renewable energy financing, solar project financing, and distributed generation. Mr Ghezzi has been a licensed Chartered Accountant (CPA) since 1993.[2]
Kontrol Technologies Corp has several acquisitions under its name, with the latest one, CEM Specialties Inc, acquired in September of 2018 to expand emission monitoring and solutions in Canada. Other significant acquisitions include Efficiency Engineering Inc to enhance turn-key energy efficiency solutions and expand its customer portfolio, and ORTECH Consulting to expand Kontrol Technologies' footprint in the USA.[3]
Kontrol Technologies recently announced the launch of Kontrol BioWater, a new extension of Kontrol BioCloud technology for early viral detection in water systems. The Kontrol BioWater technology will be developed with the objective of becoming the first real-time, cloud-based viral detection tool. The present wastewater sampling procedure entails on-site specialists collecting samples, transferring them to a laboratory, and then doing a separate study of the sample. This procedure is lengthy and might take many days to finish. The Kontrol BioWater is designed to increase sample automation for faster, on-site detection, potentially speeding up a reaction plan and revolutionizing the industry.[4]
They have already secured $16 Million for HVAC and Automation projects from Canadian Multi-Family High Rise Customers. The company has been quoting and bidding on multiple possibilities, as indicated in the company's news release dated December 28, 2021, and this reflects the awarding of one of those opportunities, which follows the $9.7 million project award announced by the Company on March 9, 2022. The company has completed the contract and begun early site preparations for the project's anticipated start in Q3 2022, with an estimated completion date of Q4 2023.[5]
KNRLF made revenue of 57.66M in 2021, which is 366% more than their earnings in the previous year. Since its inception, Kontrol Technologies saw its revenue steadily rise from 6.89M in 2017 and 14.56M in 2019. But during the pandemic, revenue slightly decreased to 12.35M in 2020 before recovering again in 2021. Kontrol Technologies currently has a total asset of 62.4M which increased from 22.35M in 2019 with other accounts receivable worth 30.04M. Top competitors of Kontrol Technologies include Fortix, CMR Group, IGSA and AGS Tech Exim.[6]