IDXG - Interpace Biosciences, Inc.
From OTC Wiki
Click the menu options below to view or add content
Opinions

Wiki

(+)

FAQs

Links

News

(8)
Wiki
Introduction
[
edit
]
Interpace Biosciences, Inc. (OTC: IDXG) is a healthcare-sector company in the life sciences industry in the U.S. The company provides personalized medicine and specialized services including early diagnosis and prognostic planning. It also provides important clinical including molecular diagnostic tests, bioinformatics, and pathology services for evaluating cancer risk via its Interpace Diagnostics. The firm conducts five commercialized molecular tests and one in a clinical evaluation program: PancraGEN, which is for the diagnosis & prognosis of pancreatic cancer from pancreatic cysts; PanDNA, a molecular version of PancraGEN that provides physicians a snapshot of a limited number of factors; ThyGeNEXT, for the diagnosis of thyroid cancer from thyroid nodules utilizing a sequencing assay; ThyraMIR, used to diagnose thyroid cancer from thyroid nodules utilizing a proprietary gene expression assay, and RespriDX, which differentiates lung cancer of primary versus metastatic origin.[1] The company was formulated in 1986. It was originally named Interpace Diagnostics Group, Inc. before changing its name to Interpace Biosciences, Inc. in November 2019. It is headquartered in Parsippany, New Jersey. Interpace's stocks are publicly traded on OTCQX under the IDXG symbol.[2]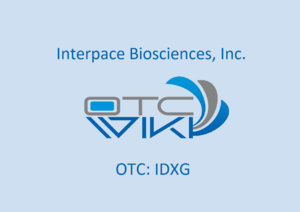 Business Operations
[
edit
]
The company is focused on helping healthcare providers in the diagnosis, triage, and treatment of patients through advanced diagnostics. Interpace's subsidiary, Interpace Diagnostics, LLC is fully integrated for commercial and bioinformatics. It provides evidence-based, clinically beneficial molecular diagnostic tests and pathology services. The institution further develops and commercializes molecular diagnostic tests that give top-notch genetic and mutational analysis to aid risk stratification of patient samples for thyroid, lung, and pancreatic, among other cancers, to provide vital insight for better treatment decisions. Interplace has established robust research collaborations with both US-based and overseas partners, enabling it to develop and validate proprietary tests in a clinical setting.
The company's capabilities include early disease detection, predicting possible outcomes from the tests, determining whether a tumor is truly benign or malignant, and using multiple prognostic platforms to detect and evaluate the most aggressive cancers and diseases.[3]
Company and Industry News
[
edit
]
On September 1, 2022, the company announced new clinical validation data for their thyroid cancer test platform, comprised of a mutation panel (ThyGeNEXT) and a microRNA (miRNA) risk classifier. The data showed that the addition of miRNA pairwise expression profiling (ThyraMIRv2) provides clinically and statistically better risk stratification of indeterminate thyroid nodules (ITN) than that of the algorithmic classification analysis provided by the original ThyraMIR assay.[4]
The firm reported on August 31, 2022, that it had completed the sale of its Pharma Services business, Interpace Pharma Solutions to Flagship Biosciences, Inc. The company's annual operating cash flow is expected to increase by approximately $5 million as a result of the deal. The company also made clear its intention of using proceeds from the deal for working capital requirements and investment in the molecular diagnostics business.[5]
Interpace Biosciences, Inc. announced its second quarter financial results for the period ending June 30, 2022, on August 15, 2022. Highlights of the presentation include:
Net Revenue was $9.4 million, a decrease of 16% compared to the same quarter in 2021.
Gross Profit percentage was 37% compared to 48% for the second quarter of 2021, a 1,100 basis-point decline year over year.
Adjusted EBITDA was $2.9 million against $0.3 million in the prior year's quarter.
Loss from Continuing Operations was $3.9 million versus $3.4 million in the similar quarter for the prior year, propelled by lower revenue, and partially offset by lower operating expenses.
Q2 2022 cash collections totaled $10.1 million. Days Sales Outstanding (DSO) decreased by 15% year over year to 59 days.
The cash balance was $3.8 million, net of restricted cash. On June 30, 2022 cash balance was $ 1.9 million, net of restricted cash.[6]
The company is constantly pushing for more and bigger innovation by facilitating more tests on its growing pipeline. Its cash position is significantly reinforced by the Pharma business sale deal and the management should pay close attention to potential cash flow constraints as a result of aggressive expansion moves.
Leadership
[
edit
]
Management Team[7]

[

edit

]
Thomas Burnell, PhD., President and CEO
Boasts a wealth of experience in the healthcare, biotechnology, laboratory sciences, and manufacturing industries
outstanding track record of effectively leading organizational change and orchestrating turnarounds, as well as accelerating growth for startups and facilitating post-acquisition integration
co-founded Milestone Business Management, LLC
Former President and CEO and Member of the Board of Directors at Viracor-IBT Laboratories, Inc.
Holds a B.S. in Animal Science and an M.S. in Animal Nutrition from the University of Nebraska, and a Ph.D. in Nutrition, with an emphasis in Statistics and Biochemistry, from the University of Kentucky.

Syd Finkelstein, Chief Scientific Officer
A board-certified pathologist specializing in gastrointestinal pathology
Massive experience in molecular diagnostics
He is the Adjunct Professor of Pathology, Drexel University on the faculty of Allegheny General Hospital, Pittsburgh, PA.
Founder of Redpath Integrated Pathology, acquired by Interpace Diagnostics in 2014

Jody Campbell, Chief Revenue Officer
Over 19 years of healthcare experience in biopharmaceuticals, medical devices, capital equipment, and molecular diagnostic testing
Previously served as a Senior Director for Biodesix, a lung cancer diagnostic company
Susanne P. Reilly, Ph.D., Chief Human Resources Officer
More than 20 years of experience as a recognized leader in creating high-performing, inclusive workplaces
Leads the company's human resources strategy, talent acquisition, performance management, training and development, diversity and inclusion, organizational design, engagement, succession planning, compensation and benefits, HR operations and technology, and employee relations.
Holds a Ph.D. in Applied Psychology from Stevens Institute of Technology and is a graduate of the Advanced Leadership Program at the Harvard Business School.
Legal Issues
[
edit
]
Internal Complaints
[
edit
]
In July 2020, the company received letters of complaint from several of its employees regarding certain employment, billing, and compliance matters. The complaints sprang as a result of the company's delay in filing its Form 10-Q for the quarter that ended June 30, 2020. Interpace consequently summoned its Audit Committee and Regulatory Compliance Committee as well as its independent registered public accounting firm to investigate the matter. The Audit Committee, with the assistance of independent counsel and advisors, concluded that the allegations were null and void, and had no evidence of an illegal act.[8]
IDXG Stock Information
[
edit
]
As of 08/05/2022, there were 4,246,297 shares of IDXG stock outstanding.[9]
References
[
edit
]