GPHBF - G6 Materials
From OTC Wiki
G6 Materials Corp., through its subsidiaries, develops, manufactures, and sells proprietary products based on graphene and other materials. It offers air purification materials; general purpose, flexible, high-temperature, and room temperature adhesives; advanced materials and composite formulations for businesses and daily life industries, as well as air, sea, and land applications. The company also provides a suite of graphene products through its e-commerce platform. It serves various industries, including aerospace, automotive, healthcare, marine, medical prosthetics, and various branches of the military. The company was formerly known as Graphene 3D Lab Inc. and changed its name to G6 Materials Corp. in January 2020. G6 Materials Corp. was incorporated in 2011 and is headquartered in Ronkonkoma, New York.
Click the menu options below to view or add content
Opinions

Wiki

(+)

FAQs

Links

News

(7)
Opinions
|

Posted on Mar 28, 2022 at 3:25 pm

|

Bear
G6 seems to have a good place in the graphene market, with many products, multiple patents and significant sales. I recognize that they are an established company in a new and exploding industry. The issue I have is that all of these positives mean nothing if they do not result in revenue and profits. I'm in wait and see mode on this one. I think it is worth keeping an eye on, but I need to see more execution before taking the plunge.
Wiki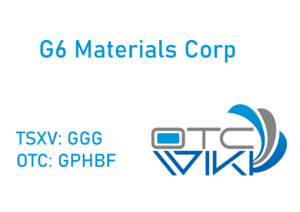 Introduction
[
edit
]
G6 Materials Corp (TSXV: GGG, OTC: GPHBF), formerly Graphene 3D Lab Inc., was incorporated in British Columbia, Canada, on January 17, 2011[1]. The company is headquartered in Ronkonkoma, New York with a spacious production and warehouse facility of over 4,000 sq. ft. The graphene wafers are processed in the wet lab in the facility. The facility also houses a pilot-scale chemical reactor for producing graphene oxide[2]. The company's R&D centre is equipped with single and twin screw extruders and other equipment for effectively carrying out manufacturing activities.
Key Mergers & Acquisitions
[
edit
]
It acquired Graphene 3D Lab (U.S), a spinout company of Graphene Laboratories, through a reverse merger in August 2014. Later, on August 12, 2015, the company entered into a Share Exchange Agreement with Graphene Laboratories and bought 100% of its shares. In August 2021, the company bought a 100% stake in GX Technologies, a company that develops applications based on graphene oxide. In January 2020, the company changed its old name Graphene 3D Lab Inc. to its current name, G6 Materials Corp.[3]
Business Model & Products
[
edit
]
The company develops, manufactures, and markets various graphene-based solutions and advanced material products for automotive, medical prosthetics, healthcare, aerospace, and military & defense industries. However, during the global coronavirus pandemic that started in 2020, the company leveraged its capabilities to build filtration and air purification products using graphene's antimicrobial properties. The company's main products include air purification systems, conductive adhesives, advanced materials & composites, and R&D materials.[4]
The company's wholly-owned subsidiary Graphene Laboratories has a rich history, with a portfolio of more than 100 graphene and associated products. Many of those products are sold to a large number of distinguished and well-known clients, including Apple, IBM, NASA, Samsung, GE, Xerox, Stanford University, and Harvard University. The company also develops high-performance composites for use in the biotechnology and pharmaceutical industries.  
The company has a strong intellectual property product portfolio with five patents granted and four patent applications pending. The company's other graphene-based products available in the market include high-performance composites, R&D materials, and conductive epoxies. In January 2022, the company entered into a Testing Services Agreement with the U.S Army Engineer Research & Development Center[5].
The company has the technology to embed graphene materials into adsorbents, inks, epoxies, and thermoplastics. The company has made significant progress in the areas of ultralight functional materials, mechanically reinforced resins, graphene media for air filtration, and electrical-conductive elastomers.
Financials
[
edit
]
For the year ending 5/31/2021 G6 had total revenue of $1,940,000 and pretax earnings of -$1,130,000, with cash on hand of $4,879,000.[6]