ELTP - Elite Pharmaceuticals Inc
From OTC Wiki
Click the menu options below to view or add content
Opinions

Wiki

(+)

FAQs

Links

News

(2)
Wiki
Introduction
[
edit
]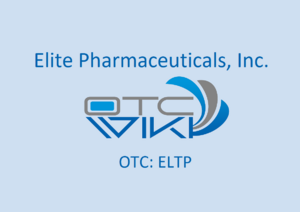 Elite Pharmaceuticals, Inc. (OTC: ELTP) is a specialty pharmaceutical firm that develops a range of generic products. It strictly operates in the Drug Stores & Pharmacies, Retail, and Manufacturing industry. The company engages in the research, development, and manufacture of oral, controlled-release drug products, and generic pharmaceuticals. It employs proprietary know-how and technology for the manufacture of generic pharmaceuticals. Elite Pharmaceuticals conducts its operations in two segments; Abbreviated New Drug Applications (ANDA) for Generic Products and New Drug Applications (NDA) for Branded Products. It owns and licenses numerous generic and oral products to contract manufacturers such as Epic Pharma, LLC, Lannett Company, Presco, LLC, and TAGI Pharma. Its products include Phentermine HCl 37.5 milligram tablets (mg), Dextroamphetamine Saccharate, and Amphetamine Aspartate, among others.[1] Elite Pharmaceutical Inc. was incorporated on October 1, 1997, and is headquartered in Northvale, New Jersey. The company's stock is publicly traded on OTCMKTS under the 'ELTP' sign.[2]
Company Operations
[
edit
]
The company focuses on developing pain management products. It has massively invested in technology used for research and development of the controlled-release array of drug products with high barriers to entry. The firm carries out contract research and development work regarding controlled-release drug technology for other pharmaceutical companies and works to develop and market (either on its own or by licensure to other companies) proprietary controlled-release pharmaceutical products. Elite operates a 55,000-square-foot United States Drug Enforcement Agency ("DEA") registered facility in Northvale for the research, development, manufacture, and packaging of its pharmaceutical products. Its proprietary abuse-deterrent technology, ART, is a multi-particulate capsule that contains an agonist in addition to naltrexone, an antagonist, used primarily in the management of alcohol dependence and drug dependence.[3]
The firm offers a large portfolio of products tailored for a specific use such as Phentermine HCl 37.5mg tablets for the treatment of bariatrics under the Adipex-P brand; Naltrexone HCl 50mg tablets for the treatment of pains under the Revia brand; Phendimetrazine Tartrate 35mg tablets for bariatrics under the Bontril brand; Isradipine 2.5mg and 5mg capsules for cardiovascular diseases; Trimipramine Maleate Immediate Release antidepressant capsules under the Surmontil brand; Acetaminophen and Codeine Phosphate for the management of mild to moderate pain; and antibiotic products, among numerous others. It also manufactures controlled-release products on contract for third parties targeting allergy, bariatric, infection, and pain scopes.[4]
Early History and Business Development
[
edit
]
Prologica International, Inc., Elite's predecessor, was incorporated in 1984 in the state of Pennsylvania and completed its Initial Public Offering in 1988. Elite Pharmaceuticals sealed a merger with Prologica on October 24, 1997. The company acquired ELI in 1997, a company that developed controlled-release versions of various drugs, including drugs that provide therapeutic benefits for angina and hypertension, a nonsteroidal analgesic drug, and one which appears to lower blood glucose by stimulating insulin from the pancreas.[5]
Critical Company and Industry News
[
edit
]
The company conducted a Q1 2023 Earnings Conference Call on August 16, 2022, for the period ending June 30, 2022. Highlights of the firm's financial performance include:
The company recorded approximately $7.7 million in sales, up 9% compared to the same quarter in 2021. The result was highly attributed to the robust sale of Amphetamine IR tablets and Amphetamine ER capsules. The company's sales have constantly shown magnificent trends over the past fiscal years; $8 million in the fiscal year 2019, $18 million in 2020, $25 million in 2021, and $32 million in 2022.
Gross profit was about $4 million, $0.4 million over the same quarter last year
Operating income was approximately $1 million versus $0.97 million for the prior quarter last year
Operating expenses maintained at a relatively steady level of about $3 million against $2.6 million for the prior quarter
Net income was about $0.3 million, compared to $2.4 million for the prior quarter. The firm explained that the shrink witnessed in net income was a result of derivatives and liabilities due to the outstanding stock warrants of about $1.1 million, and the net operating loss of sales, around $1 million, which the company does not have during this quarter.
The company's CEO, Nasrat Hakim, expressed his delight in the firm's positive progress and solid financial position.[6]
Elite Pharmaceuticals recently secured FDA (U.S Food and Drug Administration) approval to exclusively manufacture and package the generic version of Sabril (vigabatrin) 500 mg powder. Vigabatrin is an antiepileptic drug marked for refractory complex partial seizures and used as adjunctive therapy in patients with mere response to several alternative treatments. Lannette is licensed to market and distribute the product across the U.S and its territories.[7]
Management
[
edit
]
Management & Key Employees[8]

[

edit

]
  Nasrat Hakim, President, and Chief Executive Officer
More than 30 years of pharmaceutical and medical industry experience in Analytical Research and Development, Quality Assurance, Technical Services, and Regulatory Compliance
Most recently, Mr. Hakim served as International Vice President of Quality Assurance at Actavis, overseeing 25 sites with more than 3,000 employees under his leadership
Founded Mikah Pharma, LLC, in 2009
His outstanding education entails Graduate Certification in Regulatory Affairs (RAC) from California State University, Sacramento, CA; Bachelor in Chemistry/Bio-Chemistry and Masters of Science in Chemistry from California State University, Sacramento, CA; and a Masters in Law with Graduate Certification in U.S. Taxation from St. Thomas University, School of Law, Miami, FL.
Robert Chen, Chief Financial Officer, Secretary, and Treasurer
Has broad experience in financial and operational leadership for both public and private life science companies, ranging from preclinical development to commercial operations
Brings extensive and diversified financial leadership background in financial reporting, including financial and cost accounting, SEC, GAAP, and IFRS, as well as financial planning and analysis.
Previously served in roles as CFO, Vice President of Finance, and Corporate Controller primarily in the life sciences sector
Holds a Bachelor of Science in Business Administration, Accounting, and a Master of Professional Accountancy degree from the University of Southern Mississippi. He is also a CPA.

William Scott Groner, Quality & Regulatory Affairs Consultant
More than 30 years of regulatory and quality experience in both the pharmaceutical brand and generic industry
Vast knowledge in regulations, quality systems, assessments, FDA submissions, compliance, and product applications for both oral solid dosages and sterile and non-sterile liquid products
Holds a Bachelor of Science in Chemistry from Western New England College.
Legal Issues
[
edit
]
Lawsuits
[
edit
]
Elite Pharmaceuticals on March 17, 2011, announced the settlement of a lawsuit filed against the company by ThePharmaNetwork, LLC (TPN) in the Superior Court of New Jersey, Chancery Division: Bergen County. ThePharmaNetwork initiated a lawsuit against Elite alleging that the respondent breached certain obligations concerning a Product Collaboration Agreement, made as of November 10, 2006, under which Elite and TPN agreed to collaborate in the development, commercialization, manufacturing, and distribution of a generic pharmaceutical product, methadone hydrochloride in a 10 mg. tablet (the "Product"). Elite punched back with claims of damages amounting to at least $1,125,000 in damages, resulting from TPN's actions. The companies resolved to a settlement agreement on March 11, 2011, where both agreed to drop the charges with prejudice and further terminate the product collaboration deal.[9]
ELTP Stock Information
[
edit
]
As of 09/07/2022, there were 1,013,915,081 shares of ELTP stock outstanding.[10]
References
[
edit
]
News
Wed, 20:55 June 29, 2022 | OTC Markets Group - News, Filings & Corporate Actions
Category: Elite Pharmaceuticals, Inc. | Tier: OTCQB | Source: ACSW |
Thu, 20:31 June 23, 2022 | OTC Markets Group - News, Filings & Corporate Actions
Category: Elite Pharmaceuticals, Inc. | Tier: OTCQB | Source: ACSW |
More News: OTC Markets