CGXEF - Cgx Energy Inc
From OTC Wiki
CGX Energy Inc., an oil and gas exploration company, explores for and evaluates petroleum and natural gas properties in Guyana, South America. It holds interests in three petroleum agreements and petroleum prospecting licenses, including Corentyne, Berbice, and Demerara blocks that cover an area of approximately 11,005.2 square kilometers located in offshore and onshore Guyana. The company also develops deep water port project in Guyana. CGX Energy Inc. was incorporated in 1998 and is headquartered in Toronto, Canada.
Click the menu options below to view or add content
Opinions

Wiki

(+)

FAQs

Links

News

(7)
Opinions
|

Posted on Mar 16, 2022 at 9:40 pm

|

Bear
I'm a bear on CGXEF and a bull on FECCF and here is why. They both peaked on 2/1/22. Since then, FECCF is UP about 7%, while CGXEF is DOWN over 50%! Why the huge difference? Because of the financial/business risk associated with CGX. Without funding, and likely further dilution, they cannot continue. FEC, on the other hand, has performed well because of the high likelihood of a commercial find. FEC share price will continue to grow as the discovery is further proven.
|

Posted on Mar 3, 2022 at 9:33 pm

|

Bear
There are two significant aspects when evaluating CGX. The first is the potential for a commercial discovery. In that regard, I think things have not gone as well as hoped, however, there is still a chance that they find commercial quantities. It is hard to say what that likelihood is, but I think the odds have declined significantly based on the fact that they did not wireline log or flow test the first well. Whether this is due to well conditions or only finding minimal oil is an important question which we do not have an answer to.
The other significant aspect in evaluating CGX is their financial situation. They spent $140 million on the first well and have very little to show for it. Drilling another well will require massive dilution, especially considering the price collapse on the latest operations update. It seems to me that their only realistic hope is a JV. Unfortunately, with the poor results of the first well a JV seems unlikely.
Wiki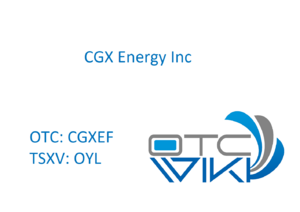 CGX Energy Inc (OTC: CGXEF, TSXV: OYL)
Guyana-Suriname Basin
[
edit
]
In August 2021 the Kawa-1 exploration well spudded on the Corentyne block, targeting three Campanian to Santonian-aged zones. Adjacent blocks have produced significant commercial discoveries.[1]
On January 31, 2022 the company announced that it had found approximately 177 feet of reservoirs bearing hydrocarbons.[2] This news lifted the stock price by about 65%. However, an operations update on March 3, 2022 indicated that they plugged and abandoned the well, resulting in a price decline of nearly 50%.[3]
Deep Water Port
[
edit
]
In 2012 CGX acquired a 50 year lease from the government of Guyana for 55 acres of land adjacent near "Crab Island" for the development of a deep water port. This port will service oil and gas exploration/production, agricultural export, containerized import/export, cruise ship docking, and regional shipping. Development will be in two phases: 1) Wharf platform build out to channel with expected completion in Dec. 2021, and 2) Expansion with expected completion in 2025.[4] When the port is finished it will be the only deep water port in Guyana, and the third largest in the country.[5]