CELZ - Creative Medical Technology Holdings Inc
From OTC Wiki
Creative Medical Technology Holdings, Inc., a biotechnology company, focuses on immunology, urology, orthopedics, and neurology using adult stem cell treatments. The company offers CaverStem for the treatment of erectile dysfunction; FemCelz for the treatment of loss of genital sensitivity and dryness; StemSpine for the treatment of chronic lower back pain; Amniostem for the treatment of strokes, radiation, toxicity, and glioma; ImmCelz for the treatment of stroke patients; and OvaStem for treatment of female infertility. Creative Medical Technology Holdings, Inc. was incorporated in 1998 and is based in Phoenix, Arizona.
Click the menu options below to view or add content
Opinions

Wiki

(+)

FAQs

Links

News

(1)
Opinions
|

Posted on Mar 6, 2022 at 2:06 am

|

Bear
How are they going to repay the $3.8 million in notes in 6 months? The only way this is possible is by selling shares. That will require about 150 million shares at current price in August. Add to that the 157 million warrants issued and you have dilution of about 25%.
Wiki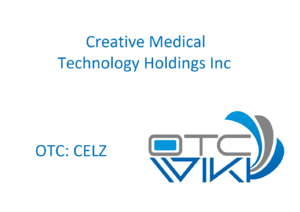 Creative Medical Technology Holdings (OTC: CELZ)
On August 9, 2021 the company announced that is had secured financing of $3.79 million. The proceeds represent notes in the amount of $4.45 million at a 15% discount. The notes mature on February 11, 2022. The investors will also receive warrants for 157 million shares with an exercise price of $0.02835.[1] The notes do not pay interest and are not convertible to company stock. There is also a clause that requires the company to conduct a reverse split of 1:100 within 90 days of the original issue date. In the event of default, interest will accrue at 15% per year.[2]
On February 16, 2021 the company filed a patent application for the use of their product ImmCelz for preventing rejection of transplanted organs.[3]
Product Pipeline
[
edit
]
According to the company's website, the following products are in their pipeline:[4]
1) CaverStem - Regenerative Stem Cell Procedure for Treatment of Erectile Dysfunction in Men - In-Market
2) FemCelz - Regenerative Stem Cell Procedure for Treatment of Female Sexual Dysfunction - In-Market
3) StemSpine - Regenerative Stem Cell Procedure for Treatment of Degenerative Disc Disease - Pilot
4) ImmCelz - Amniotic Fluid Derived Stem Cells for Treatment of Stroke - Preclinical
5) OvaStem - Stem Cell Treatment for Premature Ovarian Failure - Preclinical