BBKCF - BIGG Digital Assets Inc.
From OTC Wiki
BIGG Digital Assets Inc. operates in the digital assets and blockchain technology industry. It operates through two segments, Blockchain Technology Development and Digital Currency Sales Brokerage. The company develops QLUE, a blockchain-agnostic search and analytics engine that enables law enforcement, RegTech, regulators, and government agencies to visually track, trace, and monitor digital currencies transactions at a forensic level; and BitRank Verified that offers a risk score for digital currencies that enables RegTech, banks, ATMs, exchanges, and retailers to meet traditional regulatory/compliance requirements. It also develops brokerage and exchange software to make the purchase and sale of digital currency easily accessible to the mass consumer and investor with a focus on compliance and safety. The company has a partnership with Blockchain Foundry Inc. to develop an integrated forensic and risk scoring product for syscoin-based tokens. The company was formerly known as BIG Blockchain Intelligence Group Inc. and changed its name to BIGG Digital Assets Inc. in September 2019. BIGG Digital Assets Inc. is headquartered in Vancouver, Canada.
Click the menu options below to view or add content
Opinions

Wiki

(+)

FAQs

Links

News

(15)
Wiki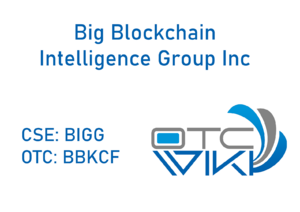 Bigg Digital Assets Inc (CSE: BIGG, OTC: BBKCF) is a digital assets company that primarily owns, operates, and invests in crypto-related businesses. Bigg Digital Assets own 3 companies: Netcoins, Blockchain Intelligence Group, and Terra Zero. It entirely owns Netcoins and Blockchain Intelligence Group, while it owns approximately 1/3rd of TerraZero. Netcoins is the first publicly traded fully regulated, cryptocurrency platform in Canada that allows people to trade safely in cryptocurrency. Blockchain Intelligence Group provides forensic investigation services of cryptocurrencies to their clients for monitoring and tracking illicit transactions/activity. It also provides crypto training courses for individuals and corporates. TerraZero is mainly engaged in operations related to Metaverse where they develop, acquire and finance innovative Metaverse projects, companies, entrepreneurs, and developers.[1]
The leadership team at Bigg Digital Assets includes Marks Binns (CEO & Director), Lance Morginn (President, Director & Co-Founder), and Kim Evans (Director & CFO). Lance has over 20 years of industry experience in technology-based startups along with a proven track record for growing and developing multi-million-dollar businesses from the ground-up. The Bigg Digital Assets management team boasts 150+ years of experience in the tech and securities industry.[2]
Bigg Digital Assets Inc is listed on various exchanges such as WKN (Germany), OTCQX (USA), and CSE (Canada). Bigg Digital is betting big on cryptocurrency and its applications with diversified investments in cryptocurrency brokerage (Netcoins), risk management and forensic investigation of cryptocurrencies (Blockchain Intelligence Group), and Metaverse Investments (TerraZero). The company has further invested in 2 more companies: Zenledger (Cryptocurrency tax software startup), and Lqwd Fintech Corp (Payment infrastructure and solutions developer). Bigg Digital Assets has big plans for the future which includes international expansion of Netcoins, entry of Netcoins in USA in 2022, product expansions, and further strategic investments in Crypto, Metaverse, NFT, Blockchain, and/or DeFi.[3]
On Feb 10 2022, BIGG Digital Assets Inc announced a strategic investment of CAD 9.8 million in TerraZero Technologies Inc. ("TerraZero"). Post this investment, Bigg Digital Assets owns around 33% of TerraZero on a fully diluted basis. As a result of this investment, Bigg has the right to nominate one member to TerraZero's board of directors and they have nominated Lance Morginn. TerraZero is heavily invested in the Metaverse with businesses segmented into five divisions which include: (1) virtual real estate; (2) advertising; (3) data analytics; (4) events and marketing; and (5) infrastructure. Mark Binns, BIGG CEO, remarked, "BIGG is first and foremost a digital assets company - and the Metaverse is becoming central to the digital asset economy. We believe TerraZero will be a global leader and we expect our majority ownership position will deliver outsized returns for our shareholders. With TerraZero, Netcoins, and Blockchain Intelligence Group, we are giving our shareholders access to the best digital asset companies in their respective industries."[4]
On April 05 2022, BIGG Digital Assets Inc announced the launch of 6 new coins on the NetCoins platform: APE, CRV, LINK, YFI, SUSHI, and ENJ. Mark Binns, Netcoins CEO, remarked "We are thrilled to so quickly bring a fresh round of coins to the Netcoins customer base to trade, HODL and sell. These coins included a nice mix of established digital assets and also new coins, like APE, where we will be one of a limited set of providers in Canada, making Netcoins a destination for interested traders. We look forward to providing more coin addition updates in the near future."[5]
BBKCF Stock
[
edit
]
As of 5/31/2022 there were 247,876,644 shares of BBKCF stock outstanding.[6]