BANT - Bantek Inc
From OTC Wiki
Bantec, Inc., a product and service company, engages in the distribution of advanced low altitude unmanned aerial vehicles systems, services, and products worldwide. It provides product procurement, distribution, and logistics services. The company also offers drones; drone accessories, training, and services; accident reconstruction software; counter-drone technology; certificates of authorization; and Waivers. In addition, it sells disinfecting products and equipment through its bantec.store website to facility owners in hospitals, universities, manufacturers, and building owners; supplies spare and replacement parts to federal government agencies, the U.S. military prime contractors, and commercial customers; and sells drones to law enforcement, fire departments, security companies, and the U.S. government. Bantec, Inc. was incorporated in 1972 and is headquartered in Little Falls, New Jersey.
Click the menu options below to view or add content
Opinions

Wiki

(+)

FAQs

Links

News
Opinions
|

Posted on Mar 6, 2022 at 2:58 pm

|

Bear
The dilution is out of control. From 2018 to 2020 they went from 200,000 shares to 2,000,000 to 80,000,000. Revenues are down and operating expenses are up.
Wiki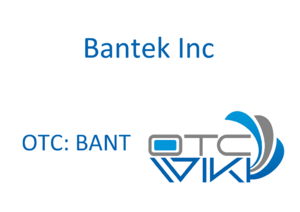 Patents
[
edit
]
Bantek has a patent for Drone Operated Delivery Receptacle which outlines a device place on the roof of a building to receive packages from drones.[1]
Financials
[
edit
]
For the full year ending 9/30/2020 the company posted Total Revenue of $4,45 million, Pretax Income ov -$4.32 million and Diluted EPS of -$0.05.[2]