BABYF - Else Nutrition Holdings Inc
From OTC Wiki
Else Nutrition Holdings Inc. focuses on the research, development, manufacturing, marketing, and sale of plant-based food and nutrition products to the infant, toddler, children, and adult markets. It offers baby snacks under the HEART brand; baby feeding accessories, such as feeding bottles and disposable sterile nipples (teats); baby formulas; and nutritional drinks, as well as dried food snacks. Else Nutrition Holdings Inc. is headquartered in Tel Aviv-Yafo, Israel.
Click the menu options below to view or add content
Opinions

Wiki

(+)

FAQs

Links

News

(28)
Opinions
|

Posted on May 6, 2022 at 2:37 am

|

Bull
I love the products and think they have found a great niche. Yes, there is a limit to how many parents will buy something outside of the mainstream (and likely at a much higher price), but with such a huge market it is possible to capture a little market share. They have laid the groundwork with product development and distribution channels and I think it will all pay off over the next couple of years. It is hard to say when this will be fully reflected in the stock price but it will happen eventually.
Wiki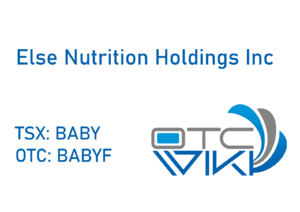 Else Nutrition Holdings Inc (OTC: BABYF, TSX: BABY) is an infant nutrition company that primarily sells plant-based dairy & soy-free baby formula alternative to cow milk. The foundation of Else can be traced back to 2005 with a crucial need for a healthy alternative to dairy and highly processed baby nutrition. Being strong supporters of plant-based nutrition, the founders desired to create a formula that would be free from soy, dairy, harsh chemicals, ultra-processing, and meet the highest standards for infant nutrition. Thus, Else Nutrition Holdings was born. Currently, Else Nutrition has 6 products that include toddler formula and a line of kids complete nutrition shakes. All of Else Nutrition products have received the Clean Label Purity Award Certification that tests products for over 400 contaminants to ensure children received the highest purity, and cleanest nutrition. The company aims to be at the forefront of the plant-based infant and kid's nutrition space.[1]
Else Nutrition Holdings is listed on various exchanges such as TSX (Canada), OTCQX (America), and FSE Exchange (Germany). The company uplisted to the TSX exchange in January 2022.[2]
The baby formula developed by Else is the world's first 100% plant-based, non-dairy, non-soy formula made mainly out of almonds, buckwheat and tapioca. The company has been granted patents for infant and toddler applications in 22 countries such as the USA, Canada, India, and many more. They sell their products through various channels such as Amazon, Company e-Store, and Retail. Else Nutrition plans to venture into new segments such as Toddlers, Kids, Healthy Adults, and Adults with special dietary requirements. Some of the future products that the company plans to develop are chips, snacks, pasta, vegan yogurt, meat/chicken replacements, and plant-based whole meal cheese.[3]
The leadership team at Else Nutrition Holdings includes Hamutal Yitzkah (Co-Founder, Director & CEO), Uriel Kesler (Co-Founder, Director & COO), and Michael Azar (Co-Founder & CTO). The leadership team at Else Nutrition Holdings is a group of well-seasoned executives with years of experience in the Infant Nutrition Industry and technical expertise in their respective domains.[4]
On Feb 22 2022, Else Nutritional Holdings announced they concluded a successful preclinical study on its Plant-Based infant formula, on the pathway to bring its formulation to market. This marks a key first step on the path to demonstrate the safety and nutrient bioavailability of the Else infant formula. The study results demonstrated proper growth similar to dairy-based infant formula, in a neonatal preclinical model. "This is a massive step forward for the Company," said Hamutal Yitzhak, CEO & Co-Founder of Else Nutrition. "Since inception, our vision has been to fill this major gap in the market, and to bring a clean label whole-food, plant-based, soy-free infant formula to millions of families worldwide. These results mark further validation of our formulation, as we continue to push ahead in seeking FDA approval."[5]
On March 22 2022, Else Nutritional Holdings announced the launch of Else™ Toddler Omega complete & balanced nutrition drink in the coming weeks on Amazon.com followed by the company's e-store and select retail outlets. Else™ Toddler Omega is a complete and balanced plant-based, clean-label, non-GMO, soy-free, gluten-free, non-organic nutritional drink for toddlers aged 12-36 months. It is designed to support a toddler's growth and development, as well as promote natural digestion, through its combination of whole food ingredients: almond, buckwheat, and tapioca. The product has also received the Clean Label Purity Award Certification.[6]
In May 2022 Else announced the launch of Super Cereal for babies six months and older. Super Cereal was awarded the Clean Label Project Purity Award, which tests for impurities, metals, and toxins.[7]
BABYF Stock
[
edit
]
As of 5/31/2022 there were 105,596,220 shares of BABYF stock outstanding.[8]