AXXA - Exxe Group Inc
From OTC Wiki
Exxe Group Inc. focuses on real estate, sustainable technology, media, agribusiness, and financial services businesses. The company buys, develops, and manages real estate properties, including condominiums, hotels, vacation homes, residential complexes, senior living communities, offices, and self-storage facilities. It also provides financing and execution services; advises issuers and investors through financing, acquisition, and exit strategies; and delivers services to investors through media and tech. The company was formerly known as Telecorp, Inc. Exxe Group Inc. was incorporated in 2009 and is based in New York, New York.
Click the menu options below to view or add content
Opinions

Wiki

(+)

FAQs

Links

News

(8)
Wiki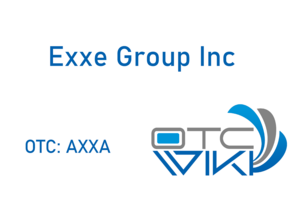 Exxe Group, Inc. (OTC: AXXA), previously known as Telecorp, Inc., is a diversified fintech company headquartered in New York, USA. The company has a wide range of products and is looking for opportunities in various technology-related areas. It focuses on companies with assets in real estate, financing, agribusiness, software-related technology platforms, and digital media. The company also focuses on acquisitions in various sectors such as private equity, venture capital, real estate, sustainability, media, agribusiness, and financial services. To boost shareholder value, the company invests cash in accelerating corporate growth by advising on business model refinement, creating strategic alliances, and enhancing the value of underperforming assets.[1]
The leadership team of Exxe Group Inc includes Dr. Eduard Nazmiev as the Chairman of the Board, CEO, and CFO. Dr. Eduard currently holds positions as an Associate Professor and Head of Economics Laboratory and Management of Academy of Sciences and the Deputy Chief Editor of the Scientific Journal for Regional Economics. Other prominent members of the leadership team include Tiberius Vadan as the Vice-President, Mergers & Acquisitions. He is a Harvard graduate with over 20 years of experience as a senior executive specializing in Mergers, Acquisitions. He advises IBM and Fortune Global Top 50 leaders on strategy in his current job as Executive and Partner in IBM's Global Enterprise Transformation and is responsible for delivering over 250 deals ranging from 100 to 250 million dollars.[2]
Exxe Group Inc has acquired several companies from a wide range of sectors including, Furniture Manufacturer, Medical Supply Company, Transportation, transportation and many others. Recently Exxe Group Added a real estate portfolio and announced AXXA Metaverse Initiative to diversify its investments further. They are all set to close the first phase of the real estate acquisition, which should add a $25M value per quarter. The company is already increasing its reach in two primary segments: physical real estate and digital real estate assets, which are at the heart of the strategy. Exxe functions as a two-way digital and physical conduit in this way, allowing it to combine its successful tactics in physical business M&A with its digitization strategy, allowing it to take advantage of lucrative Metaverse prospects quickly.[3]
Other major acquisitions include Mein Motor, a specialist engine repair firm with headquarters in Switzerland and based in Germany. Mein Motor is worth $8 million and is expected to earn over 2 million euros in revenue and approximately 800,000 euros in EBIT this year.[4] Exxe Group Inc is also invested in a furniture manufacturer and interior design agency, daskonzept group, which has $11.4 million in assets, $5.5 million in revenue[5], and a fast-growing Swiss medical supply company which made over 2.7 million in 2020, which is a 210% increase compared to the previous year.[6]
Backed up with strong acquisition, Exxe Group's revenue increased for three consecutive years, rising from 78.83K in 2017 to 33.9M in 2021, which is over a 4000% increase in just three years. Exxe Group also has over 222.05M in assets which increased from 29.93K in 2017.[7]
The main competitors of Exxe Group include 24SevenOffice Group AB (publ) (TFSVF), Cerence (CRNCV), Divestco (DSVTF), Enghouse Systems (EGHSF), Esker (ESKEF), GungHo Online Entertainment (GUNGF), Jackpot Digital (JPOTF), Lectra (LCTSF), mCloud Technologies (MCLDD), and Megaport (MGPPF). These companies are all part of the "packaged software" industry.[8]
AXXA Stock
[
edit
]
As of 5/6/2022 there were 662,095,768 shares of AXXA stock outstanding.[9]