AITX - Artificial Intelligence Tech Solutions Inc
From OTC Wiki
Artificial Intelligence Technology Solutions Inc. focuses on the delivery of artificial intelligence and robotic solutions for operational, security, and monitoring needs. It also develops front-end and back-end software solutions. The company was formerly known as On The Move Systems Corp. and changed its name to Artificial Intelligence Technology Solutions Inc. in August 2018. Artificial Intelligence Technology Solutions Inc. was founded in 2016 is based in Ferndale, Michigan.
Click the menu options below to view or add content
Opinions

Wiki

(+)

FAQs

Links

News

(51)
Wiki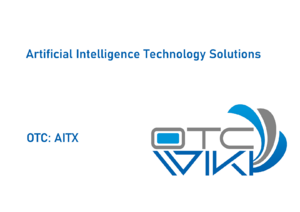 Introduction
[
edit
]
Artificial Intelligence Technology Solutions, Inc. is a technology company involved in the development and provision of artificial intelligence (AI) and robotic solutions. The company focuses on the delivery of AI-driven technologies, merged with multi-purpose hardware and supported by custom software and cloud services to intelligently automate a range of high-frequency security, concierge, and operational activities.[1] It also develops front and back-end software solutions. Its stock trade on the OTCQB Venture Marketplace under the symbol 'AITX'. The firm has its headquarters in Ferndale, Michigan.[2]
Background
[
edit
]
Artificial Intelligence Technology Solutions, Inc. was founded by John B. Crawford on March 25, 2010. It was initially known as On The Move Systems Corp. and changed its name to Artificial Intelligence Technology Solutions Inc. in August 2018.[2]
Company Operations
[
edit
]
Artificial Intelligence Technology Solutions, Inc. fully owns and operates three subsidiaries; Robotic Assistance Devices Group, Inc. (RAD G), Robotic Assistance Devices, Inc. (RAD I), and Robotic Assistance Devices Mobile, Inc. (RAD M). RAD I has ownership of the intellectual property related to RADSoC, RAD Mobile SOC, RADGuard, and their core operating architecture.
RAD G focuses on the generation of advanced software and electronics solutions in line with the Autonomous Remote Services agenda. RAD M focuses on the development of both ground-based and airborne, autonomous mobile devices. Its solutions are vital in improving an organization's operations and are highly suitable[3]
RAD I engineers, designs, manufactures, delivers, and maintains world-class robotic security devices, software, and services that reinforce a facility's security and safety while saving on significant expenses.[4]
Artificial Intelligence Market
[
edit
]
The global Artificial Intelligence market is tipped to grow massively in magnitude by 2022. The market is predicted to be worth approximately $309.6 billion by 2026, with a Compound Annual Growth Rate (CAGR) 0f 37.9% between 2022 and 2026. The market growth can be attributed to several factors including the rapid digital transformation in industries and institutions necessitated by the Covid-19 pandemic, and the spike in cyber security incidents and malware attacks across the world, among others.
Milestone progress in deep learning, growth of data-based AI, and the quest for robotic autonomy to stay competitive in the market are some of the vital factors tipped to propel the adoption of AI solutions and services.[5]
Critical News Releases
[
edit
]
Artificial Intelligence Technology Solutions has been making iconic advancements in the technology sector.
The firm announced on July, 6,2022, that RAD, its subsidiary, has released a full-length video of the 'Being Proactive Against an Active Shooter' event together with a demonstration of its recently announced firearm detection AI-based technology.[6]
The company, on June 30, 2022, announced that RAD had struck an agreement with a Fortune 50 global leader in transportation, e-commerce, and business services to deploy 12 ROSA security robots and 1 ROAMEO mobile robot at 2 of the client's facilities. The ROSA units and the mobile ROAMEO robot are scheduled to deter trespassing experienced in the firm's locations.[7] This followed a couple of orders including one for multiple AVA and TOM devices from a leading global logistics company, dubbed the 'largest order' on June 10, 2022.[8]
On June 29, 2022, the company announced that it would soon launch a non-fungible token (NFT) program, whose initial release is based on ROSA, produced by RAD. An NFT is a type of asset approved by blockchain technology where a network of computers records transactions and gives traders proof of ownership.[9]
On June 6, 2022, Artificial Intelligence announced that its subsidiary RAD had signed NANA Management Services (NMS) as a new authorized dealer. The deal increased RAD's network of dealers to 44 across Canada, the USA, the European Union, and the UK. RAD was to deliver one ROSA, which the NMS would use for demonstrations to its clients and prospects.[10]
On August 25, 2021, the company cleared the air on F-Series preferred shares conversation. AITX filed a Form 8-K with the Securities and Exchange Commission blocking the conversion of Series F preferred convertible shares to common shares for a minimum of two years. The move aimed to eliminate the risk of common share dilution by preferred shareholders.[11]
Board of Advisors
[
edit
]
Jeffrey A. Slotnick, CPP, PSP, Chairman of Board of Advisors
·        President, Setracon Enterprise Security Risk Management Services
·        Founder Safe Washington,  United States Army Engineer Corp, CSM Retired
·        Enterprise Security Risk Consultant with more than 28 years of experience
Extensive experience in the Public Works and utility field with specific expertise in Water, Waste Water, Dams, Transportation Infrastructure, Light and Heavy Rail, Supply Chain, Religious Institutions, Schools, Data Centers, and Medical Facilities.
Tony Dong, Member
·        Master of Science degree (in progress) in Enterprise Risk Management, a Bachelor of Arts degree in Criminology
·        Enterprise risk management professional
·        3 years of experience in advising large multi-million dollar organizations in the public & private sectors on strategic, operational, and financial risks
·        2 years reserve service in the Canadian Armed Forces.
Rene Pasculescu, MBA, MSc, CPP, Member
·        Manager of the Civitas Group for the last 9 years
·        An MBA at Open University Business School UK,
·        An Executive Education in Strategy & Organization at Stanford
·        Master's Degree in Risk, Crisis & Resilience Management at Portsmouth University and holding the CPP certification from ASIS International.
·        Has been serving for the last 4 years as a Chapter Chair for ASIS Romania Chapter 277
Shannon McDougall, MBA, CHSP, Member
·        Currently the Chief Safety Officer and Executive Director, for The City of Hope, Enterprise Occupational Safety and Health Department, and Environment of Care.
·        MBA from the University of Phoenix,
·        International Board Certified in Health and Safety(CHSP)
·        19 years in the healthcare industry and leadership.
Environment, Social & Governance (ESG)[13]

[

edit

]
The company is striving to reduce the impact of its operations on the environment while reducing operating costs in technology production, energy consumption, and waste handling.
E-Waste
[
edit
]
Artificial Intelligence Technology Solutions is working towards achieving zero landfills by 2025.
·        Employing quality systems to reduce waste resulting from errors
·        Eliminating paper-based record keeping
·        Making use of traditional recycling and waste reduction procedures within the facility
·        Championing for material recovery from end-of-life products for reuse, refining, recycling, or remarketing
Energy Consumption
[
edit
]
The company seeks to reduce its annual energy consumption by:
Using heating/cooling timers
·        Encouraging a hybrid "work from anywhere" environment, to reduce commuting by employees
·        Maximizing energy efficiency in new versions of released products
AITX Stock
[
edit
]
As of 07/05/2022 there were 4,945,967,695 shares of AITX stock outstanding.[14]
References
[
edit
]