AERG - Applied Energetics Inc
From OTC Wiki
Applied Energetics, Inc. engages in the development and manufacture of lasers, advanced optical systems, electronics, and integrated guided energy systems for defense, aerospace, industrial, and scientific customers worldwide. It is involved in developing the optical sources that exhibit output energy, peak power, and frequency agility. The company in the process of expanding its patent portfolio to cover these technological breakthroughs to further enhance its suite of solutions for threat disruption for the Department of Defense and the intelligence community, as well as for commercial, medical, space, and national intelligence applications with optical sources operating from the deep ultraviolet to the far infrared portions of the electromagnetic spectrum. It holds various intellectual property rights to the development and use of laser guided energy technology and related solutions for commercial, defense, and security applications, and are protected by 26 patents and 11 additional Government sensitive patent applications. The company is headquartered in Tucson, Arizona.
Click the menu options below to view or add content
Opinions

Wiki

(+)

FAQs

Links

News

(7)
Wiki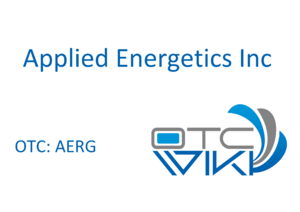 About AERG
[
edit
]
Applied Energetics, Inc. (OTC:AERG) is an American corporation that specializes in direct energy technologies. The company was established in 2002 and is headquartered in Tucson, Arizona. Applied Energetics works with a proprietary fiber-based laser architecture which differs from the industry standard of continuous wave or CW technology. Using fiber-based laser architecture allows Applied Energetics to develop, integrate, and deliver a full suite of agile technologies that meet a variety of different industry requirements. Applied Energetics debuted on the Over the Counter markets back in January of 2018, and has a market cap of $427 million as of May 2022.[1]
Applied Energetics has multiple different technologies that it utilizes. These include UltraShort Pulse Lasers (USP), Laser Guided Energy (LGE), Laser Induced Plasma Channel (LIPC), Frequency Agile Optical Sources (UV to FAR IR), Advanced Fiber Applications, and Counter Pathogen and Improvised Threats. It has a wide range of customers, including the communications and aerospace industries, as well as working with the Department of Defense.
Intellectual Property
[
edit
]
The company owns a strong portfolio of intellectual properties that totals over $50 million. This includes 26 patents and 11 applications that are held under orders of Government secrecy.[2] 
Defense Industry
[
edit
]
Applied Energetics (OTC: AERG) is the exclusive developer of Laser Guided Energy (LGE™) and Laser Induced Plasma Channel (LIPC™) technologies. These revolutionary technologies can precisely transmit high voltage electrical charges by using a laser to create a conductive path in the atmosphere. This technique can deliver tailored weapon and countermeasure effects to targets with laser accuracy and manageable lethality, reducing the potential for inadvertent injury and collateral damage. By harnessing this power, Applied Energetics will introduce new possibilities for precision, safety and impact, on and off the battlefield." The company holds 26 U.S. Patents and 11 Government Sensitive Classified U.S. Patents.[3]
Its UltraShort Pulse and Laser Guided Energy technologies are helping the Department of Defense and US military in the rapidly growing battlefield of electronic warfare. These defenses provide the ability for military bases to attack at the speed of light and neutralize potential threats against national security. It has laser-precise targeting and can even enable the rapid engagement of multiple different airborne targets. Applied Energetics' direct energy technology has become a vital part of the system that keeps the country safe from a potential attack.[4]
With its UltraShort Pulse technology, the company is able to provide real-time and uninterrupted operation of the Marine Air Defense Integration System (MADIS). Compared to Continuous Wave (CW) technology, USP is far superior with its peak laser output power of 1TW compared to just 50kW for CW, as well as being air mobile providing additional agility for the system.[5]
Consumer Products
[
edit
]
It's not just defense systems that Applied Energetics is involved with. It also has a full portfolio of consumer-facing solutions including playing a key role in NexGen Manufacturing. With its technology, Applied Energetics is involved in critical components of manufacturing including marking, surface texturing, ablation, cutting, wielding, and drilling.[6]
Applied Energetics also uses its laser technology for medical applications such as chemical analysis, pathogen detection, and the imaging of biological processes.[6] These can provide high resolution and most importantly, non-invasive imaging of humans and other organisms.
Applied Energetics provides three advantages to its customers: size, weight, and power consumption of laser technology. It is providing value for emerging technologies for everything from LiDar sensors on autonomous vehicles to desktop additive and subtractive manufacturing to threat management at military bases and in battlefield infrastructure. Some of Applied Energtics' competitors include Digital Optics Technologies, Spectrolab Systems, Egismos, and Attollo Engineering.[7]
Financial Results
[
edit
]
AERG earned $0 in revenue during 2021 with operating expenses of $5.5 million. The company had $175,920 in revenue for during 2020. Operating expenses were in excess of $5.2 million.[8]
Recent News
[
edit
]
On July 15, 2019 the company announced that it has been awarded "a multi-phase program contract by a top 10 global defense contractor spanning feasibility analysis, proof of principle, initial system design, and lab-based test and evaluation of a frequency agile fiber laser system, utilizing various nonlinear processes to demonstrate laser output across multiple bands in the spectrum."[9]