ACAN - Americann Inc
From OTC Wiki
AmeriCann, Inc. operates as a specialized cannabis company in the United States. It designs, develops, leases, and operates cultivation, processing, and manufacturing facilities for licensed cannabis businesses. The company's flagship project is the Massachusetts Cannabis Center that is developed on a 52-acre parcel of land located in Freetown, southeastern Massachusetts. It also provides medical cannabis and adult-use cannabis. The company was formerly known as Nevada Health Scan, Inc. and changed its name to AmeriCann, Inc. in 2014. The company was incorporated in 2010 and is based in Denver, Colorado.
Click the menu options below to view or add content
Opinions

Wiki

(+)

FAQs

Links

News

(2)
Wiki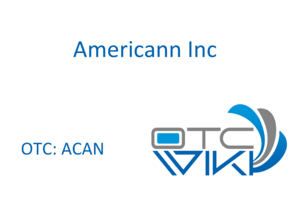 AmeriCann, Inc. (OTC: ACAN) was founded in 2010 as Nevada Health Scan, Inc. and changed its name in 2014.[1] According to the company's Linkedin profile "develops & leases sustainable cannabis cultivation properties" and "does not produce, process or distribute cannabis, but rather offers its knowledge, expertise and capital to help its clients succeed in a new, yet challenging industry".[2]
The CEO is Timothy Ryan Keogh who founded Cannabis Producers Association of New England and is a bember of The National Cannabis Industry Association. His professional history includes being an Owner at at Dock Promotions LLC, Director-Business Services at Marina Management Services, Inc., Chief Executive Officer & Director at Coastal Compassion, Inc. and Director at Cannabis Producers Association of New England. He holds a degree from Mount Saint Mary's University.[3]
Founder Benjamin J. Barton has an undergraduate degree from Arizona State University and an MBA from the University of California, Los Angeles. He is currently a Director and Chief Financial & Accounting Officer at AmeriCann.[4]
Highlights from May 17, 2022 financial overview and operations update:
From 3/31/2021 to 3/31/2022 Operating Revenue from Building 1 increased over 52%
Positive Adjusted EBITDA for the quarter of $297,597 (a margin of 44.6%), which is an increase of 289% over the same quarter in the previous year.
Cannabis infused products, including 'Drops', Howl's Tincture, and Harpoon Extracts have increased significantly at the Massachusetts Cannabis Center, with continued growth in sales expected based on increased production of 'Drops'.
For the three month period ending in February 2022, the 'Drops' were the top selling edible product in the Massachusetts market with Howl's Tincture the top selling brand in the Tincture Category.
Bask, Inc. added adult-use retail sales during February of 2021 which has driven increased revenue from the Massachusetts Cannabis Center.
The Massachusetts cannabis market posted revenue of $139.6 million in February, representing a 40% increase over February 2021.
Revenue for the Massachusetts cannabis market during 2021 was $1.62 billion, which is 75% more than revenue during 2020 revenue.
Building 2 in Freetown, Massachusetts is in the final design stage and cultivation and manufacturing licenses for the 400,000 square foot Building 2 have been received.[5]
News
Tue, 12:31 August 16, 2022 | OTC Markets Group - News, Filings & Corporate Actions
Category: Americann Inc. | Tier: OTCQB | Source: GLOBE |
Tue, 12:31 July 12, 2022 | OTC Markets Group - News, Filings & Corporate Actions
Category: Americann Inc. | Tier: OTCQB | Source: GLOBE |
More News: OTC Markets