ABMT - Advanced Biomedical
From OTC Wiki
Advanced Biomedical Technologies, Inc., a development stage company, designs, develops, manufactures, and markets biomaterial internal fixation devices. It offers polymer osteosynthesis devices, such as surgical screws, binding wires, rods, and related medical devices for the treatment of orthopedic trauma, sports-related medical treatment, cartilage repair, and related treatments, as well as for reconstructive dental procedures. The company was formerly known as Geostar Mineral Corporation and changed its name to Advanced Biomedical Technologies, Inc. in March 2009. Advanced Biomedical Technologies, Inc. was founded in 2002 and is based in New York, New York.
Click the menu options below to view or add content
Opinions

Wiki

(+)

FAQs

Links

News

(1)
Wiki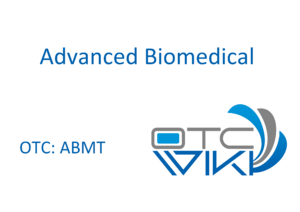 In 2018 the Advanced Biomedical (OTC: ABML) was granted a patent titled "Bone Fracture Plate Made of High Polymer Materials".[1] In 2019 they received approval from the Chinese CFDA for polymer fixation screws.[2] In November of that year they ammounced the launch of a sales campaign between their subsidiary Shenzhen Changhua Biomedical Engineering Co. Ltd. and medical device sales company Guangzhou Ding Hua Biomedical Technology Ltd.[3]
Financials
[
edit
]
Total revenue for the year ending 10/31/2020 was $123,587, net income was -$-672,000, and earnings per share was -$0.01.[4]