ABML - American Battery Technology CO
From OTC Wiki
American Battery Technology Company engages in the exploration, mining, extraction, and recycling of battery metals. The company owns 644 placer mining claims on approximately 12,880 acres in the Western Nevada Basin, located in Railroad Valley in Nye County, Nevada. It also owns a 120-acre parcel of private property with water rights, in the town of Currant, Nevada near Railroad Valley. The company was formerly known as American Battery Metals Corporation and changed its name to American Battery Technology Company in October 2021. American Battery Technology Company was founded in 2011 and is headquartered in Reno, Nevada.
Click the menu options below to view or add content
Opinions

Wiki

(+)

FAQs

Links

News

(13)
Wiki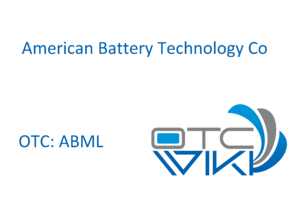 American Battery Technology Company (OTC: ABML) is a lithium-ion battery technology company that has developed a clean technology platform for the extraction and recycling of battery metals.[1] The company is in the process of building a Lithium-Ion Battery recycling pilot plant in Fernely, NV.[2]
ABML obtained subsurface samples from their 8,540 acre Tonopah Flats Lithium Exploration Project.[3]
On July 1, 2021 the company announced that it had completed the purchase on a 13.8 acre property in Storey County, NV. This property will potentially be a battery storage facility.[4]
In July 2021 the company announced the appointments of Andres Meza as Chief Operating Officer[5] and Doug Hamilton as Head of Policy. Mr. Meza is a former process engineer at a Georgia Pacific paper mill, worked for McKinsey and Company as an engagement manager with Apple, was the Vice President of Operations at Transom Capital. Mr. Hamilton has 13 years of experience as an educator and 11 years in renewable energy sales and development.[6]
Financials
[
edit
]
For the year ending 6/30/2021 the company reported no revenue and pretax income of -$41,760,000.