ABANF - Automatic Bank Services Ltd
From OTC Wiki
Automatic Bank Services Limited operates payment systems international debit cards in Israel. It serves as an infrastructure for credit card clearing; works with various credit companies as clearers and issuers; works with distributors and manufacturers; provides service to businesses; and activates the certificate switch on the ATM devices. The company is based in Holon, Israel.
Click the menu options below to view or add content
Opinions

Wiki

(+)

FAQs

Links

News
Wiki
Introduction
[
edit
]
Automatic Bank Services Ltd (OTC: ABANF, TLV: SHVA) strives to be a financial markets leader in Israel.[1]
National infrastructure hub for credit card clearing
Distributors and manufacturers
Clearers and issuers for all credit card companies
Business services to distributors and manufacturers
ATM device certificate switch management
Some of the stakeholders in the company include:
MasterCard
Leumi Bank inc
Israel Discount Bank Ltd.
Visa International Service Association
The First International Bank of Israel Ltd.
Harel Insurance and Finance Ltd.
Bank Poalim Israel Ltd.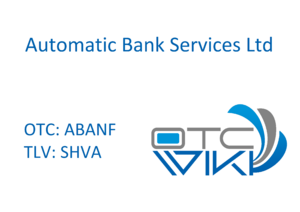 Financials
[
edit
]
For the year ending 12/31/2020 the company reported total revenue of $85,203,000 and net income of $27,120,000.[4]
FAQs
Q: How can I contact investor relations?
A: Shir Stopper (Gelbert Kahana Company) shir@gk-biz.com