AAPJ - Aap Inc
From OTC Wiki
AAP, Inc. provides power, comfort, and control systems for motor coaches, trucks, specialty vehicles, trailers, and other applications worldwide. The company offers air conditioning/heating systems, HVAC accessories, inverters and battery chargers, air purifiers, sound attenuating foams, refrigerators/freezers, icemakers, coolers, automatic computerized voltage disconnect systems, DC electrical systems, electrical start assist devices, and power transfer switches. It serves communication, medical, fire, rescue, race car transporter, recreational vehicle, trucking, and luxury motor coach and special purpose vehicle industries. The company offers its products under the AAP Inc., Dometic, and Vitrifrigo America brands. The company was formerly known as Borneo Energy USA, Inc. and changed its name to AAP, Inc. in September 2011. AAP, Inc. was founded in 1980 and is based in Milford, Virginia.
Click the menu options below to view or add content
Opinions

Wiki

(+)

FAQs

Links

News

(1)
Wiki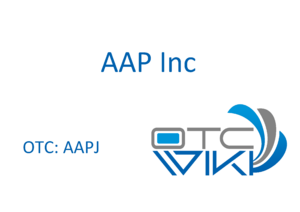 AAP, Inc. (OTC: AAPJ) was established in 1980 to market and service high tech specialized heating, cooling and power products in industries such as communications, medical, fire, rescue, race car transporter, recreational vehicles, trucking, luxury motor coach and special purpose vehicles.[1]
In March 2021 the company indicated that it may be in the final stages of an acquisition, the target of which was not disclosed.[2]
On July 15, 2021 the company announced that it has entered into an agreement to purchase 18% of Redtail, LLC, a privately held comstruction company. The purchase price is $1,500,000 and AAP has the option to acquire the remaining 82%. APP, Inc. President and CEO Paul Bakajin commented, "This investment in Redtail, LLC will provide us with a presence in an emerging growth industry in a financially and operationally prudent way. I have always viewed AAP, Inc, being a business leader in an attractive growth category for us to expand our presence beyond just one business model. This transaction gives us the opportunity to do that with a business partnership with Redtail, LLC. Redtail, LLC has a first-rate management team with a combined 40 years of experience within the construction industry, talented employees and a mission, values and commitment to innovation that are very closely aligned with our own, and we are excited to move forward with them."[3]
Links
Aap Inc

- March 2, 2022:

Company website
News
Mon, 10:01 May 2, 2022 | OTC Markets Group - News, Filings & Corporate Actions
Category: AAP, Inc. | Tier: Pink Current | Source: GLOBE |
More News: OTC Markets