AAGH - America Great Health
From OTC Wiki
America Great Health operates as a biotechnology company in the United States. It focuses on the research and development of protein and peptide small molecular drugs; and the manufacturing and sale of AI cloud computing-based diagnostic and medical devices, cell therapy, and regenerative medicine and supplements. The company was formerly known as Crown Marketing and changed its name to America Great Health in March 2017. America Great Health was incorporated in 2013 and is based in Alhambra, California.
Click the menu options below to view or add content
Opinions

Wiki

(+)

FAQs

Links

News

(1)
Wiki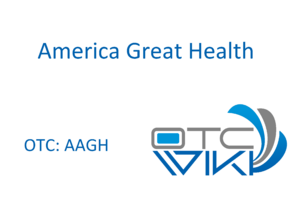 In January 2017 America Great Health (OTC: AAGH) completed a change of control wherein an investor group led my Mike Q. Wang purchased over 16 billion shares of the company. Shortly thereafter the company changed its name from Crown Marketing to America Great Health.[1]
After many years of seeming inactivity and a flat stock price around one cent, the company announced in December 2020 that it has partnered with Hong Kong company Brilliant Healthcare Ltd to form a joint a venture company in Hainan, with AAGH owning 60% of the new venture. According to the announcement, Brilliant Healthcare founder Dr. Guo Aihua developed a mini skin technology that is "the only in vitro synthetic and transplantable active organ containing stem cell germinal layer in the field of international regenerative medicine".[2]
Other partnerships include: Provision Healthcare (AAGH is an authorized distributor, and has acquired customers and investors worldwide for Provision), International Institute of Great Health, and Purecell Group.[3]
Financials
[
edit
]
For the year ending 6/30/2021, total revenue was $195,671 and pretax income was -$-269,054 with 20,438,554 shares outstanding.