AABVF - Aberdeen Intl Inc
From OTC Wiki
Aberdeen International Inc., together with its subsidiaries, operates as a resource investment company and a merchant bank focusing on small capitalization companies in the metals, mining, and renewal energy sectors. It intends to acquire equity participation in pre-IPO and early stage public resource companies with undeveloped or undervalued resources. The company was formerly known as International Catalyst Ventures Inc. and changed its name to Aberdeen International Inc. in November 2001. Aberdeen International Inc. was incorporated in 1987 and is headquartered in Toronto, Canada.
Click the menu options below to view or add content
Opinions

Wiki

(+)

FAQs

Links

News
Wiki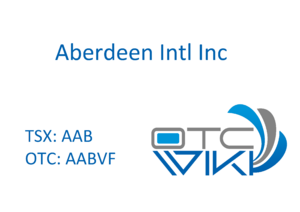 Introduction
[
edit
]
Aberdeen Intl (TSX: AAB, OTC: AABVF) website shows cleans energy activities in three areas: Hydrogen, Ammonia, and Battery Metals. They tout investment in a technology process that more efficiently produces hydrogen from natural gas. Their ammonia activity is an investment in an unnamed Canadian company that makes green ammonia.[1]
Recent News
[
edit
]
On August 9, 2021 the company announced the appointment of Martin Schuermann as Executive Chairman of the Board of Directors. Mr. Schuermann is experienced in fuel cell vehicle technology, zero-emission transportation, and hydrogen energy storage as Chief Executive Officer of Vision Motor Corp since 2009.[2]
Investment Holdings
[
edit
]
As of January 31, 2022, the company had investments valued at $39,398,978 in fourteen publicly traded companies and fourteen privately held investments. AABVF's largest public investment is 24,101,803 common shares of Medivolve Inc. (OTC: COPRF), valued at $3,053,698, and comprising 34.9% of $8,739,574 in total public company investments. The largest private holding is 25,000,000 common shares of Progressus Clean Technologies Inc. valued at $16,497,918, representing 53.8% of $30,659,404 in total private investments.[3]
Financial Results
[
edit
]
For the twelve month period ending January 31, 2022, AABVF reported net income of $0.9 million ($0.02 per share) vs. 2021 net income of $2.9 million ($0.03 per) share. Total revenue was $9.1 million vs. $5.7 million for the prior year.[4]